DC ROTARY CLUB AWARDS MCIP 100K GRANT
FOR
NEW COMMUNITY
DEVELOPMENT
CORPORATION (CDC) AT CHEC.
MONDAY, DECEMBER 19
, 2022
TUESDAY, DECEMBER 20
, 2022
WEDNESDAY, DEC
EMBER
21,
2022
Departmental Planning Period Meetings
THURSDAY, DECEMBER 22
, 2022
Departmental Planning Period Meetings
FRIDAY,
DECEMBER 23,
2022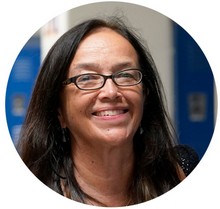 ---
Happy Holidays to all members of the CHEC Family! I hope all have a restful and joyful holiday break, spent with the people you love doing the things you enjoy doing. This time is so important for self-care and refreshing our minds and bodies.
Thank you for the care and dedication you show to our students and families, and to the camaraderie and collegiality you demonstrate every day. None of what we do would be possible without the amazing team of educators and staff we have. Please know you are truly appreciated!
Have a wonderful holiday!
XQ REDESIGN UPDATE

As a follow up to our last ALT Team meeting, and as a way to align our Redesign efforts with our current action planning, we will incorporate redesign planning into our CSP, and into our ALT Team meetings.
Last week on Tuesday, 15 members of our original Design Team attended a day long session coordinated by DCPS Design Lab, to further reflect and plan our Redesign. Our two Innovation Teams – Food Equity and Interdisciplinary Projects/International Travel are still steadily working, and are now almost finished with their prototypes.
Please put December 20, 5:00 pm, and December 21st, all lunch periods, on your calendar. All are invited to view the work of the Innovation Team and provide additional feedback on our prototypes!
We will offer Admin Premium to all who complete the course, and will be forming study groups of those who engage in the course. If you would like to sign up of these study groups, please fill out the attached form.
Shout out to Dr. Brown, Ms. Weiss and Ms. Peddyreddy who have finished the course already! The entire Admin team is taking the course as well. If you have identified a problem you would like help in addressing through the design thinking process, please send a description of the problem. If you are interested in one of the innovations, please contact Maria Tukeva, Principal, Ms. Krishunda Penn Pearson, Redesign Director, your SLC Administrator, or any member of the XQ Redesign Team. Please join the Redesign Team, and please reach out to interested students or parents!
For attendance at Focus Groups or with Innovation Team meetings held after school we will offer Admin Premium, and up to 20 students who participate in the Innovation Teams will receive a $200 stipend and Community Service hours. Please speak with your students, and find students who would like to become involved in the design of one or more of the innovations.
Kudos to Mr.Onley, Dr. Barnett, Ms. Menendez, Mr. Jacobs, Mr. Brush, and all who supported the wonderful Winter Concert last week!

Shout out to Mr. Kroma and the MCIP team for the Rotary Foundation Grant to establish a Youth Run CDC!

Shout out to Juliana Lopez Aguilar – she was accepted to Yale, Princeton, Georgetown and Catholic Universities!

Shout out to Isaac Fuentes and Perla Guzman, they received Posse Scholarships!

Shout out to the XQ Redesign Team for attending the Design Lab Day!
---
MR. REISS' 10TH GRADE GEOMETRY CLASS
It is the seventh week of the Second Advisory, and Progress reports were distributed last week. As we prepare for the winter break, it is a good time to reflect on progress reports, and have students think about how they can use some of their break time to catch up with assignments, or engage in new learning. During this week, students should be completing their GRASPS, and getting feedback, so when they leave for the holidays, they have time to reflect and revise. With a project based model, each work period each day involves students working on a part of their GRASPS, following a mini-lesson on the standard/and objective aligned to the project. If you need assistance in pacing out your project, please see one of the coaches, your Department Chair, or SLC Administrator.
Celebrate the holiday season with cheer. Enjoy your families and friends. Be safe and get some rest. See you in the New Year. Happy Holidays!
The Instructional Calendar is a living document that houses all the major curricular requirements, assessments, and schoolwide events. The Instructional Calendar is complete for the moment, however changes may be made and will be noted. If you have any requests for additions to the Instructional Calendar, please contact Mr. Magee,peter.magee@k12.dc.gov, maria.tukeva@k12.dc.gov or your SLC Administrator.
---
I hope that you are all well and looking forward to a restful holiday break. This week saw 183 1-on-1 speaking tests administered to EL's on the middle side. I want to shout out every single teacher who helped make that happen! The WIDA Model is a tough test to administer, but we'll no doubt get insights to help drive instruction for our EL's. Thank you to each of you!
While we finish up WIDA Model in the middle school, testing will wind down as get to the holiday break. Things pick back up after the New Year with MOY Reading Inventory, MOY MAP testing and ANET 2 for the Middle School (end of January). ACCESS and PARCC won't be far behind…..
In the meantime, stay well and have a wonderful holiday and even better New Year!
Our Shared Leadership Subcommittee and the Instructional coaches on the ALT Team are working on developing a PD plan for the year. Please see the Design Thinking PD opportunity in the XQ section of the bulletin!
ALT TEAM
The ALT Team met last week and reviewed data and information on the first advisory. Survey. The next ALT team meeting will be Tuesday, December 20 at 3:30 pm.
INVITATION: DEC. 20TH XQ DESIGN SHOWCASE
---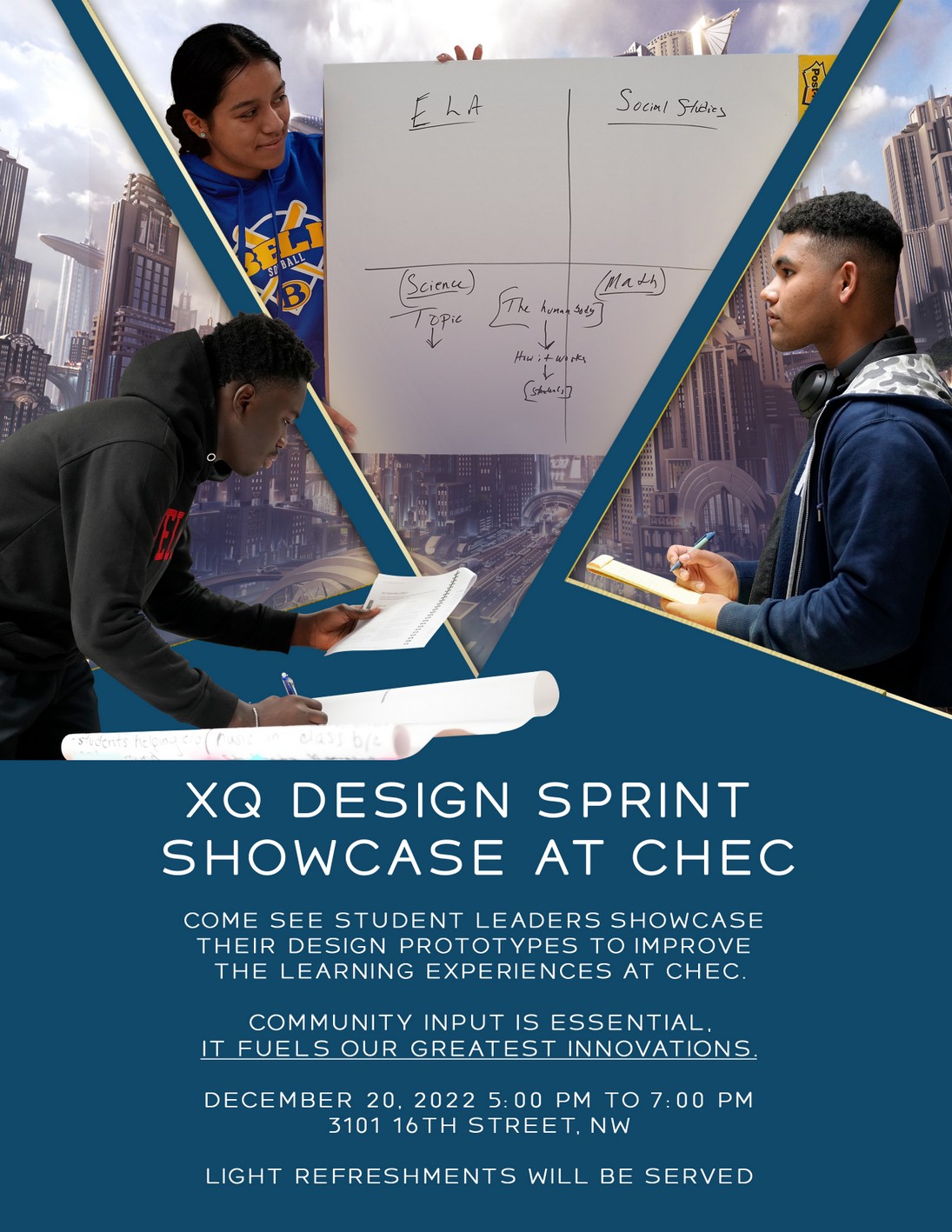 ---
Spread the word. Apply Now!!! The Cooke Undergraduate Transfer Scholarship Application is open for community college students looking to transfer to a 4-year university next fall.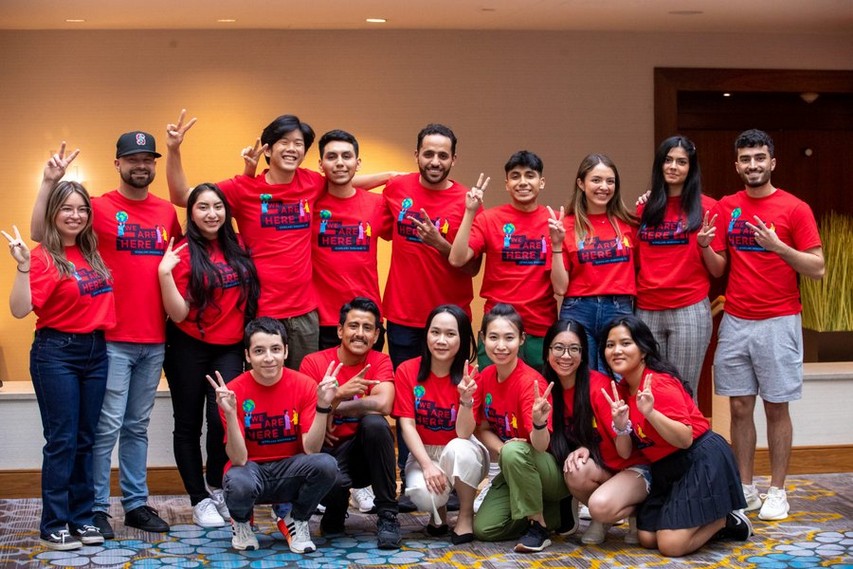 This life-changing scholarship program awards community college students who are transferring to a four-year college in fall 2023 up to $55,000 per year to complete their bachelor's degree, as well as personalized advising, career counseling, and more. The application deadline is January 12, 2023.
---

My Project
We are DC public school social workers, and we are working with a group of students on a mural project. This will be a therapeutic group that will focus on healing and social emotional learning through the process of making art. Our high school and middle school students who will be participating in this group have experienced loss and trauma and will utilize the group as a way to work through their trauma and or loss. During the creation of this mural, we aspire to help our students process and heal through self-expression and exploration. At the end of the groups, each student will receive an art kit as a way to encourage their continued use of art as a coping strategy.
My students are eager to learn about different cultures this year in World History. My students need basic school supplies to have a successful school year. Each child requires an individual school supply kit of pencils, glue, and erasers. As such, I need to replenish their school supplies. Supplies such as the class printer will be a welcome relief for myself since I have to provide colored printed materials from my own pockets.Others such as pens, and pencils are helpful for families who are unable to purchase school supplies for their children. In addition, the supplies in this project will provide my students with the necessary materials for the day-to-day activities and work that will take place in our classroom. They will have the tools for success!
MOTIVATIONAL
SONG
FOR THE WEEK...
As we approach the Winter Break and Holiday, we want to remind ourselves to take care of yourself, both physically and mentally. Take some time during the break to relax and reset. As we push through to the finish line of this week, remember to be OPTIMISTIC!!! We made it guys!
Enjoy this week's motivational song....
SCHOOL CULTURE UPDATES AND EVENTS
Our norm focuses this month is We Show Respect and Empathy

. Let's focus on using this language when redirecting students and providing Kickboard points to students we see exemplifying the characteristics. Mr. Duvall will continue messaging the norm focus daily!
Thank you to all who are supporting "

Attention Meetings

".
The Dean Team will begin making updates to Kickboard and prepare a best practices PD for teachers during SLC and for teachers not using Kickboard. PD day is TBD upon returning from the break.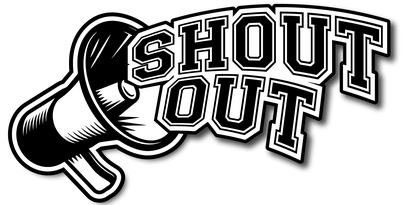 To everyone who conducted and participated in MTSS meetings in past weeks

All members of the Culture Team for last Friday's Indoor Block Party Incentive

Shoutout to form NFL Player, Vernon Davis, for speaking to our student athletes.

Everyone who is supporting with ensuring students are up to date with vaccinations

Ms. Tukeva for hosting the Annual Staff Holiday Party!!!!

Mr. King and students for participating in a Restorative Justice round table discussion with PAVE.

Our custodial team for their constant attention to cleanliness of our school

Those who coordinated and executed Family Bingo Night
---
(Please note that this schedule is tentative and is subject to change at the discretion of Culture Team Leaders.)
Our next incentive will be December 16th . Students will need $350 in Kickboard
Below is the PBIS Tentative Incentives for December to close out 2022!



MS – Lincoln


December 21st

Staff Vs Student Basketball Game $350

-All Students can spectate, but in order to play in the game, Students must have points to play

December 22nd

Staff vs. Student Basketball




All Students can spectate, but in order to play in the game, Students must have points to play.



PBIS
Reminders and Celebrations

Teacher All-Stars (10 Highest Interactions from
12/12-12/18
)
Omar Abusabha (1432)

Sandra Garcia Pinilla (899)

Dwight Simon (891)

Tevin Simard (805)

Kenrry Alvarado (646)

Erika Harris (617)

Elizabeth Nutting (480)

Desepe De Vargas (408)

Alexandra Hall (402)

Keegan Brush (381)
Currently, we have about 50% participation in staff rewarding students with Kickboard points. Remember, Kickboard helps to build positive classroom culture and should be integrated in your classroom incentives, norms and strategies to manage your classroom.
15 interactions per class and 45 interactions per day


DO NOT deduct student dollars




Do not attempt to inflate the day of the incentive




Use the first 15 and last 15 of class to give dollars




Create in-class incentives (Do not deduct dollars)



---
STAFF RESOURCES AND PROFESSIONAL DEVELOPMENT OPPORTUNITIES
Here is a resource to help you reset and focus on your mental health before returning back from Winter Break.
New Student of the Month and Week FORM COMING SOON!!!
Student Support Forms:

New Student of the Month and Week FORM COMING SOON!!!
---
This week the Dean Team would like to shine the spotlight on the entire FRONT OFFICE STAFF for both Bell and Lincoln. Our front office team supports our culture daily as they are essentially the first and most important points of contact when engaging with guests. They often have to endure tough conversations from people with unpleasant attitudes or demeanors. However, they model with poise and professionalism, the norms and core values of CHEC. They are the heartbeat of CHEC and we would like to thank them for everything they do behind the scenes.
NFL GREAT VERNON DAVIS VISITS
CHEC FOOTBALL TEAM FOR Q & A
Athletics are an integral part of the educational program and a means to accomplish the goals of education. Our athletic program exists for the welfare of students and the contributions it makes to their educational experience. Athletic participation builds self-esteem and confidence and provides the necessary tools for success. The interaction between individuals on the fields of sport teaches students the value of teamwork, while developing the proper competitive spirit, combined with a sense of fairness.
The middle school boys and girls basketball teams lost to SWW and Brookland. The middle school wrestling team took 3rd place in the 1st match of the year. The HS wrestling team defeated Cardozo. The JV boys basketball teams defeated SWW and Ballou but lost to Jacksin-Reed. The HS varsity boys and girls basketball teams lost to SWW, Jackson-Reed and Ballou.
MONDAY:
JVBB vs. Anacostia at Anacostia @ 4:00
VGB vs. Anacostia at Anacostia @ 5:30
VBB vs. Anacostia at Anacostia @ 7:30
TUESDAY

MS Wrestling Meet #2 at Johnson @ 4:00
HS Wrestling vs. Cardozo at CHEC @ 4:00
MSGB vs. Cardozo at Cardozo @ 4:45
MSBB vs. Cardozo at Cardozo @ 6:00
WEDNESDAY

HS DCIAA Track Meet at PG Sports & Learning Complex @ 3:00
THURSDAY:

FRIDAY:
---
Desmond Alexander, CAA
Columbia Heights Educational Campus
Bell/Lincoln Multicultural Schools
(202)939-7700 Ext: 5207 (office)