CHEC bulletin for
Week of
November 9, 2020
ONE YEAR AGO THIS WEEK -
UDC CHAT CHEW AND DO TALK WITH CHEC IT AND ENGINEERING
MARIA TUKEVA'S (MT) MESSAGE:
All Departments and SLC's send individual notifications of their meetings
First Day of the New Advisory!
Tuesday, November 10, 2020
Wednesday, November 11
, 2020
Veterans Day – No School for Students and Staff
Thursday, November 12
, 2020
11:30 am – CHEC Parent Workshop – in English
Term One Report Cards Grades Due
Friday, November 13
, 2020
UPCOMING EVENTS
CELEBRATION!!!
Like much of the nation, CHEC celebrates the power of democracy, as our new President, Joe Biden, and Vice President Kamala Harris are elected! We look forward to this new era in our country's history!!!!! Shout out and kudos to all who went out and voted and had their voice heard! It's a Celebration!!!
---
REFLECTING ON THE FIRST ADVISORY

In last week's faculty meeting, we celebrated accomplishments in some key areas of our Comprehensive School Plan, including increasing our daily attendance rate and lowering our chronic absence rate in comparison to last year, staying on target for our college and career goals with college applications, and ANET participation and relative gains in some grades.
As we move into the second advisory, we will continue to highlight and focus other important CSP goals.
Stakeholders will be able to increase our Graduation rate to 82% by August 2021 from 79% in SY 19-20.
Last year, we had a significant drop in graduation rate to below 80%. A big part of this was the impact of going to entirely virtual, and losing daily contact with some of our most vulnerable students. This year, we need to pay particular attention to this goal, and to not only our seniors, but all other grades. The impact of a failing grade goes beyond that one class. It puts the student off track to graduation, requires credit recovery classes, and most critically, it has an impact on student self-confidence.
In order to focus on our graduation rate goal, we must focus on keeping all students on track to graduation. This means focusing on our promotion rate from each grade, which means reducing our failure rate. This means providing students and parents real time information when they are not doing their work, intervening with students when they need assistance. We have the structure and team to do this – working together as teachers, counselors, social workers, advisory teachers, administrators and support staff, we can reach each student. The virtual setting makes it much more difficult, however we must find innovative ways to do this.
A key support to this will be our Student Support Centers, which will start in the Second Advisory. Please reach out if you have ideas on how to reach our most vulnerable graduating seniors, and support them in reaching that graduation milestone.
Thank you again team, for all you do for our students and community.
---
SHOUT OUTS

Shout out to Mr. Pyram for hosting WAMU's Kojo Nnamdi Show in preparation for the election!

Kudos to Ms. Spinks, Mr. Jackson, and Ms. Lopez for the Hospitality Town Hall!

Shout out to Ms. Nunez for organizing the Middle School SGA Elections!




Kudos to all of our Department Chairs and LEAP Leaders for leading PD Sessions on Friday!




Shout out to Ms. Ferguson for developing the PD on e-Portfolios!



WE HAVE A RECOGNITION! HONORED TEACHERS PARTNERSHIP CONTINUES THIS YEAR!

Columbia Heights Education Campus's great teachers deserve to be recognized! We're proud to partner with Honored Schools again this year to do just that! Go to HonoredSchools.org to tell Columbia Heights Education Campus teachers how they've made a difference. Please share this with parents and students! Once recognized, teachers get an email with your recognition story and we'll celebrate them! Last year our very own Ms. Ramirez won the Life-Changing Teacher Award and a $5000 cash award!
---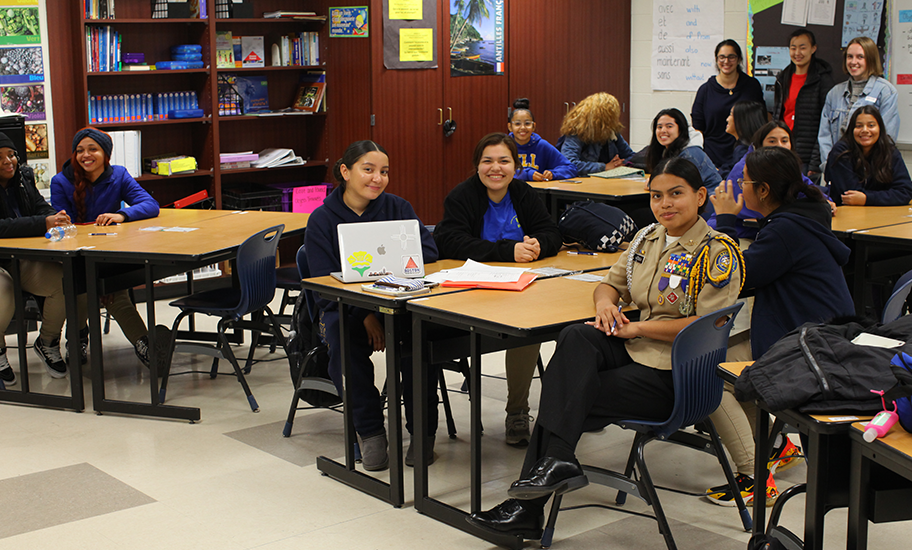 ONE YEAR AGO THIS WEEK -
GEORGETOWN MENTORS
LAST WEEK OF THE ADVISORY
This week is a short week, as students are off Tuesday and Friday. Exams should be held this week, and students should be provided time to make up any missing assignments. Our goal is for all students to experience success, and our grading system and implementation should reflect this. Please make sure you are providing feedback to students, and multiple opportunities for them to revise and turn in work.
GRADES ARE DUE ON NOVEMBER 12
The Instructional Calendar is a living document that houses all the major curricular requirements, assessments, and schoolwide events. The Instructional Calendar is complete for the moment, however changes may be made and will be noted. If you have any requests for additions to the Instructional Calendar, please contact Mr. Magee, peter.magee@k12.dc.gov, or your SLC Administrator.
---
IMPACT UPDATES
Please refer to the DCPS Email of last week with Impact Updates, regarding number of observations. TAS will no longer be a part of the Impact Process this year. If you have any questions, please let me know.
As a follow up to our IMPACT orientation two weeks ago, we are creating a library of practices and videos to support development on particular EP's. As we discussed, we are all in a learning curve with virtual instruction, and will be learning from each other throughout the year. If you would like to share a best practice and be videotaped for the video library, please let your SLC Administrator know.
PROFESSIONAL DEVELOPMENT:
PROFESSIONAL DEVELOPMENT
---
This is a new section of our Bulletin, and within a few weeks it will be populated with a calendar of opportunities. Professional Development and learning is a priority for all of us, and we are all on a new learning curve. If you would like to get involved in either providing or receiving specific professional development, we look forward to getting your feedback to our PD Survey, which will be coming out within the next two weeks.
EdTech Newsletter
In this week's EdTech Newsletter, information about office hours, Brain Pop training, and ePortfolio information.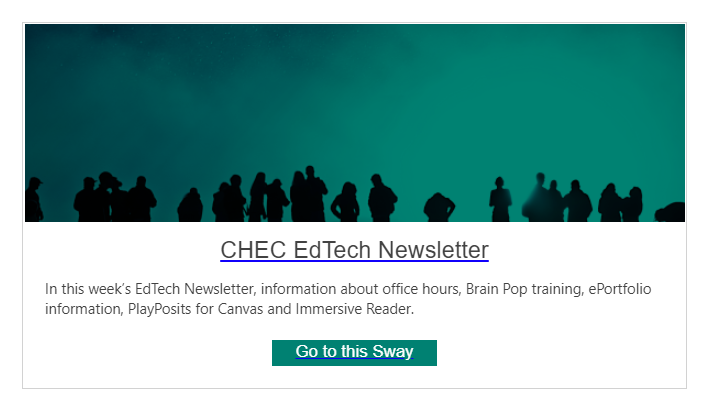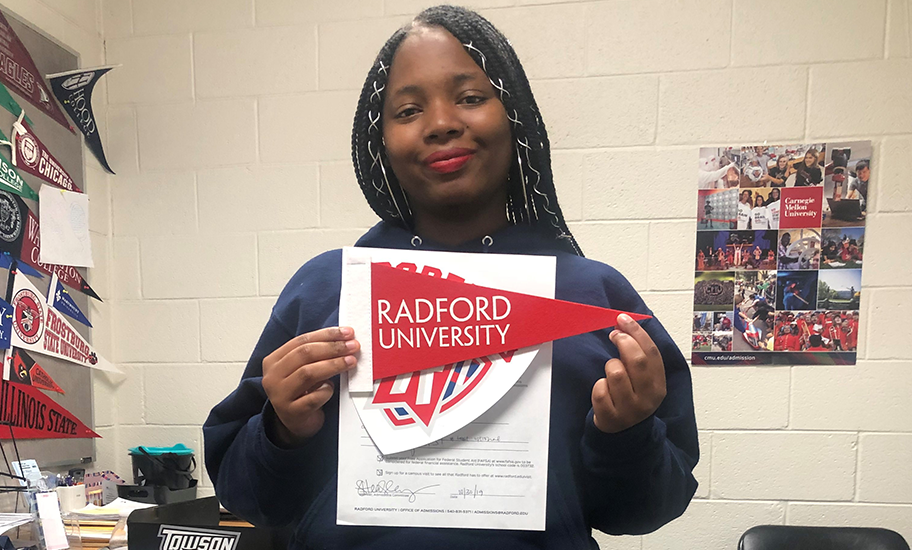 ONE YEAR AGO THIS WEEK
- KADIATU MANSARAY ACCEPTED TO RADFORD UNIVERSITY
UPDATES FROM:
ACADEMIC LEADERSHIP TEAM
I
DIVERSITY AND INCLUSION PARENT TOWN
I
HALL MIDDLE SCHOOL SGA RESULTS
---
The ALT team is a team of educators charged with the design and implementation of our mission aligned Comprehensive School Plan. The Team is composed of all LEAP leaders, Department Chairs, Administrative Team Members, and any interested educator or staff member. We seek to involve all perspectives and voices. All staff members are invited to attend any or all meetings. Our work is in the four domains of the CSP – Shared Leadership, Engagement, Culture of Achievement, and Academics. The notes can be found in the Notebook section of the CHEC Team site. Meetings will be held every two weeks, rotating between Friday mornings at 7:30 am, and Tuesday afternoon's at 4:00 pm. The next meeting will be Friday, November 14 at 7:30 am.
---
DIVERSITY AND INCLUSION ACADEMY (DIA) PARENT TOWN HALL - NOVEMBER 18, 2020 @4:30PM
Parents are invited to attend a special Live Teams event. Ms. Jennifer Carpenter from OSSE is our featured guest and will provide vital information on how best to ensure that students receiving accommodations and learning supports while they are at home.
---
CHEC MIDDLE SCHOOL SGA ELECTION RESULTS
Hello Team – here are the results of the SY 2020-21 Student Government Association elections for the CHEC Middle School:
President: Krislyn Rushing
Vice President: Zoey Woods
Secretary: Solveig Brennan
Vice President: Alexandra Martinez
Secretary: Benjamin Carvo
Vice President: Ariah Martin
World Languages Department
---
---
In this section of our Bulletin, we will highlight student work from all disciplines. If you would like to share some excellent student work, please send to M. Tukeva, and we will highlight it in this section.
This week we would like to highlight the work of Henry Creel III, a student in Ms. Hartwill's Biology class. Henry created a PSA about safe practices during the Corona Virus Pandemic.
Please check it out, and congratulate Henry!
We hope you all are well. The Dean Team would like to share a few shout outs and friendly reminders.
Today the spotlight shines on Dr. Amylia Barnett!
Dr. Barnett is our 6th & 7th Grade Orchestra, Music Theory, Piano, High School Band teacher. She has also impacted the lives of many students within her thirteen years of service at CHEC. When asked how do students earn badges in your classes? Dr. Barnett responded saying, "By being incredible, hardworking, earnest, and by helping one another. For my classes, students stay through both the virtual and asynchronous portion to receive extra help on their work. They also complete at least one assignment throughout the class period even if it is small. In addition, I offer tons of incentives related to badges for helping each other and persevering." Dr. Barnett shared the following when asked how has using restorative practices in your class has helped you during virtual learning, "Throughout the years, I've learned that connection is absolutely everything. Your background, your education, the hours spent lesson planning, good intentions - nothing matters more than if you're willing to empathize, relate, and encourage your students every day." Thank you, Dr. Barnett, for your commitment to your students and team.
Everyone, please shine your light on Dr. Barnett this week!
Please celebrate these students for their high earnings of PRIDE points!
Please celebrate these students for their high earnings of PRIDE points!
PBIS Teacher Shout-out:
Hugh Shout-out to Ms. Jovanda Warren and May Ferguson for having given the most PBIS Badges last week (Week 9)!
Also, we have created a padlet which has the student support form and the behavior referral form. Please bookmark this padlet for future reference: CHEC Student Support Guide. Feel free to connect with the Dean Team if you have any questions.
2nd advisory has begun, and we are now only 5 weeks away from DCIAA's official start date for winter sports practice, December 14th. Winter sports include basketball, bowling, cheerleading, indoor track, swimming, and wrestling. Eligibility for play will be dependent as always upon attendance, grades, and making sure student-athletes have completed their participation paperwork. Student-athletes cannot have more than 6 unexcused absences to remain eligible to play sports. So, please make sure you are keeping track of your attendance. Additionally, if you haven't done so already, complete your participation forms online and upload your current physical for this school year.
Participations forms are available via
https://www.thedciaa.com/participation-forms
. Currently, there are no DCIAA physical days scheduled, so it is imperative that potential student-athletes schedule a physical with their own doctor. Physicals must be signed by a nurse practitioner (NP) or medical doctor (MD. )Parents should click on the link corresponding to the appropriate level, whether middle or high school. Online forms are also available in Spanish.
Finally, our list of head coaches is below. Reach out to the coaches directly if you are a student-athlete, teacher, or parent for team meet up login information or if you have any other questions. If you haven't done so yet,
follow us on Instagram
@checsports
.
---