Athletics are an integral part of the educational program and a means to accomplish the goals of education. Our athletic program exists for the welfare of students and the contributions it makes to their educational experience. Athletic participation builds self-esteem and confidence and provides the necessary tools for success. The interaction between individuals on the fields of sport teaches students the value of teamwork, while developing the proper competitive spirit, combined with a sense of fairness.
The Open Goal Project would like to announce its first NCAA Division 1 student athlete … a 5'3" freshman from Bell Multicultural High School in DC ... #22 for James Madison University's women's soccer, Ariana Reyes!
When the Open Goal Project was created five years ago, they worked to integrate players from DC into the youth travel soccer landscape. One of those players was the supremely talented Ariana Reyes, and the Open Goal Project wanted her to have every possible opportunity to grow with the beautiful game.
Working with Ariana and others to give them the opportunities they deserved, the Project began to understand the obstacles that were preventing players with such great potential from participating in the first place. Realizing the lack of opportunity was so widespread, we knew a program was necessary to affect positive change for talented player like Ariana who had been overlooked and left on the sidelines. Heartful congratulations to Ms. Reyes!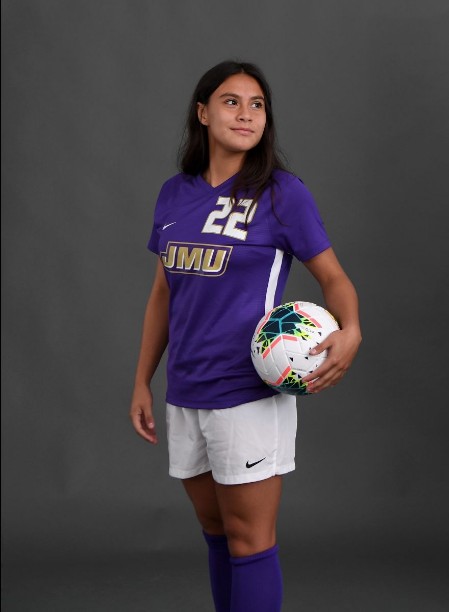 The James Madison University Women's Soccer Team - Bell Alum Ariana Reye – Row 2 Second from the Right
---
Winter Season is quickly approaching. Official practice begins on December 14th. Additionally, off season in person workouts/conditioning may begin on November 1st. To participate, student-athletes must complete participation forms online and upload current physicals for this school year. Participations forms are available via https://www.thedciaa.com/participation-forms. Currently, there are no DCIAA physical days scheduled, so it is imperative that potential student-athletes schedule a physical with their own doctor. Physicals must be signed by a nurse practitioner (NP) or medical doctor (MD. )Parents should click on the link corresponding to the appropriate level, whether middle or high school. Online forms are also available in Spanish. Additionally, please see the updated current team meet up times during virtual learning! This list will continue to grow! Also, our list of head coaches is below. Reach out to the coaches directly if you are a student-athlete, teacher, or parent for team meet up login information or if you have any other questions.
If you haven't done so yet, follow us on Instagram
@checsports
.
Middle School
Baseball: Wed. via MS Teams on WUW (1st Block)
Cheer: Mon, Wed, Fri at 4:00 via Zoom
Girls Basketball/Volleyball: Wed via MS Teams on WUW (2nd Block)
High School
Baseball: Wed via MS Teams on WUW (1st Block)
Basketball: Wed via MS Teams at 4:00
Cheer: Mon, Wed, Fri at 4:00 via Zoom
Girls Basketball: Wed at 4:00 via MS Teams
Football: Tue, Thurs at 7:00 via Zoom
Softball: Wed via MS Teams on WUW (2nd Block)
Girls XC & Track: Tue, Thurs at 5:00 via Zoom & W via WUW (1st Block)
---