CHEC bulletin for
Week of
November 2, 2020
ONE YEAR AGO THIS WEEK -
SGA RETREAT AT CAMP HORIZONS IN HARRISONBURG, VA
MARIA TUKEVA'S (MT) MESSAGE:
All Departments and SLC's send individual notifications of their meetings
Tuesday, November 3, 2020
Election Day – No School for Students and Teachers
Wednesday, November 4
, 2020
9:30 am - Parent Workshop (Espanol)
Thursday, November 5
, 2020
11:30 am - Parent Workshop (English)
Final Exams
Faculty Meeting 4:00 p.m.
End of Term (Half Day Professional Development/Half Day Records Day
Term 1 Aspen RC Gradebook Opened
UPCOMING EVENTS
Portfolio Presentations are one of the highlights of the year for me, because it is an opportunity to really listen and hear what our students have to say about their learning and perceptions. It is an assessment, of course, but is also a personal and authentic interpretation of knowledge acquisition, by and for the student.
Although the virtual environment has posed many challenges to all of us, some of the portfolio presentations have proven the resilience of both educators and students. There are authentic products, and students are speaking with passion and conviction about what they have learned. Many students presented their Living Through History projects, and were able to draw connections to social justice, global themes, and the discipline standards.
Even before becoming fully virtual, some teachers were moving toward a digital portfolio format, and as we become more versed in the technology tools that can further support portfolio design, we can transition to a fully digital process that can continue even when we are back in person! CANVAS has an e-portfolio tool that can greatly facilitate this process. In this week's professional development day on Friday, we will work in Departments to design e-portfolio elements.
Thank you to all for your hard work and dedication to our students learning, and our portfolio process.
---
CHEC CELEBRATES NATIVE AMERICAN HERITAGE MONTH

As part of our commitment and work in equity and anti-racism, we continue our journey of learning about the rich cultures that make up our school and our world. Please take advantage of the many resources that exist, in order to learn the true history of Native American people, the history that is not told in textbooks or in media. Please see the resources of Teaching for Change, Indigenous Peoples' Day Virtual Teach-In: Food and Water Justice, organized by Teaching for Change and the Smithsonian National Museum of the American Indian (NMAI). Other excellent resources are: https://facingtoday.facinghistory.org.https://nativeamericanheritagemonth.gov/
---
SHOUT OUTS

Shout out to the entire CHEC Team for a great Week 9!

Kudos to Ms. Ermis and Ms. Emilius for the GSA Town Hall!

Kudos to the Equity Team for providing support to our Tech Team in language access!

Shout out to Ms. Ameyaw, Ms. Freshley and Ms. Cummings for the DIA Parent Night!

Kudos to our LSAT team for their first meeting of the year and for taking on our Advocacy Effort!
---
Ms. Emilius Chosen to Participate in the OSSE Techer Advisory Council
Last week Ms. Emilius was accepted into the OSSE Teacher Advisory Council. She is excited to be a part of the committee and to be a voice for CHEC and DCPS at large. The Council is designed to aid in closing the achievement gap and improving school climate and works alongside OSSE's leadership to ensure policies are informed by a classroom perspective.
---
CHEC RECEIVES GRANT TO CONTINUE WHOLE SCHOOL SUPPORT FROM RESTORATIVE DC
Thanks to the proposal written by our fabulous Dean Team and the Development Office, our school has been granted continued whole school support through Restorative DC's Restorative Justice Technical Assistance for the SY 2020. This means that we will receive training, consultation, access to workshops, and support to continue our work in Restorative Justice. If you would like to get involved with our RJ committee, please see any member of the Dean Team, or Pankaj Rayamajhi.
---
WE HAVE A RECOGNITION! HONORED TEACHERS PARTNERSHIP CONTINUES THIS YEAR!
Columbia Heights Education Campus's great teachers deserve to be recognized! We're proud to partner with Honored Schools again this year to do just that! Go to HonoredSchools.org to tell Columbia Heights Education Campus teachers how they've made a difference. Please share this with parents and students! Once recognized, teachers get an email with your recognition story and we'll celebrate them! Last year our very own Ms. Ramirez won the Life-Changing Teacher Award and a $5000 cash award!
---
CHEC RECEIVES GRANT TO CONTINUE WHOLE SCHOOL SUPPORT FROM RESTORATIVE DC
Thanks to the proposal written by our fabulous Dean Team and the Development Office, our school has been granted continued whole school support through Restorative DC's Restorative Justice Technical Assistance for the SY 2020. This means that we will receive training, consultation, access to workshops, and support to continue our work in Restorative Justice. If you would like to get involved with our RJ committee, please see any member of the Dean Team, or Pankaj Rayamajhi.
---
ONE YEAR AGO THIS WEEK -
CLASSROOM PORTFOLIOS
LAST WEEK OF THE ADVISORY
This week is a short week, as students are off Tuesday and Friday. Exams should be held this week, and students should be provided time to make up any missing assignments. Our goal is for all students to experience success, and our grading system and implementation should reflect this. Please make sure you are providing feedback to students, and multiple opportunities for them to revise and turn in work.
GRADES ARE DUE ON NOVEMBER 12
The Instructional Calendar is a living document that houses all the major curricular requirements, assessments, and schoolwide events. The Instructional Calendar is complete for the moment, however changes may be made and will be noted. If you have any requests for additions to the Instructional Calendar, please contact Mr. Magee, peter.magee@k12.dc.gov, or your SLC Administrator.
---
IMPACT UPDATES
Please refer to the DCPS Email of last week with Impact Updates, regarding number of observations. TAS will no longer be a part of the Impact Process this year. If you have any questions, please let me know.
As a follow up to our IMPACT orientation two weeks ago, we are creating a library of practices and videos to support development on particular EP's. As we discussed, we are all in a learning curve with virtual instruction, and will be learning from each other throughout the year. If you would like to share a best practice and be videotaped for the video library, please let your SLC Administrator know.
PROFESSIONAL DEVELOPMENT:
PROFESSIONAL DEVELOPMENT
---
This is a new section of our Bulletin, and within a few weeks it will be populated with a calendar of opportunities. Professional Development and learning is a priority for all of us, and we are all on a new learning curve. If you would like to get involved in either providing or receiving specific professional development, we look forward to getting your feedback to our PD Survey, which will be coming out within the next two weeks.
EdTech Newsletter
This week's newsletter will provide ideas on how to use MS Forms to do a daily check in with students, a quick exit ticket, and/or a weekly reflection. In addition, there's a video tour of the CHEC EdTech Canvas Course showing some of the resources you can find. As well as information about CHEC EdTech Office Hours.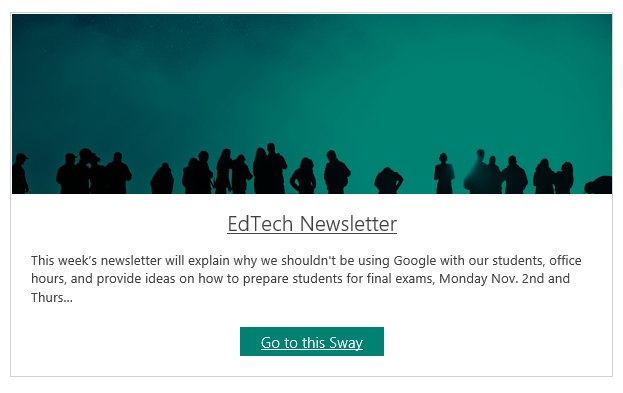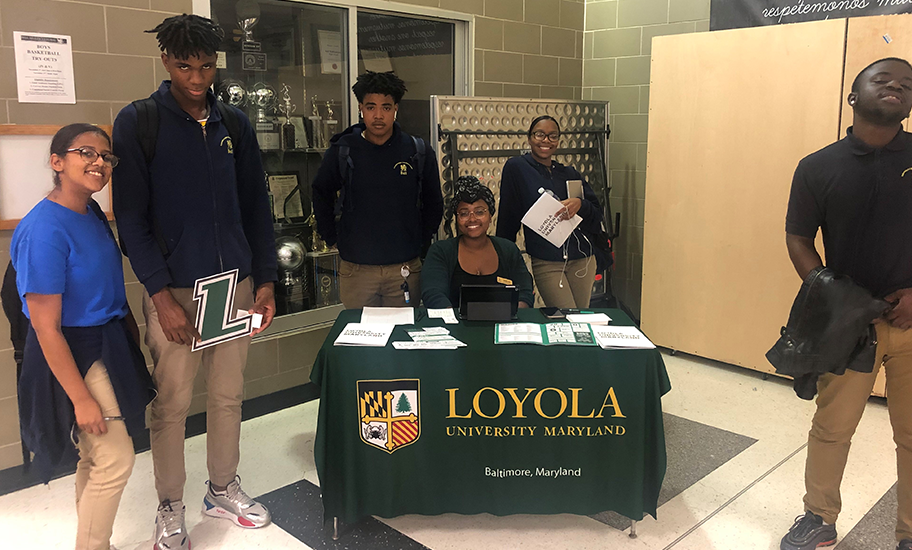 ONE YEAR AGO THIS WEEK
- LOYOLA UNIVERSITY VISIT TO CHEC
UPDATES FROM:
I
ACADEMIC LEADERSHIP TEAM
I
SPIN SCOOTER COMPANY
I
SEL TEAM
I
OSSE
I
LIBRARY
I
GrantED
I
GrantED
I
T
YLER MANNING - FINANCIAL CONSULTANT
I
ELLEVATION
---
The ALT team is a team of educators charged with the design and implementation of our mission aligned Comprehensive School Plan. The Team is composed of all LEAP leaders, Department Chairs, Administrative Team Members, and any interested educator or staff member. We seek to involve all perspectives and voices. All staff members are invited to attend any or all meetings. Our work is in the four domains of the CSP – Shared Leadership, Engagement, Culture of Achievement, and Academics. The notes can be found in the Notebook section of the CHEC Team site. Meetings will be held every two weeks, rotating between Friday mornings at 7:30 am, and Tuesday afternoon's at 4:00 pm. The next meeting will be Friday, November 6 at 7:30 am.
---
SPIN SCOOTER COMPANY IN DC – UNLIMITED 30 MINUTE RIDES FOR EDUCATIONAL PROFESSIONALS
My name is Alex Davis, and I'm a Community Partnerships Associate with Spin, a shared electric scooter company operating in DC. At Spin, we're dedicated to delivering alternative transportation services for DC residents, especially essential workers in the region. We're excited to announce that our Everyday Hero Program is being extended to staff members in the education sector.
What does this mean? It means that Spin will provide unlimited free 30 minute rides for educational professionals. As the school year is starting Spin wants to provide staff members in the education sector the support they need to move safely through the city. Whether it's running errands or a quick recreational break, we want to show our appreciation for the work you're doing to help DC communities run smoothly. Eligibility is open to anyone in the education sector including but not limited to teachers, administrators, tutors, and janitorial staff.
To get the discount activated we ask all eligible employees to fill out the application form and provide their educational association identification or paystub and government ID.
Thank you in advance for your consideration.
Community Partnerships Associate, Spin
---
SEL TEAM RECOGNIZES EXCEPTIONAL STAFF MEMBERS
The SEL Team would like to recognize exceptional staff members who go above & beyond for their efforts around supporting social-emotional learning, wellness & trauma-responsive practices within the CHEC community!
For the month of SEPTEMBER, we would like to recognize:
MS -Ms Veronica Zuccarello
"Ms Z has become at the forefront and spearheaded plenty of organizations at CHEC. One organization in particular is advisory/PLT. She made sure our students not only receive the academic support during that time (MS and HS) but collaborated with counselors, social workers, and therapist to ensure students receive the socio emotional support as well."
"For several years, Ms Weiss has been a leader at CHEC when it relates to restorative practices and training teachers to conduct restorative circles. Ms. Wiess also provides yoga as a practice for not only students but also staff on a weekly basis through CHEC's social media page. "
And THANK YOU to all each of you do every single day around the social emotional wellness of our students, parents & school staff!
We will continue to recognize you, too!
---
AN IMPORTANT MESSAGE FROM THE DC OFFICE OF THE STATE SUPERINTENDENT OF EDUCATION (OSSE)
The Office of the State Superintendent of Education (OSSE) is collaborating with the Department of Behavioral Health (DBH) to monitor compliance with the mandatory youth behavioral health training for educators. DBH provides this youth behavioral health training at
https://supportdcyouth.kognito.com
District law mandates that all public and public charter school teachers and principals complete a behavioral health training once every two years (D.C. Law 14-56; DC Official Code § 7-1131.17(b)(1)).
Those who completed the trainings in calendar year 2020 do not need to retake the youth mental health trainings this fall. However, all new and returning building administrators and teachers who completed prior to January 1, 2020 must complete the 3 required modules by December 11, 2020. This calendar year will reset the compliance cycle so that all DC administrators and teachers will be required to complete on the same two-year cycle moving forward. Compliance tracking is the responsibility of building administrators.
---
We had a blast with Author Lilliam Rivera! A huge thank you to An Open Book Foundation for their heart in making sure that students have access to award winning authors as well as free signed copies of books!
This week, I interviewed Tishelle Ogunfiditimi, MPH. Ogunfiditimi is a Regulatory Affairs leader in the health care industry with sixteen years of diversified experience in clinical, research and epidemiological arenas spanning private, public, and non-profit sectors. We talked about public health, Covid-19 and the reopening of schools!
Be on the look-out in the next few weeks for interviews from a historian, who will talk about the historical and present-day value and turmoil that Native Americans face and a mental health expert that will discuss the trauma that students, parents, educators and, community members have faced during this most difficult time in our world.
Because we have the great fortune of serving students from wards 1-8, we will be taking our Brunch & Book Grab to S.W. Congress Heights next week!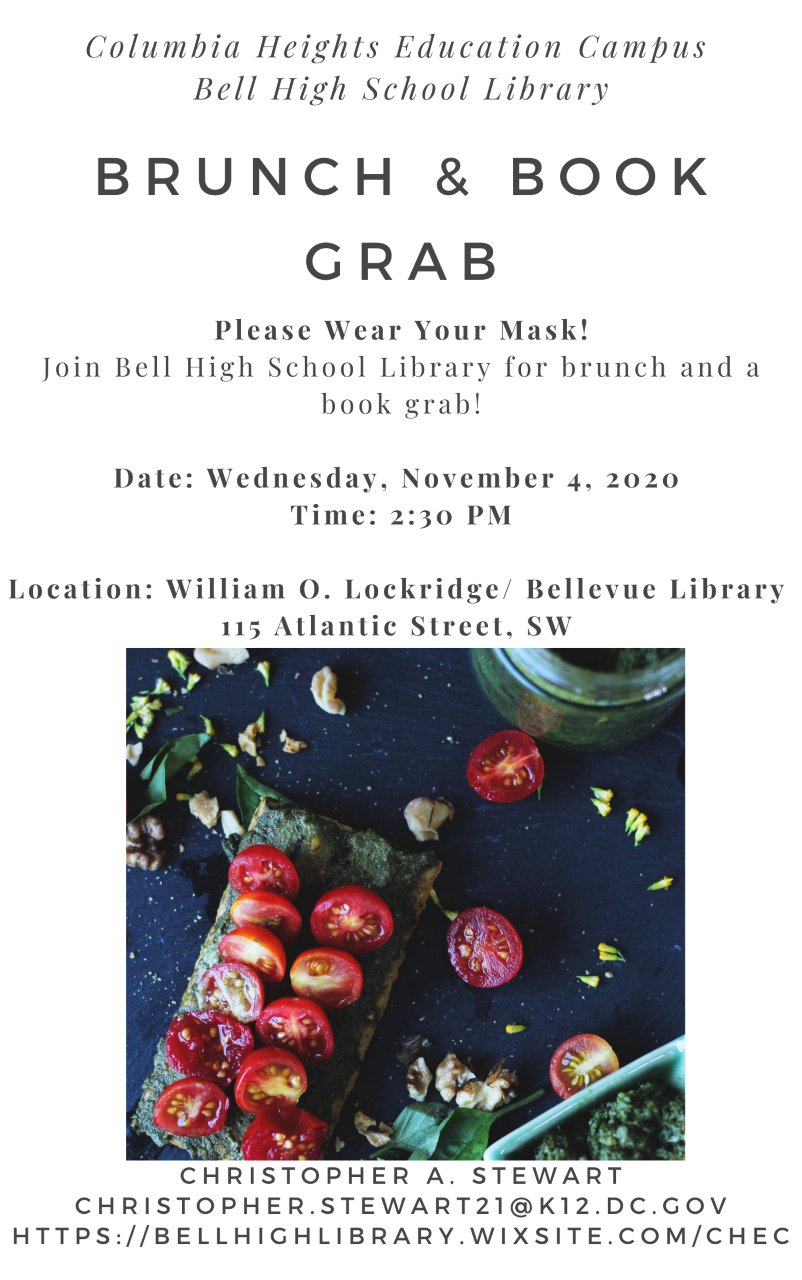 School Library Journal Summit
I want to share with you a clip from the School Library Journal Summit that took place yesterday. Superintendents, administrators, and leadership participated in the discussion, including WTU President Liz Davis. Ms. Davis highlighted the work of DCPS school librarians during virtual learning, including both CHEC libraries! A surprise and an honor to have our work seen and my hope is that district leaders and principals will see this clip to better understand the impact DCPS Library Programs has in our school communities, especially as we learn more about reopening plans. Thank you for your support of our library programs.
Native American Heritage Month Resources
First recognized in the 1990s, November is Native American Heritage Month. During this month, we recognize the history and culture of America's indigenous peoples, including the Native Americans, Alaska Natives, and Native Hawaiians. More resources will be posted to the CHEC Resource Hub, but you can find some starting resources below.
Association for Middle Level Education Conference
This past weekend was the AMLE Conference with the theme "The Successful Middle School: Virtually Building the Classroom of the Future". Resources from various sessions, including SEL, LGBTQ+, Instructional Strategies, Family Engagement, Anti-Racist Education, etc. can be found here.
Digital Collections Update: Follett Destiny Discover
Save time and access more books! DCPS and Clever were able to create a short cut for Follett Destiny Discover, the platform to access the digital Lincoln Library Collection. Students and staff can add the Follett extension on their browser to then be automatically logged in for quicker access. This step-by-step tutorial video is available here. **Reminder:** Staff access to Destiny Discover has also been updated so you can check out digital titles.
LMS Roles Spotlight: Teacher-Librarian Collaboration Ideas

Another role of a Library Media Specialist is Information Specialist. As your partner, I can help you brainstorm, develop, and curate resources to enhance lessons. Some ideas to consider:
Resources for research projects (all contents, singular or multi lesson)




Virtual Community Partners and Field Trips (all contents, PLT, singular or multi lesson)




One-on-one or department consultations about the resources
---
GrantED OPPORTUNITIES FOR CHEC CLASSROOM MINI-GRANTS WILL BE CONTINUING
CHEC teachers, GrantEd will still be here to serve teachers for the 2020-2021 school year - CHEC will remain a partner school!
Last school year, GrantEd received 22 grant requests from CHEC and awarded 20 of them, for a total of $7,223.81 and they would love to continue supporting us. Grant Ed has already started accepting applications and granting funds for the upcoming school year.
Please don't hesitate to contact Julia at GrantEd if you have any questions.
GrantEd Foundation, Co-Founder
---
DONORS CHOOSE 2020-2021
Donors Choose is a great resource for all teachers. You can receive a mini grant to support a special project or initiative. Please see some of our recent Donors Choose grantees! You can reach out to them for support in obtaining your own grant!
---
MESSAGE FROM TYLER MANNING - FINANCIAL CONSULTANT
Donors Choose is a great resource for all teachers. You can receive a mini grant to support a special project or initiative. Please see some of our recent Donors Choose grantees! You can reach out to them for support in obtaining your own grant!
I hope you are staying safe! I am sure you have a lot on your mind right now as a result of this COVID-19 chaos. I wanted to inform you that as a financial consultant with AXA Equitable, one of the approved providers of the supplemental retirement plans for DC, I am doing brief phone appointments with faculty and staff to help them get a better handle on how this market volatility affects their:
1. DC Pension
2. 403b supplemental retirement plan
3. 457b supplemental retirement plan
If you think you may benefit from this information, I have attached a PDF that provides insightful and contextual perspective to all this craziness. If there's another way I may be of assistance, please let me know!
Financial Consultant
3141 Fairview Park Drive, Suite #250
---
ACCESS for ELL's, ELLEVATION, and English Language Learners
Last year's ACCESS testing for ELL's was interrupted by the COVID 19 shut down, however some students were able to finish all or part of the assessment. As of September 29, these results will be on Ellevation. Please check ELLEVATION for your students, and you will find personalized activities aligned to their language needs, by domain.
As distance learning becomes the new norm for students across the country, a lot of families are playing an increased role in the day-to-day education of their child(ren).
The home-school connections added to the
Ellevation Distance Learning
activities allow educators to engage family members to share in the learning process.

---
In this section of our Bulletin, we will highlight student work from all disciplines. If you would like to share some excellent student work, please send to M. Tukeva, and we will highlight it in this section.
This week we would like to highlight the work of Henry Creel III, a student in Ms. Hartwill's Biology class. Henry created a PSA about safe practices during the Corona Virus Pandemic.
Please check it out, and congratulate Henry!
We hope you all are well. The Dean Team would like to share a few shout outs and friendly reminders.
Today the spotlight shines on Mr. Miguel Pinto!
Mr. Pinto is our Linguistics and Spanish Heritage, teacher. He has also impacted the lives of many students within his two years of service at CHEC. When asked, how do students earn badges in your classes? Mr. Pinto responded by saying, "They earn badges through attendance (both synchronous and asynchronous) and by submitting work. I have also provided readings to earn extra credit." Mr. Pinto shared the following when asked how has using restorative practices in your class has helped you during virtual learning, "To be honest, I have groups with awesome students that are engaged and respectful. I think they like how the classes are structured, and they have responded very well. In the only time that I had to have a word with a student at the beginning of the school year, I think that things were naturally back to normal by showing him that he was appreciated and that I expected him to fulfill all his potential." Thank you, Mr. Pinto, for your commitment to your students and team.
Everyone, please shine your light on Mr. Pinto this week!
Abraham Elizaldi-Hernandez

Abraham Elizaldi-Hernandez

Please celebrate these students for their high earnings of PRIDE points!
Please celebrate these students for their high earnings of PRIDE points!
Hugh Shout-out to Ms. Jovanda Warren and Adam Perry for having given the most PBIS Badges last week (Week 8)!
Also, we have created a padlet which has the student support form and the behavior referral form. Please bookmark this padlet for future reference: CHEC Student Support Guide. Feel free to connect with the Dean Team if you have any questions.
This is a reminder to take attendance on Sawyer for your What's Up Wednesday classes. If you need any assistance, please do not hesitate to reach out to the Dean Team. Please ensure you click the X for absent.
No Submit button required.
How to Take Attendance on Sawyer:
The official start date for off season in person workouts/conditioning has been pushed back from November 1st. An exact date, however, is not known yet. It is most important however, that all potential student-athletes who want to participate in sports this year, once we're cleared, complete participation forms online and upload current physicals for this school year. Participations forms are available via https://www.thedciaa.com/participation-forms. Currently, there are no DCIAA physical days scheduled, so it is imperative that potential student-athletes schedule a physical with their own doctor. Physicals must be signed by a nurse practitioner (NP) or medical doctor (MD. )Parents should click on the link corresponding to the appropriate level, whether middle or high school. Online forms are also available in Spanish.
Thank you to everyone who supported our fundraising for our boys basketball, baseball, and football teams. Mask should have been delivered to you over the last week. If you have received your masks, contact Coach A at desmond.alexander@k12.dc.gov. Also, please post a picture of yourselves in your mask and tag us on Instagram @checsports, so that we can repost. Pictures will be posted all week. Thanks again for your support!
Finally, please see the updated current team meet up times during virtual learning! This list will continue to grow! Also, our list of head coaches is below. Reach out to the coaches directly if you are a student-athlete, teacher, or parent for team meet up login information or if you have any other questions. If you haven't done so yet, follow us on Instagram @checsports.
---