CHEC bulletin for
Week of September 21, 2020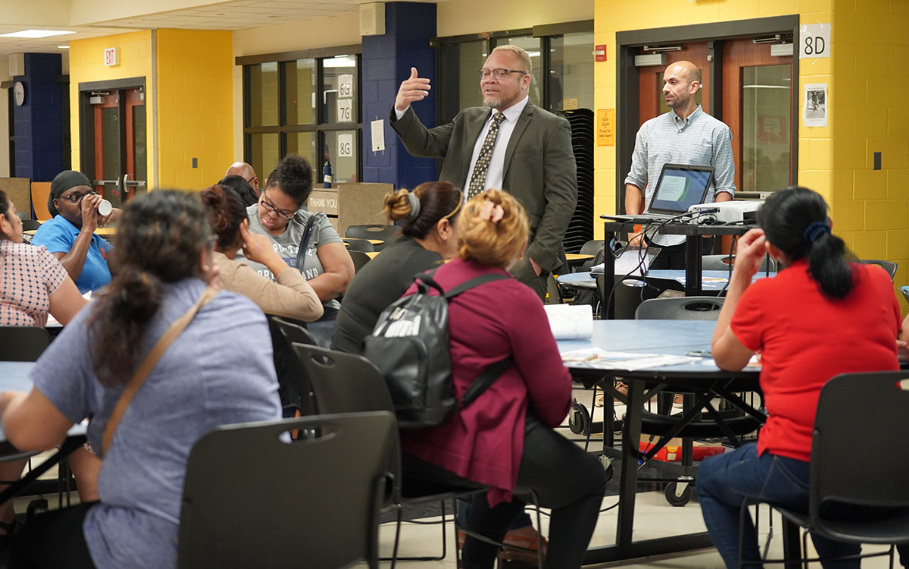 A CHEC MOMENT -

MR. GALVIN PRESENTS TO PARENTS DURING BACK TO SCHOOL DAY
MARIA TUKEVA'S (MT) MESSAGE:
All Departments and SLC's send individual notifications of their meetings
Monday, September 21,
2020
Tuesday, September 22, 2020
Wednesday,
September 23, 2020
Optional Reopen Focus Group – 2:15 pm
Back to School Night - 3:00 p.m. & 6:00 p.m.
MS Digital Citizen lesson part 2-3
Thursday,
September 24, 2020
DIA Town Hall Meeting ( 6 p.m.)
Friday,
September 25, 2020
October 1
st
– Faculty Meeting
Progress Reports Due – October 6
CHEC CELEBRATES HISPANIC AND LATINX HERITAGE MONTH
Honor the past, Embrace your future
Honrar su herencia y celebrar tu futuro
This is the theme of our Hispanic and Latinx Heritage Month this year. As part of our mission to create leaders in the quest for social justice and anti-racism, we are in a constant journey of learning, exploration, and discovery. The heritage months are a celebration of the many cultures which make up our school, yet they are so much more. They are the crux of our curriculum – a way to uncover the history of our students' and our own cultures, in a truly enlightening and uniting manner.
Each month focuses on a different culture, but not as a monolith, rather as a complex tapestry of cultures, languages, places of origin, and backgrounds that are all rich and important. For Hispanic and Latinx Heritage month, we will have a series of events and opportunities, including:
Advisory circles related to the theme




Music on Fridays




Lessons shared by our Librarians aligned to all subject areas




Arts Events




Culminating Assembly October 14



Challenge yourself to increase your knowledge and awareness, and to share with others. Please join our planning committee, which meets every Wednesday at 12:30 pm on TEAMS! We need everyone's ideas!
CHEC REOPEN FOCUS GROUP STARTS UP
On Thursday Mayor Bowser announced that some sort of in-person instruction would begin by November 9, which is about six weeks from now. We do not have full details, yet, only what was reported in the media. As details are shared, I will share them with you. In order to continue our preparation for this and the eventual full return to school, we will restart our Reopen Focus Group. We know that one of the big tasks in front of us as we move to hybrid virtual/inperson teaching, will be to create a new and modified master schedule taking into account who remains virtual, and who is coming in person. Since we do not have full details, we will need to have plans and back up plans. If you are interested and able to participate in this thought process, we will have our first Reopen Focus Group on Wednesday, September 23 at 2:15 pm.
Here are some new tech tips regarding Microsoft Teams. Please also our daily CHEC TECH TIPS, and contribute new tools as you find them!
Great news – Microsoft has just rolled out 7x7 so you can see up to 49 students in Teams.
Here is the link to the document
on how to access the new meeting features in Teams.
---
Shout out to the entire CHEC Team for a great Week 3!




Kudos to Pankaj, Mr. Bueno, Mr. Garcia, Mr. Green, Mr. Poole, Maji Jones, Mr. Thornton, Victor Molina, Ms. Thweatt, Ms. Lainez, Mr. Jones, and Francis on the Hill volunteers, for organizing our prom distribution on the Football field on Friday! Over 50 CHEC Seniors and Juniors came and picked out a beautiful prom dress!




Kudos to the Ops team for continuing to distribute technology and troubleshooting technology issues!




Kudos to the Dean Team and Kapindi Kroma for continuous collaboration to create our What's UP Wednesday schedule!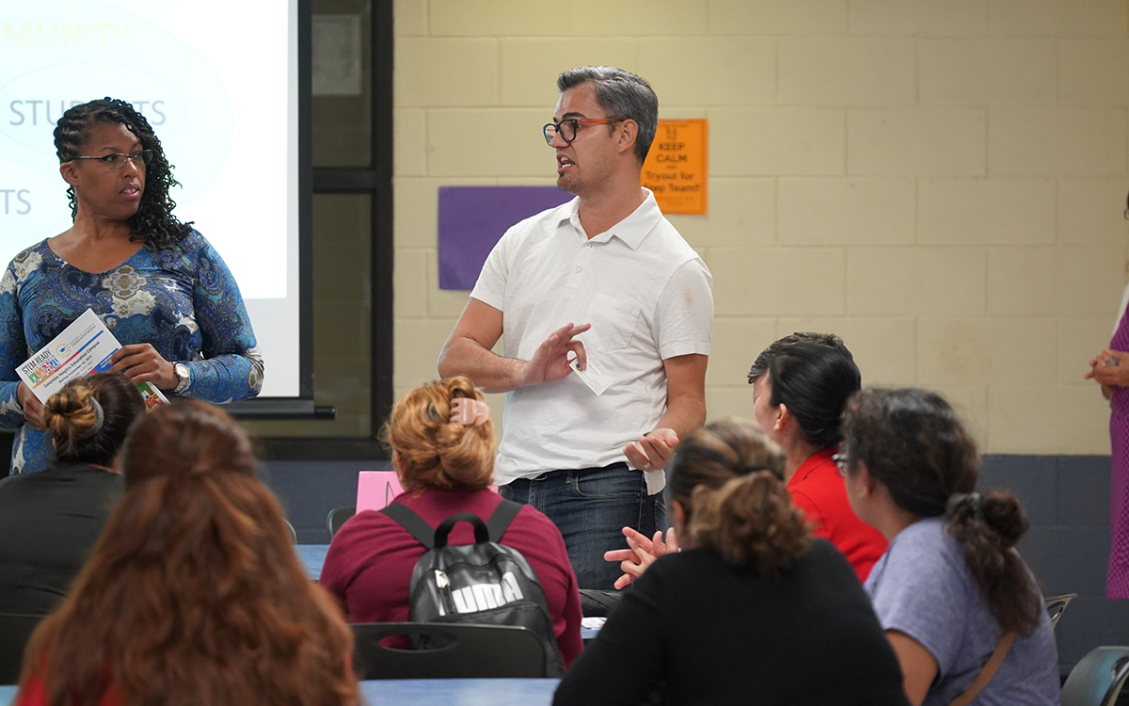 A CHEC MOMENT
- MR. AGUILAR WITH PARENTS DURING PARENT TEACHER CONFERENCE DAY
This week we are continuing with Living Through History, with the creation of artifacts and products in all content classes. Next week, the week of September 28, we will have lessons in Advisory to begin the curation and reflection on products, in preparation for putting them in the Time Capsule. The Living Through History GRASPS can be found through this link, and you can see what each grade level and subject area is contributing to the project. The products and projects different teachers have designed are compelling and engaging, and aligned to our key standards as well.
Now that we are moving fully into content, we should focus on utilizing our newly learned "best practices" in virtual instruction. Some of these are very similar to live instruction, just implemented differently:
Please continue with SEL openers, to continue to build community!




Please be sure to have a clear objective, unwrapped from a standard, that is shown visually and stated orally, in the beginning of the lesson, but available to be viewed throughout the lesson as needed.




Take advantage of technology to have visual and audio representations of content simultaneously – the immersive reader function on TEAMS works on all text, and even on the chat. Subtitles are also available, and this reaches students who need visual in addition to audio.




Continue to encourage students to come on camera, if only when they speak. Virtual equity sticks work in encouraging all voices of students! The CANVAS Badges for participation on camera also help!




The Discussion function on CANVAS is a great tool to encourage academic discourse and accountable talk!



As you discover new and effective tips and ideas, please continue to share them! We will publish them in our CHEC TECH TIPS, and in this section of the Bulletin
Digital Citizenship Lessons:
DCPS is requiring all students to receive three specific Digital Citizenship lessons before October 2, 2020. These lessons will be given in Advisory/PLT. You will receive the lesson plans and guidance on how to administer the lessons in your SLC.
What's Up Wednesday is coming soon!
Thank you to all for signing up to share an enriching activity or academic or socio emotional support! We have found a software that has allowed us to create our own internal schedule. In Advisory this coming week, we will provide students with an online format to register for the classes they want and need. Advisors will receive a list of students who need an academic intervention. Based on current progress with scheduling, barring any obstacles or glitches:
High School and Middle School will both
start September 30.
INSTRUCTIONAL CALENDAR

The Instructional Calendar is a living document that houses all the major curricular requirements, assessments, and schoolwide events. The Instructional Calendar is complete for the moment, however changes may be made and will be noted. If you have any requests for additions to the Instructional Calendar, please contact Mr. Magee, peter.magee@k12.dc.gov, or your SLC Administrator.
IMPACT UPDATES
You have all received the FAQ's of the adjustments of Impact this year. As a Summary:
There will be no IVA for teachers this year




There will be no student surveys this year



There will be EP observations for teachers this year, only 2 instead of 3. Observations for cycle 1 will begin on November 2nd, and every teacher will receive at least one informal observation before that date.


We will have focus groups to discuss the new adjusted EP Rubric, when it is finalized




There will be TAS for Teachers this year, however it will be expanded to allow for SEL or engagement goals as well as academic goals, and it will allow for shorter cycles, and mid-year revisions. TAS guidelines will be published in mid-September



The CSC rubric will be adjusted to add a sixth component for teachers teaching virtually, CSC 6. We will hold a focus group to review the CSC rubric and new dimension, and provide opportunity for feedback on the CSC Rubric on Wednesday, September 16 at 3:00 pm.


Non-teachers will receive adjusted expectations and rubrics will be applied accordingly, to reflect adjusted responsibilities.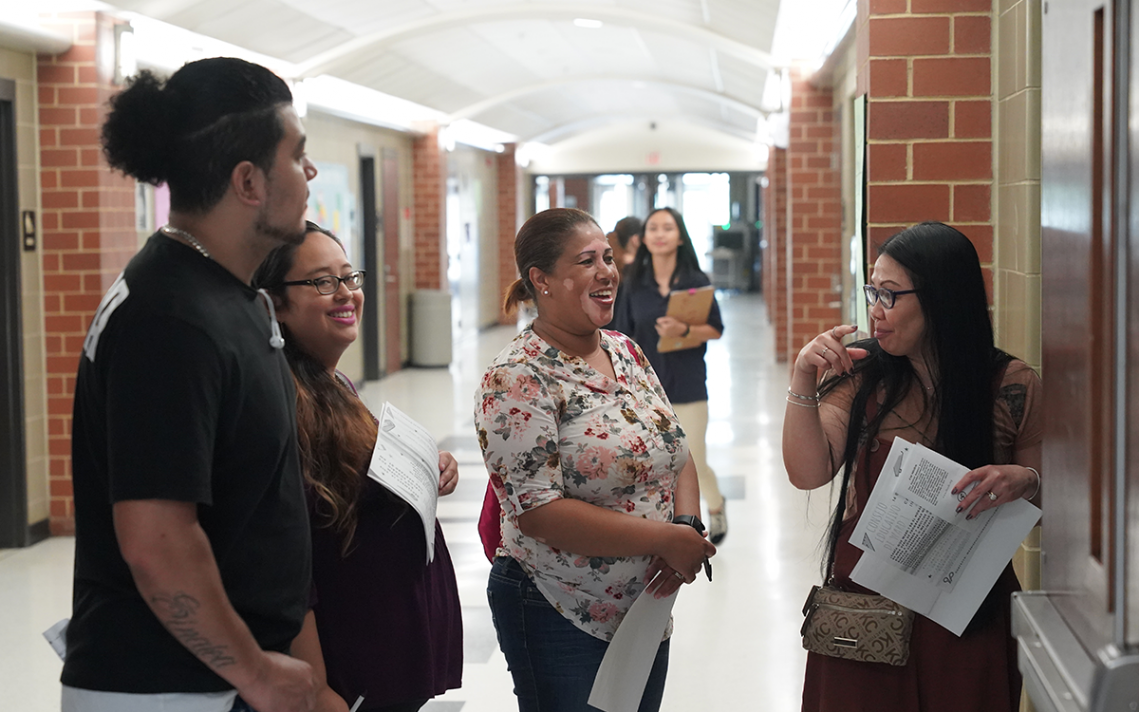 A CHEC MOMENT
- PARENT ACTION
UPDATES FROM:
I
ACADEMIC LEADERSHIP TEAM
I
FACULTY MEETING
I
PROFESSIONAL DEVELOPMENT
I
OSSE
I
LIBRARY
I
GrantED
I
T
YLER MANNING - FINANCIAL CONSULTANT
I
ELLEVATION
The ALT team is a team of educators charged with the design and implementation of our mission aligned Comprehensive School Plan. The Team is composed of all LEAP leaders, Department Chairs, Administrative Team Members, and any interested educator or staff member. We seek to involve all perspectives and voices. All staff members are invited to attend any or all meetings. Our work is in the four domains of the CSP – Shared Leadership, Engagement, Culture of Achievement, and Academics. The first Leadership Team Meeting took place on Friday, September 11. The notes can be found in the Notebook section of the CHEC Team site. Meetings will be held every two weeks, rotating between Friday mornings at 7:30 am, and Tuesday afternoon's at 4:00 pm. The next meeting will be Tuesday, September 23rd at 4:00 pm.
---
This year Faculty Meetings will continue to be on the first Thursday of the month, at 4:00 pm. The first meeting will be Thursday, October 1st. All meetings are posted in the Instructional Calendar.
---
This is a new section of our Bulletin, and within a few weeks it will be populated with a calendar of opportunities. Professional Development and learning is a priority for all of us, and we are all on a new learning curve. If you would like to get involved in either providing or receiving specific professional development, we look forward to getting your feedback to our PD Survey, which will be coming out within the next two weeks. We are able to compensate both those who provide, and those who attend professional development outside of school hours or in lieu of planning periods.
---
AN IMPORTANT MESSAGE FROM THE DC OFFICE OF THE STATE SUPERINTENDENT OF EDUCATION
The Office of the State Superintendent of Education (OSSE) is collaborating with the Department of Behavioral Health (DBH) to monitor compliance with the mandatory youth behavioral health training for educators. DBH provides this youth behavioral health training at
https://supportdcyouth.kognito.com
District law mandates that all public and public charter school teachers and principals complete a behavioral health training once every two years (D.C. Law 14-56; DC Official Code § 7-1131.17(b)(1)).
Those who completed the trainings in calendar year 2020 do not need to retake the youth mental health trainings this fall. However, all new and returning building administrators and teachers who completed prior to January 1, 2020 must complete the 3 required modules by December 11, 2020. This calendar year will reset the compliance cycle so that all DC administrators and teachers will be required to complete on the same two-year cycle moving forward. Compliance tracking is the responsibility of building administrators.
The attached flyers for Teachers and for school Admin provide detailed information about this requirement, how to access the trainings and monthly completion status reports for your employees.
---
LINCOLN LIBRARY UPDATE: HISPANIC & LATINX HERITAGE MONTH RESOURCES
You can find Hispanic & Latinx Heritage Month resources here. You will find book recommendations, links to virtual events, resources from community organizations, and other lesson ideas. Do you find all the options, links, and possibilities overwhelming? Don't worry, your librarian has your back. Next week I will send a follow up with warm-ups, lessons, guest speakers, author visits, and more structured ideas that you can implement into your classes. Do you have an idea but need someone to help you bring it to life? Email angela.falkenberg@k12.dc.gov.
Digital Citizenship Lessons
Digital Citizenship is the foundation to navigating a media reliant world. Thank you for leading Lesson 1 activities this past week - special shout out to those who shared their Nearpod links. Lessons 2 and 3 will be taught Wednesday, September 23rd by teachers in their PLT groups from 12:30 - 1:55 PM. These two lessons are combined and will take more time than Lesson 1. Reach out to Ms. Falkenberg if you would like her to help co-lead the lessons with you or have questions as you preview the materials. Did a particular topic stand out to you? Let's continue the conversation and further develop students' media literacy skills. Email angela.falkenberg@k12.dc.gov to brainstorm.
Important links can be found here:
---
GrantED OPPORTUNITIES FOR CHEC CLASSROOM MINI-GRANTS WILL BE CONTINUING
CHEC teachers, GrantEd will still be here to serve teachers for the 2020-2021 school year - CHEC will remain a partner school!
Last school year, GrantEd received 22 grant requests from CHEC and awarded 20 of them, for a total of $7,223.81 and they would love to continue supporting us. Grant Ed has already started accepting applications and granting funds for the upcoming school year.
Please don't hesitate to contact Julia at GrantEd if you have any questions.
GrantEd Foundation, Co-Founder
MESSAGE FROM TYLER MANNING - FINANCIAL CONSULTANT
Donors Choose is a great resource for all teachers. You can receive a mini grant to support a special project or initiative. Please see some of our recent Donors Choose grantees! You can reach out to them for support in obtaining your own grant!
I hope you are staying safe! I am sure you have a lot on your mind right now as a result of this COVID-19 chaos. I wanted to inform you that as a financial consultant with AXA Equitable, one of the approved providers of the supplemental retirement plans for DC, I am doing brief phone appointments with faculty and staff to help them get a better handle on how this market volatility affects their:
1. DC Pension
2. 403b supplemental retirement plan
3. 457b supplemental retirement plan
If you think you may benefit from this information, I have attached a PDF that provides insightful and contextual perspective to all this craziness. If there's another way I may be of assistance, please let me know!
Financial Consultant
3141 Fairview Park Drive, Suite #250
---
As distance learning becomes the new norm for students across the country, a lot of families are playing an increased role in the day-to-day education of their child(ren).
The home-school connections added to the Ellevation Distance Learning activities allow educators to engage family members to share in the learning process.

Each Friday, the Dean Team will announce the teacher spotlight winners. Today the spotlight shines on two fantastic teachers Ms. Veronica Zuccarello and Ms. Bree-Anna Joseph!
Ms. Zuccarello, also known as Ms. Z, is 6th grade ELA & PLT teacher. She has impacted the lives of many students within her three years of service at CHEC. Ms. Zuccarello shared the following when asked What has been the impact of using restorative practices this school year. "Using restorative practices has created a space where my students feel comfortable sharing aloud, turning on their cameras, and communicating with me whenever they have a problem. This alone makes being a ~virtual~ teacher WAY more engaging for me even and makes more learning happen as attendance numbers are up, and participation is high! Overall, it's just more fun teaching when kids trust you and know you're there." Thank you, Ms. Zuccarello, for your commitment to your students and team.
Ms. Joseph is a 10th grade English teacher. She has also impacted the lives of many students within her four years of service at CHEC. Ms. Joseph shared the following when asked What has been the impact of using restorative practices this school year, "It's easy to feel isolated when we're quarantined, even if we're not quarantined alone. Restorative practices at the beginning of class and PLT has helped me build relationships with students in both the academic and SEL aspects. Being able to connect and share experiences with circles, meditations, and private discussions help solidify student trust in my intentions as their teacher and as an adult who wants help them succeed." Thank you, Ms. Joseph, for your commitment to your students and team.
Everyone, please shine your light on Ms. Joseph and Ms. Zuccarello this week!
Please celebrate these students for their high earnings of PRIDE points!
Student Support Forms:
Also, we have created a padlet which has the student support form and the behavior referral form. Please bookmark this padlet for future reference: CHEC Student Support Guide. Feel free to connect with the Dean Team if you have any questions.
---
Last week, prospective student-athletes got a chance to meet our middle and high school head coaches on Wednesday and Thursday respectively. If there are any students who missed these events and are interested in participating in sports this year, please have them email the head coach for that sport.
Also follow us on Instagram
@checsports