CHEC bulletin for
Week of September 14, 2020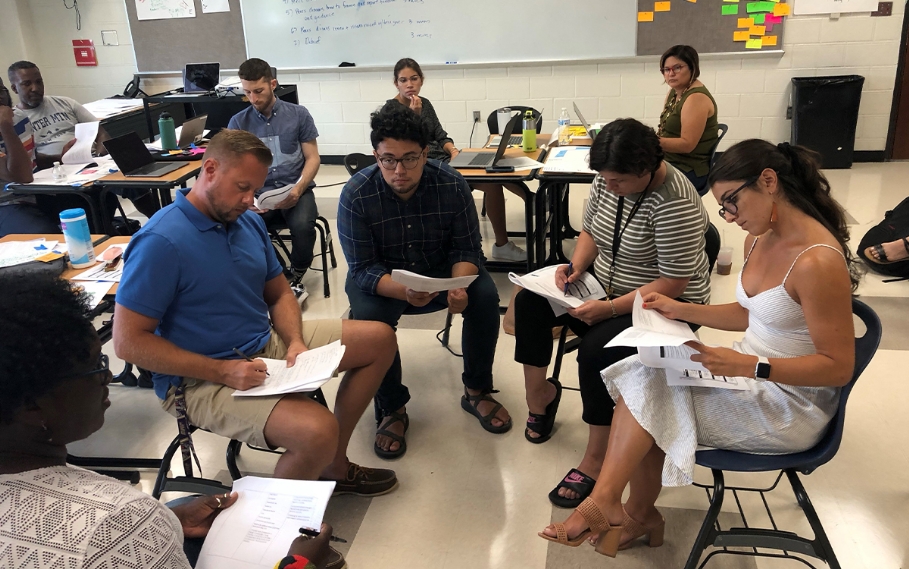 A CHEC MOMENT

- PROFESSIONAL DEVELOPMENT
MARIA TUKEVA'S (MT) MESSAGE:
All Departments and SLC's send individual notifications of their meetings
Monday, September 14,
2020
Tuesday, September 15, 2020
Hispanic Heritage Month begins
Wednesday,
September 16, 2020
3:00 pm – Optional Focus Group on CSC Rubric
Thursday,
September 17, 2020
Friday,
September 18, 2020
September 23
rd
3 pm and 6 pm – Back to School Night
October 1
st
– Faculty Meeting
Thank you to all members of the CHEC team for a great week 2! We are fully into teaching content, and maintaining our focus on relationships with students. The Advisory Period has been a highlight of my day, and I look forward each morning to meeting with my advisees (with my co-teacher Mr. Molina). We are developing trust and confidence, and it is great to see the students building their voice.
The relationships we are building through Advisory, and the Learning Through History Cornerstone provide us with a unique opportunity to chronicle our combined experience during the pandemic and historical period of social justice struggles. "History" is happening to all of us as a community; this crisis unites us with our students and their families. Together we can make sense of it, find purpose, take action, and leave a legacy. In each content class, students will be exploring their experiences through a different lens, and applying the skills of that content to analyze these real life historical events. In Advisory, we have the opportunity to work with students to create a synthesis of these products, culminating in a time capsule with artifacts that will be installed in the Smithsonian Institution, and seen and analyzed by historians of the future. This is the ultimate authentic audience!
The Living Through History GRASPS can be found through this link, and you can see what each grade level and subject area is contributing to the project. The products and projects different teachers have designed are compelling and engaging, and aligned to our key standards as well.
LTH GRASP Schoolwide.docx
As we work with our students to construct these authentic artifacts and elevate their voices and perspectives as global citizens, we will also help them see how English and Math are related, how Science and Social studies are connected, and how Language, Health, Art and Music are all intertwined as an expression of the human experience. We have a unique opportunity to build the interdisciplinary connections we have been seeking. We also have the opportunity to engage our parents in this project, and involve their voices as well. The Living Through History GRASPS will be made available to parents, so they can become involved. I look forward to reading, seeing, and feeling what we construct together with our students and families. We are Griffins and Knights and we are Living Through History Together!
---
TECH TIPS
Here are some new tech tips regarding Microsoft Teams. Please also our daily CHEC TECH TIPS, and contribute new tools as you find them!
Great news – Microsoft has just rolled out 7x7 so you can see up to 49 students in Teams. Here is the link to the document on how to access the new meeting features in Teams.

---
Shout out to the entire CHEC Team for preparing all instruction for a great week !!




Kudos to Ms. DeVargas, Ms. Benjamin, Mr. Henggeler, Mr. Cohen, Ms. Velasquez, Mr. Talarico, Mr. Perry, and Ms. Emilius For volunteering to have their class visited for our first Instructional Walk!




Shout out to Mr. Henggeler, Mr. Jackson and Ms. Peddyreddy for hosting Central Office CTE visitors last week in their virtual classes!




Kudos to the Ops team for distributing technology and troubleshooting technology issues!




Shout out to Pankaj for training the team for Virtual Home Visits for residency verification!




Kudos to the Dean Team and Kapindi Kroma for collaborating to create our What's UP Wednesday schedule!




Shout out to Coach A and all coaches for our Sports Kick Off's last week!




Shout out to Ms. Penn for the IT Open House,




Kudos to the Middle School and 9

th

Grade for Student Orientations!



A CHEC MOMENT
- MS. MENENDEZ'S DANCE CLASS
Thank you to all for engaging in strong relationship building over the first two weeks. In our first Virtual Instructional Walk, the Instructional Superintendent and Assistant Principals saw strong evidence of student engagement, including students having a role in running the classroom activity, students with a high level of comfort expressing how they were feeling, a focus on anti-racism and social justice, students creating artwork and discussing its qualities, visuals in math class designed to support small groups of students, work on the Living Through History Project, and students responding in writing on Nearpod to multiple question prompts. The Living through History GRASPS was launched last week in Advisory, and for the next two weeks, each content area will be working on a product. These products will be synthesized in Advisory, starting the fourth week of school. These products are either a part of, or complementary to, the first GRASPS of the advisory. We are also administering diagnostics over the next few weeks, and using this information to drive instruction. Now that we are moving fully into content, we should focus on utilizing our newly learned "best practices" in virtual instruction. Some of these are very similar to live instruction, just implemented differently:
Please continue with SEL openers, to continue to build community!




Please be sure to have a clear objective, unwrapped from a standard, that is shown visually and stated orally, in the beginning of the lesson, but available to be viewed throughout the lesson as needed.




Take advantage of technology to have visual and audio representations of content simultaneously – the immersive reader function on TEAMS works on all text, and even on the chat. Subtitles are also available, and this reaches students who need visual in addition to audio.




Continue to encourage students to come on camera, if only when they speak. Virtual equity sticks work in encouraging all voices of students! The CANVAS Badges for participation on camera also help!




The Discussion function on CANVAS is a great tool to encourage academic discourse and accountable talk!



As you discover new and effective tips and ideas, please continue to share them! We will publish them in our CHEC TECH TIPS, and in this section of the Bulletin
Digital Citizenship Lessons:
DCPS is requiring all students to receive three specific Digital Citizenship lessons before October 2, 2020. These lessons will be given in Advisory/PLT. You will receive the lesson plans and guidance on how to administer the lessons in your SLC.
What's Up Wednesday is coming soon!
Thank you to all for signing up to share an enriching activity or academic or socio emotional support! We have found a software that has allowed us to create our own internal schedule. In Advisory this coming week, we will provide students with an online format to register for the classes they want and need. Advisors will receive a list of students who need an academic intervention. Based on current progress with scheduling, barring any obstacles or glitches:
High School will start September 23
Middle School will start September 30
INSTRUCTIONAL CALENDAR

The Instructional Calendar is a living document that houses all the major curricular requirements, assessments, and schoolwide events. The Instructional Calendar is complete for the moment, however changes may be made and will be noted. If you have any requests for additions to the Instructional Calendar, please contact Mr. Magee, peter.magee@k12.dc.gov, or your SLC Administrator.
IMPACT UPDATES
You have all received the FAQ's of the adjustments of Impact this year. As a Summary:
There will be no IVA for teachers this year




There will be no student surveys this year



There will be EP observations for teachers this year, only 2 instead of 3. Observations for cycle 1 will begin on November 2nd, and every teacher will receive at least one informal observation before that date.


We will have focus groups to discuss the new adjusted EP Rubric, when it is finalized




There will be TAS for Teachers this year, however it will be expanded to allow for SEL or engagement goals as well as academic goals, and it will allow for shorter cycles, and mid-year revisions. TAS guidelines will be published in mid-September



The CSC rubric will be adjusted to add a sixth component for teachers teaching virtually, CSC 6. We will hold a focus group to review the CSC rubric and new dimension, and provide opportunity for feedback on the CSC Rubric on Wednesday, September 16 at 3:00 pm.


Non-teachers will receive adjusted expectations and rubrics will be applied accordingly, to reflect adjusted responsibilities.



A CHEC MOMENT
- STEM FAIR
UPDATES FROM:
I
ACADEMIC LEADERSHIP TEAM
I
FACULTY MEETING
I
PROFESSIONAL DEVELOPMENT
I
GrantED
I
DONORS CHOOSE
I
T
YLER MANNING - FINANCIAL CONSULTANT
I
ELLEVATION
The ALT team is a team of educators charged with the design and implementation of our mission aligned Comprehensive School Plan. The Team is composed of all LEAP leaders, Department Chairs, Administrative Team Members, and any interested educator or staff member. We seek to involve all perspectives and voices. All staff members are invited to attend any or all meetings. Our work is in the four domains of the CSP – Shared Leadership, Engagement, Culture of Achievement, and Academics. The first Leadership Team Meeting took place on Friday, September 11. The notes can be found in the Notebook section of the CHEC Team site. Meetings will be held every two weeks, rotating between Friday mornings at 7:30 am, and Tuesday afternoon's at 4:00 pm. The next meeting will be Tuesday, September 23rd at 4:00 pm.
---
This year Faculty Meetings will continue to be on the first Thursday of the month, at 4:00 pm. The first meeting will be Thursday, October 1st. All meetings are posted in the Instructional Calendar.
---
This is a new section of our Bulletin, and within a few weeks it will be populated with a calendar of opportunities. Professional Development and learning is a priority for all of us, and we are all on a new learning curve. If you would like to get involved in either providing or receiving specific professional development, we look forward to getting your feedback to our PD Survey, which will be coming out within the next two weeks. We are able to compensate both those who provide, and those who attend professional development outside of school hours or in lieu of planning periods.
---
GrantED OPPORTUNITIES FOR CHEC CLASSROOM MINI-GRANTS WILL BE CONTINUING
CHEC teachers, GrantEd will still be here to serve teachers for the 2020-2021 school year - CHEC will remain a partner school!
Last school year, GrantEd received 22 grant requests from CHEC and awarded 20 of them, for a total of $7,223.81 and they would love to continue supporting us. Grant Ed has already started accepting applications and granting funds for the upcoming school year.
Please don't hesitate to contact Julia at GrantEd if you have any questions.
GrantEd Foundation, Co-Founder
---
Donors Choose is a great resource for all teachers. You can receive a mini grant to support a special project or initiative. Please see some of our recent Donors Choose grantees! You can reach out to them for support in obtaining your own grant!
Ms. Guillen has a project funded by DonorsChoose.org
The resources for this project include:
Apple Pencil (1st Generation) - White x 1




Apple - iPad (Latest Model) with Wi-Fi - 128GB - Silver x 1




Logitech - Slim Folio Keyboard Case for Apple iPad (7th Generation 2019) - Graphite x 1



My Project

The use of a projector and whiteboard is a daily activity in my classroom, especially when it comes to language acquisition. In my Dual Language Social Studies class, having access to a drawing board is a necessity. Whether I am modeling how to annotate texts, circling cognates, or drawing quick sketches to explain ancient history - these scaffolds facilitate learning by developing critical reading skills and clarifying difficult concepts.
Throughout my virtual teaching experience, I have encountered many obstacles, but one constant is the struggle to bring words and history to life.
Having access to an iPad and Apple Pencil will reduce this problem for at least 187 students.
As I prepare for the new virtual school year, it is my hope that acquiring these items will aid language acquisition through visual supports and modeling the annotation of texts.
Ms. Zinzarella has a project funded by DonorsChoose.org
The resources for this project include:
·
Staples Composition Notebook, 9.75" x 7.5", College Ruled, 80 Sheets, Assorted Colors, 48/Carton (25536CT) x 2
·
Post-it Super Sticky Easel Pad, 25" x 30", White, 8/Pack (559-VAD-8PK) x 1
·
The Merriam-Webster Dictionary, Paperback (978-0-87779-295-6) x 15
·
Merriam-Webster's Spanish-English Visual Dictionary, Paperback (9780877792925) x 1
·
Merriam-Webster's Spanish-English Dictionary, Paperback (978-0-87779-824-8) x 10
·
Trend Certificate of Recognition Classic Certificates, 30 CT (T-11304) x 5
With my project, students will be able to use the materials in order to write down their thoughts and ideas about history and creating visual aids to supplement student learning in class. Students, especially my English Language Learners, will be able to have access to dictionaries and native language dictionaries to increase their content understanding and raise student achievement. M
y students will greatly benefit by using these materials to complete rigorous course work and articulate their ideas with their classmates on solving the problems in our society
---
MESSAGE FROM TYLER MANNING - FINANCIAL CONSULTANT
Donors Choose is a great resource for all teachers. You can receive a mini grant to support a special project or initiative. Please see some of our recent Donors Choose grantees! You can reach out to them for support in obtaining your own grant!
I hope you are staying safe! I am sure you have a lot on your mind right now as a result of this COVID-19 chaos. I wanted to inform you that as a financial consultant with AXA Equitable, one of the approved providers of the supplemental retirement plans for DC, I am doing brief phone appointments with faculty and staff to help them get a better handle on how this market volatility affects their:
1. DC Pension
2. 403b supplemental retirement plan
3. 457b supplemental retirement plan
If you think you may benefit from this information, I have attached a PDF that provides insightful and contextual perspective to all this craziness. If there's another way I may be of assistance, please let me know!
Financial Consultant
3141 Fairview Park Drive, Suite #250
---
As distance learning becomes the new norm for students across the country, a lot of families are playing an increased role in the day-to-day education of their child(ren).
The home-school connections added to the Ellevation Distance Learning activities allow educators to engage family members to share in the learning process.

---
Last week, prospective student-athletes got a chance to meet our middle and high school head coaches on Wednesday and Thursday respectively. If there are any students who missed these events and are interested in participating in sports this year, please have them email the head coach for that sport.
Also follow us on Instagram
@checsports