CHEC bulletin for
Week of August 31, 2020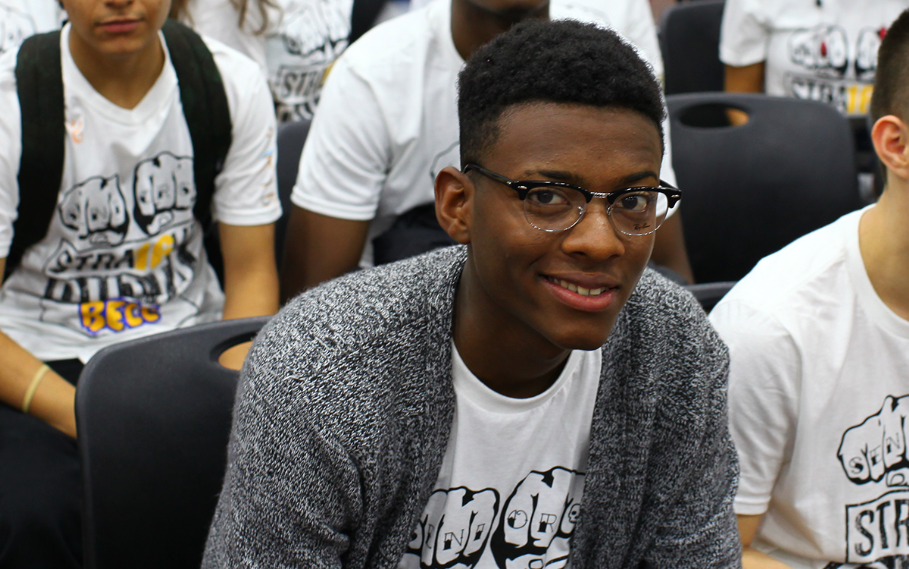 MATT LOPEZ AT CHEC COLLEGE SIGNING DAY - APRIL 26, 2016
MARIA TUKEVA'S (MT) MESSAGE:
All Departments and SLC's send individual notifications of their meetings
9th grade student orientation- 10:45
6th grade student orientation- 3:15
Tuesday, September 1, 2020
10th grade student orientation- 2:15
Wednesday,
September 2, 2020
SLC Morning meeting 8:30 am
Department Meetings – 9:40 am
11th grade student orientation- Advisory Time 10:50 am
12th grade student orientation- Advisory Time 10:50 am
10th grade student orientation – 12:30 pm
Thursday,
September 3, 2020
Friday,
September 4, 2020
WELCOME BACK TO SCHOOL YEAR 20-21!!!
I woke up Sunday morning, to an email with an alumni update:
Matt Lopez De Leon of Washington, D.C., graduated after majoring in Latin American studies at Bates College in Lewiston, Maine. Lopez De Leon, the child of Ramona G. De Leon of Washington, D.C., is a 2016 graduate of Columbia Heights Educational Campus.
Bates College graduated 463 students from 37 states and 52 countries on May 31, 2020. Cumulatively, the Class of 2020 performed 80,000 hours of community service, exemplifying Bates' commitment to community learning and civic action.
Reading this brought joy to my heart, and a reminder of why I love this work. Many of you here at CHEC will remember Matt, and you were all a part of this story of victory. For those who have joined our school more recently, all of you are creating pathways to college graduation for other students just like Matt. School Year 20-21 is going to be different, and will present different challenges, but we won't be derailed in our purpose. We can and will still provide rigorous and thought provoking curriculum and instruction to our students, in an encouraging and supportive environment.
Thank you to all Faculty and Staff for your creative and relentless preparation over the past week. I know there is a lot of information to process, and we are being stretched in our capacity as lifelong learners. It is inspiring to see the level of collaboration, collegiality and support. Now we will join forces with our students and families to create a community of learners, and take our use of technology to a new level.
Thank you CHEC Team, for all you do!
---
Shout out to the entire CHEC Team for preparing all instruction to start on Day 1!



Shout out to all who provided professional development and office hours this week!

Kudos to the Ops team for distributing technology and troubleshooting technology issues!

Shout out to the Counselors for getting all of our schedules ready!


Shout out to Mr. Connor, over the summer he was recognized as a DCPS Social Studies Teacher of the Year!



We are starting this new school year with a focus on relationships first. With that in mind the first two weeks will be a time to familiarize students with us, and with one another, establish norms and community, engage in community building circles, and assist students in navigating the curriculum on CANVAS and/or Summit.
The Living through History GRASPS will be launched in week 2, in Advisory, and each discipline will have a part of developing the final project. The first GRASPS should also be launched in week 2. Each discipline is working on determining what diagnostics we will administer.
The Instructional Calendar is a living document that houses all the major curricular requirements, assessments, and schoolwide events. The Instructional Calendar is still under construction, and will be posted by next week.
UPDATES FROM:
I
GrantED
I
DONORS CHOOSE
I
JADEN RANDOLPH
I
T
YLER MANNING - FINANCIAL CONSULTANT
I
OFFICE DEPOT GIVE BACK
I
ELLEVATION
GrantED OPPORTUNITIES FOR CHEC CLASSROOM MINI-GRANTS WILL BE CONTINUING
CHEC teachers, GrantEd will still be here to serve teachers for the 2020-2021 school year - CHEC will remain a partner school!
Last school year, GrantEd received 22 grant requests from CHEC and awarded 20 of them, for a total of $7,223.81 and they would love to continue supporting us. Grant Ed has already started accepting applications and granting funds for the upcoming school year.
Please don't hesitate to contact Julia at GrantEd if you have any questions.
GrantEd Foundation, Co-Founder
---
Donors Choose is a great resource for all teachers. You can receive a mini grant to support a special project or initiative. Please see some of our recent Donors Choose grantees! You can reach out to them for support in obtaining your own grant!
Ms. Peddyreddy has a project funded by DonorsChoose.org
Mrs. Peddyreddy had her classroom project "Tinker the World of Engineering" recently funded.
The resources for this project include:
5 Set STEM Kit, DC Motors Electronic Assembly Kit for Kids DIY STEM Toys Intro to Engineering, Mini Cars, Circuit Building DIY Science Experiment Projects for Boys and Girls x 5




6 Set STEM Kit, DC Motors Electronic Assembly Robotic Science Kits, Mini Electric Plotter, Ball Emitter, Reptile Robot, Boat, Balance Car, Circuit Building DIY Science Experiments Projects for Kids x 6




Paper Models That Move: 14 Ingenious Automata, and More (Dover Origami Papercraft) x 4




Automata Too: Four Working Models to Cut Out and Glue Together x 15



My Project
Many career paths depend on logical and creative thinking as well as spatial reasoning. Tinkering has been proven to be one of the best ways to promote these skills.
As part of this effort, I have requested these STEM kits which will be shipped to each student's home as part of the engineering course. Students will be able to build simple automaton toys at home to get introduced to basic concepts of engineering including simple machines, mechanisms, and electronics. This would be a great segue into the first engineering course which takes them through the journey of thinking and designing like an engineer using CAD software.
---
CHEC'S JADEN RANDOLPH FEATURED AS ONE OF DESTINATION DC'S TOP INTERNS
Not sure if you saw this, but CHEC student Jaden Randolph was featured on Channel 4 news as Destination DC's top intern (out of 70) to speak about her experience this Summer!!!!

---
MESSAGE FROM TYLER MANNING - FINANCIAL CONSULTANT
Donors Choose is a great resource for all teachers. You can receive a mini grant to support a special project or initiative. Please see some of our recent Donors Choose grantees! You can reach out to them for support in obtaining your own grant!
I hope you are staying safe! I am sure you have a lot on your mind right now as a result of this COVID-19 chaos. I wanted to inform you that as a financial consultant with AXA Equitable, one of the approved providers of the supplemental retirement plans for DC, I am doing brief phone appointments with faculty and staff to help them get a better handle on how this market volatility affects their:
1. DC Pension
2. 403b supplemental retirement plan
3. 457b supplemental retirement plan
If you think you may benefit from this information, I have attached a PDF that provides insightful and contextual perspective to all this craziness. If there's another way I may be of assistance, please let me know!
Financial Consultant
3141 Fairview Park Drive, Suite #250
---
As distance learning becomes the new norm for students across the country, a lot of families are playing an increased role in the day-to-day education of their child(ren).
The home-school connections added to the Ellevation Distance Learning activities allow educators to engage family members to share in the learning process.