CHEC bulletin for
Week of March 29
, 2021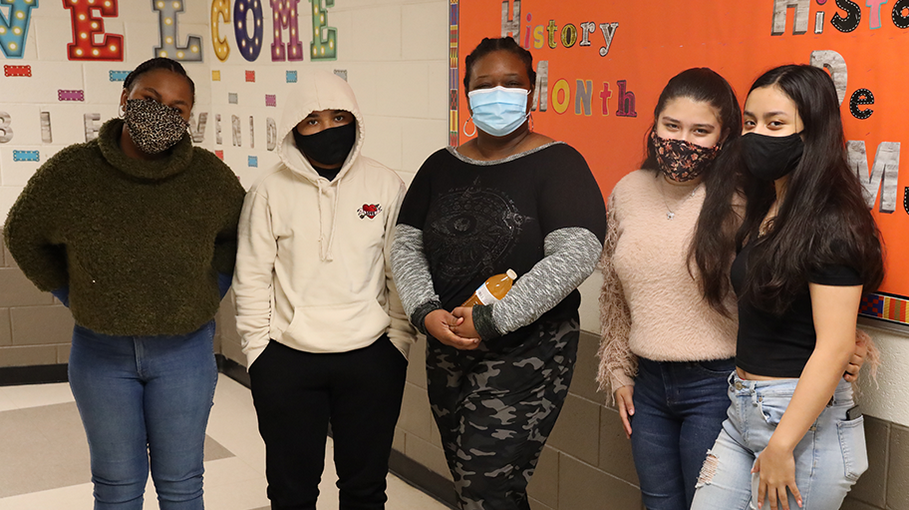 MS. GLASCO EVANS 9TH GRADE CLASS - R. MAZARA, D. JONES, D. MENJIVAR, AND A. CARDOZA
MARIA TUKEVA'S (MT) MESSAGE:
WRAPPING AROUND THE CLASS OF 2021
The pandemic has been challenging for all of us, and in particular for our graduating seniors. They left the building as juniors, and have had to prepare for the transition to college and careers in a completely virtual session. We still do not what kind of graduation, or senior celebration, we will be able to have, and the uncertainty for our seniors is difficult. As a result, many of our seniors are struggling, and we need to wrap our collective arms around them to support them in this all important transition.
National data shows a sharp decline in college applications for African American and Latinx young people. According to Wil Del Pilar, vice president of higher education at the Education Trust, "This kind of a dip in enrollment… could widen the gap in attainment that we see nationally." (Washington Post, February 16, 2021.
Our own data from CHEC last year shows a pattern, similar pattern, with a decline of 5% in the number of 2020 graduates applying to college, and a 20% decline in the percent of males applying to college, from 53% in 2019, to 33.7 % in 2020. As the pandemic has continued, this decline of applications is continuing, and currently, we have a total of 78 seniors who have not applied to any post-secondary options. Of these, the great majority, 70% are males.
We have a list of these seniors who do not yet have any applications in, or do not yet have a concrete plan for transition after high school. We know that each staff member has some special contacts with our students, so we are asking that you join us as a mentor to a senior. We will be having College and Career Barbecue on April 7 at 1:00 pm, to assist seniors in person with their applications so please come and get matched with a senior who could use some support in this process. We will be sending the list of seniors who need support, so please check it out and let us know if you have a relationship with any of those students and can help them on this journey.
Thank you! Together we can help the Class of 2021 achieve its dreams!
RECOVERY/ACCELERATION PLAN SUBMITTED
After receiving additional feedback from our Recovery Community Corps, our initial plan was submitted on March 25th. Once approved, we will develop a specific budget and spending plan. We will start recruiting staff and students by the second week in April. If you are interested in working in our creative and innovative Summer Acceleration plan, please reach out and apply. The outline of our goals and programming can be seen by clicking here.
---
Shout out and Thank you to Ms. Henry as she transitions to Central Office! Thank you Ms. Henry for your three years of service to our students guiding them in their road to college!




Shout out to all IPL teachers and staff for supporting our In person scholars! It is truly making a difference and we are seeing motivation grow!




Shout out to Coach A for getting our Sports Team prepared to launch this coming week!




Shout out to the Equity Team for developing a one page resource for our families and students!




Kudos to Ms. Bruemmer, for being recognized by BrainPop for her innovative practices!!




Shout out to Mr. Chavez and Mr. Boone for reinstating our Empowering Young Men of Color Initiative!




Shout out to Mr. Diaz, Juliana Aguilar, and Cenaria Fells Watson for representing CHEC in the Town Hall with Stacy Abrams last week!




Shout out to Mr. Heber Diaz for presenting a professional development on Socratic Seminar and sharing all of his resources!




Shout out to Ms. Tamdem for a creative GRASP aligned to Women's History and the Month of the Francophone!




Kudos to Ms. Spinks, Mr. Jackson, and Ms. Elmore for a great Hospitality Town Hall last week!




Shout out to all who attended the Recovery Community Corps Meeting on last Wednesday!




Kudos to Mr. Magee as lead, and the ALT Academics team for their work on planning for our next Faculty Meeting!



WE HAVE A RECOGNITION! HONORED TEACHERS PARTNERSHIP CONTINUES THIS YEAR!
Columbia Heights Education Campus's great teachers deserve to be recognized! We're proud to partner with Honored Schools again this year to do just that! Go to HonoredSchools.org to tell Columbia Heights Education Campus teachers how they've made a difference. Please share this with parents and students! Once recognized, teachers get an email with your recognition story and we'll celebrate them! Last year our very own Ms. Ramirez won the Life-Changing Teacher Award and a $5000 cash award!
All Departments and SLC's send individual notifications of their meetings
Wednesday,
March 31
, 2021
10:00 a.m. - CHEC Parent Workshop - en Espanol and in English - Combined
Principal/Parent Town Hall on IPL for Fourth Advisory – 5:00 pm
UPCOMING EVENTS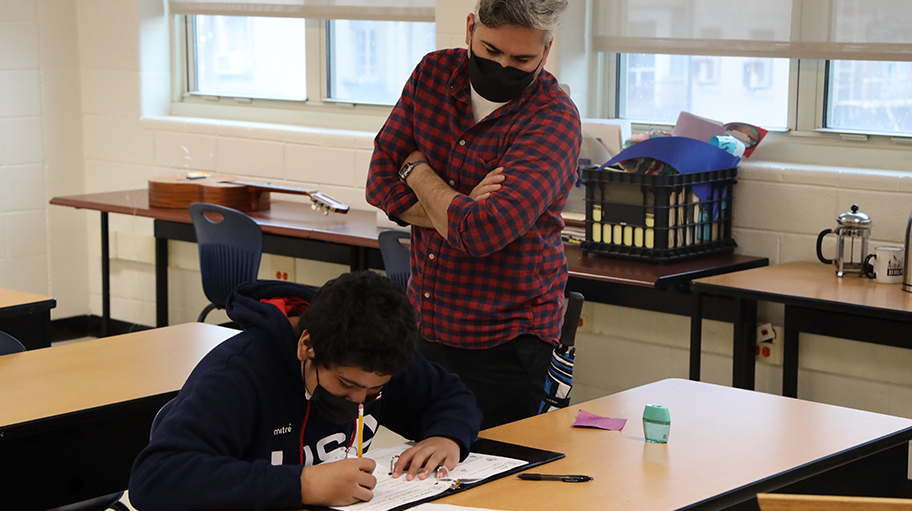 OSCAR MORALES IN MR. ARABIAN'S ESL CLASS
We are beginning the ninth week of the third advisory. By this week, all students should be finished with their first GRASPS. Students should be reflecting, organizing and preparing for portfolio presentations, and finishing all outstanding assignments.
Portfolio presentations will be occurring in one and a half weeks. All classes will be presenting an e-portfolio, either through CANVAS or Summit. If you need assistance in preparing your students, please reach out to Ms. Ferguson or your Department Chairperson.
The Instructional Calendar is a living document that houses all the major curricular requirements, assessments, and schoolwide events. The Instructional Calendar is complete for the moment, however changes may be made and will be noted. If you have any requests for additions to the Instructional Calendar, please contact Mr. Magee,
, peter.magee@k12.dc.gov, or your SLC Administrator.
---
IMPACT UPDATES
Informal observations are complete and Cycle 1 Observations are now taking place. The closing window for cycle 1 has been extended until March 25th. As a follow up to our IMPACT orientation, we are creating a library of practices and videos to support development on particular EP's. As we discussed, we are all in a learning curve with virtual instruction and will be learning from each other throughout the year. If you would like to share a best practice and be videotaped for the video library, please let your SLC Administrator know.
PROFESSIONAL DEVELOPMENT:
PROFESSIONAL DEVELOPMENT
---
Are you trying to find a way to have a source book like you did during in-person learning? Join Mr. Magee during his office hours to learn how to use OneNote Class Notebook as a source book. Office hours and links are below.
Are you preparing for the combined teaching model? Do you want to talk through what this will look like and what to expect? Join Ms. Ferguson on Wednesday to begin discuss the Combined Teaching Model.
Are you looking for resources for Black History Month, SEL, or other premade lessons in Nearpod? Are you looking to adapt and incorporate a premade lesson from Nearpod? Join Ms. Ferguson on Thursday 12:30-1:15 pm Click this link to join Nearpod Premade lessons
Ms. Ramirez - Office Hours
Will provide support on the following items on the listed days.
Monday (4-5)- Support students in completing missing work from the previous advisory/term and tech support
Tuesday- (10-11:30 and 4-5) Workshop Creation and tech support.
Wednesday (4-5)- How to help students feel that they should care and tech support
Thursday (4-5)- Resetting expectations for students who are failing and tech support.
Friday (4-5)- Tech support.
Ms. Z is excited to help with aligning Summit project checkpoints and final products for third advisory and rebooting notetaking and workshop creation for PLT.
Ms. Vialpando's Office Hours
Ms. Vialpando is having weekly office hours to support our language learners and instructional strategies for reading. Her office hours will take place on Thursdays from 3:30-5 pm
This office hour/block will cover how to support students/families who are experiencing transition or who do not have stable housing. We will cover mandates, homeless liaison role, community referrals, and how CHEC/staff community can support our students who are in transition, MTSS supports, and behavior interventions.
PGT Support w/Various members of the Personal Growth Team
You can receive support with social/emotional supports, behavioral supports, mandated reporter supports, at-risk students, MTSS supports, and other concerns

.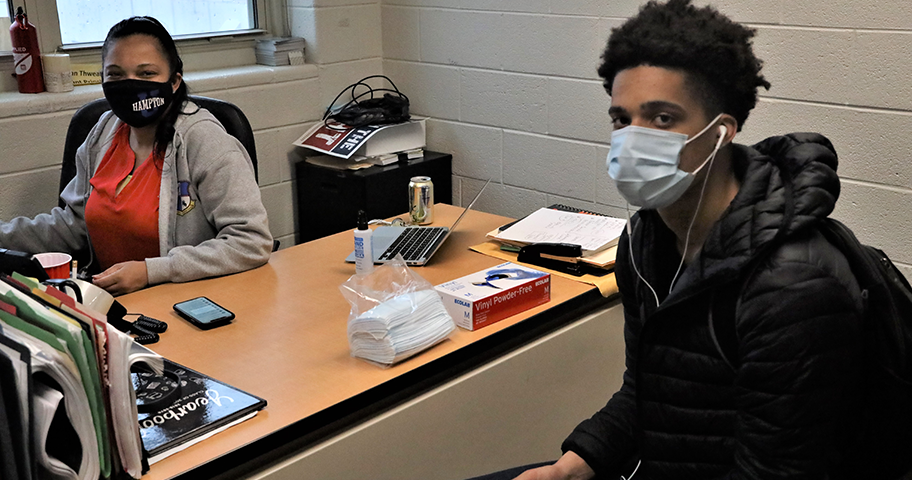 MS. THWEATT WITH CHEC SENIOR ABE HUNTER
UPDATES FROM:
I
LANGUAGES DEPARTMENT
I
THE HOME/HOSPITAL INSTRUCTION PROGRAM
I
KOJO NNAMDI SHOW
I
CHEC GARDEN
I
LIBRARY UPDATE
I
---
CHEC LANGUAGES DEPARTMENT - FRENCH CLASS
The Francophonie are celebrating Women's History Month during March, and CHEC French language students created a slide on a francophone woman (of their choice) who marked history.
CHEC French Language Instructor
---
THE HOME/HOSPITAL INSTRUCTION PROGRAM - NICOLE HALLERMAN
I had a great experience working with the district's Home/Hospital Instruction Program (HHIP) to support one of my students recently. They are looking for teachers to provide academic support in the afternoons, evenings, and/or weekends for admin premium pay ($40/hour).
Please feel free to forward and share.
Fill | HHIP - Admin Premium Teaching Support
The Home/Hospital Instruction Program (HHIP) provides academic instruction to students who are medically confined to the home and/or hospital for 2 weeks or more. Please respond to the questions below if you are interested in providing academic support in the afternoons, evenings, and/or weekends for admin premium pay ($40/hour). Please note - this is not a full-time position. (You must be a licensed DCPS teacher.)
---
CHEC STUDENT FEATURED ON THE KOJO NNAMDI SHOW
CHEC 11
th
grader Christell Miranda Lopez was a featured guest on the Kojo Nnamdi show on Tuesday, March 23
rd
at 12pm on WAMU 88.5
She represented CHEC well! Here is the link to the program recording:
---
THE CHEC GARDEN
As part of the welcoming of spring, the CHEC Garden is now open and will be featured in progress each week in the Bulletin. This week the transformation of the garden, from the ravages of a harsh winter into an amazing spring place of rejuvenation and growth, has begun. Dr. Vernon Baker and David Alarcon and Company have taken the first steps to bring the garden back. The old raised beds have been removed, making way for the soon-to-be construction of new ones, the soil and additives have been blended into the growth areas, and the grounds have been cleared to make way for the new wood beds. If you happen to drop by this week you will hear a lot of nearby birds as they begin nesting in trees around the garden as the weather turns warmer. Ask your students – "Are there vegetables that you would like to grow in the garden?" Send all requests to robin.winer@k12.dc.gov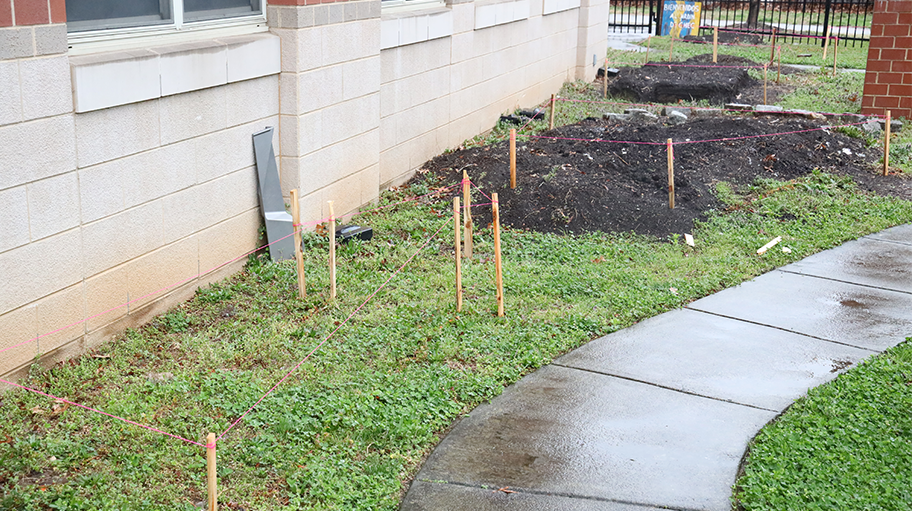 The Excavation Crew has staked out the locations for the new raised beds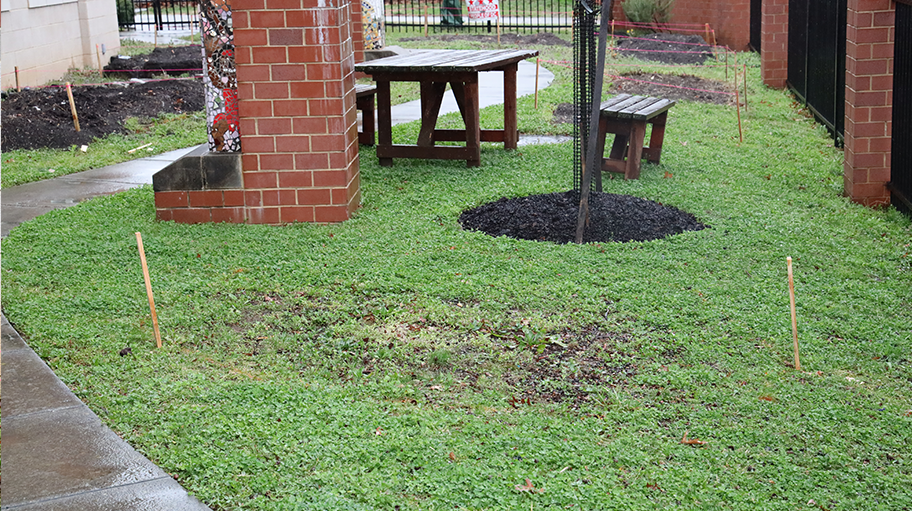 This year there will be five additional raised garden beds for student crops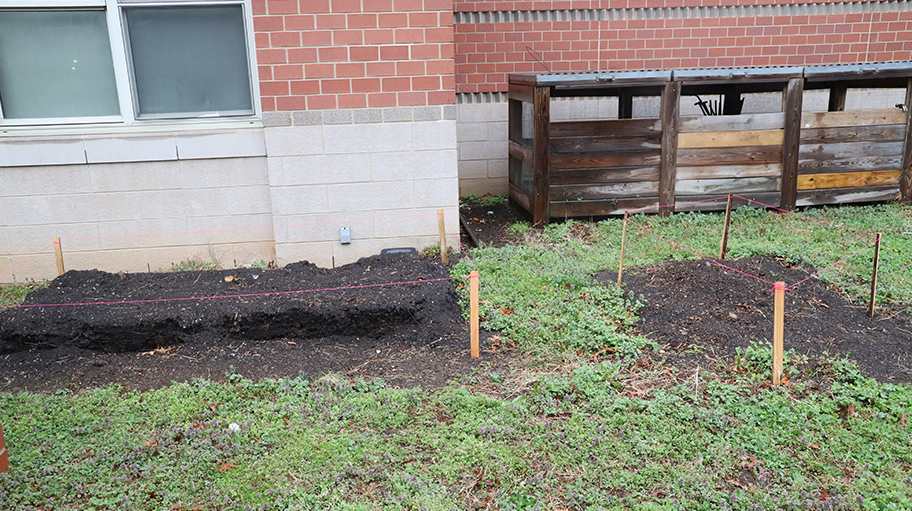 The soil has been reconditioned and enriched with rain last week
---
LINCOLN LIBRARY UPDATE

Schedule Brainstorming Session with Your School Librarian
Join Ms. Falkenberg weekly (Tuesdays, 4:00 PM) starting March 30th to collaborate on research projects, request information resources, plan virtual author visits and events, explore the digital reading platforms, build your digital design skills (Canva, Adobe Spark), or find out more about advocating for school libraries. Find the link in EdTech Teams page to join. Can't make it? No problem - email angela.falkenberg@k12.dc.gov to schedule another meeting time.
Junior League of Washington: Poetry Contest
The Junior League of Washington's 22nd Annual Poetry Contest is open for applications from 4th - 8th graders. The deadline has now been extended to March 31st. More information is available here: https://www.jlw.org/students/
April is National School Library Month
Each April, American Association of School Librarians and organizations recognize and celebrate school librarians and school libraries. Stay tuned for more activities - but in the meantime, please support your school library by filling out this survey to be featured in our social media campaign during School Library Month. You're also encouraged to share your experiences on social media tagging @dcpublicschools, @DCPSChancellor, @dcpslibrary, @DCLA_SLS, and @CHECDC. DCPS School Librarians use the hashtags #DCPSLibrariansChampionLiteracy and #DCPSLibraries.
As we continue to celebrate, each day, each month, women who have, are, and will pave the way for young men and women to change the world, please check out the
Women's History tab
and
Faculty/ Staff
tab of the Bell High School Library website with new and exciting resources, events, and content. Don't forget to pull resources from the
Exceptional Student tab!
Please pass the word on to parents and guardians to meet with the Bell Library for our Educator conference on today!
Some great articles, videos, and events:
We hope you all are well. The Dean Team would like to share a few shout-outs and PD opportunities.
Teacher Resource:
Coaching and Skill- Building Sessions
Tuesday, March 30th 4:00pm- 5:30pm
Restorative DC will support participants in a highly customized Coaching and Skill-Building session. These sessions are designed to support individuals or small groups representing various learning communities focusing on primary elements of Restorative Justice including: Family Engagement, Student Engagement, Staff Engagement, Behavior and Discipline Approach, and Content Delivery. Our highly trained staff will coach participants in mindset, facilitation and intervention skills as well as practice "Pro-Tips" for practical implementation and training others in your schools.
Restorative Justice and Grieving, the Small and the Big
Wednesday, March 31st 10:00am- 12:00pm
Restorative Justice is more than a process to repair relationships between people after a harm. It is a way of living and relating that focuses on "how we care about each other." It is a healing-centered approach drawn from ancient indigenous cultures that supports widening tolerance and welcoming what is also painful: the losses, the disappointments, the hurts. It brings people together to remember how to be healers and helpers to each other. In this workshop, we will learn how restorative practices can increase a culture of care towards those who may be grieving. We will explore how to widen our capacity to confront sadness and disappointment and learn about the turnaround journey of resilience inviting people back to hope. Objectives of this workshop are: 1) examine the five stages of grief and introduce the concept of ambiguous grief; 2) practice how to address these feelings in others and ourselves; and 3) demonstrate how to build community and resilience.
Today the spotlight shines on Justin Jacobs and Sarah Mintz!
Mr. Jacobs is a part of our Music Department, teaching general music/ back to Rap. He is also impacting the lives of many students at CHEC.
When asked how students earn badges in class, Mr. Jacobs responded saying,
"Students earn badges by showing up and STAYING in virtual classes. They also must participate/respond to check-ins for understanding. Students can also earn badges by completing Canvas assignments or logging that they have been practicing in the Smart music App" Mr. Jacobs shared the following when asked
how has using restorative practices in your class helped you during virtual learning
, "I have been using Ms. Ferguson's First Five form to access students' readiness and anxieties. We schedule breakout room talks and message in the chat box that are directed towards them only. Everyone is given the opportunity for make-up missing assignments without penalty." Thank you, Mr. Jacobs, for your commitment to your students and team.
Ms. Mintz is our 6th grade ELA teacher. She has impacted the lives of many students within her two years of service at CHEC.
When asked how students earn badges in class, Ms. Mintz responded saying
, "Students earn badges for showing their face on camera and actively participating in their small groups during our class group time." Ms. Mintz shared the following when asked
how has using restorative practices in your class helped you during virtual learning
, "Restorative Circles have been an amazing tool to talk about some of the more challenging events of this year such as the attack on the Capitol and recent shootings. Students have really opened up during these discussions and we have grown closer as a class community as a result." Thank you, Ms. Mintz, for your commitment to your students and team.
Everyone, please shine your light on Mr. Jacobs and Ms. Mintz this week!
Please celebrate these students for their high earnings of PRIDE points!
Student Support Forms:

Also, we have created a platform that has the student support form and the behavior referral form.
. Please bookmark this link for future reference:
CHEC Student Support Guide
. Feel free to connect with the Dean Team if you have any questions.
Congratulations to our student-athletes of the week. These athletes are being recognized for their outstanding commitment in the classroom and to their teams.
Almera Carter
CHEC Student-Athlete of the month
Tenielle Parker
Tenielle is a senior on the Varsity Girls Basketball Team, Flag Football and Rugby teams. Tenielle has been accepted into numerous colleges and universities as well as being awarded thousands of dollars in scholarships, including full tuition and Presidential Scholarships. Tenielle's list of college acceptances include: Alderson Broaddus University, Clark Atlanta University, Delaware State University, George Mason University, Georgia State University, Goucher College, Hampton University, Morgan State University, North Carolina A&T State University, Old Dominion University, Pace University and Spelman College. And the list continues to grow.
Tenielle also earned a 4.4 GPA during Term 2. Congratulations Tenielle, job well done!
Amaya Zulu
Amaya is an 8th grade student-athlete who works hard and plays basketball even harder! She is a great student and has excellent attendance. She is kind and helpful to her teachers and classmates. However, as an athlete, don't get in her way. She will make a power move to the hoop or hit a mean serve in volleyball. She has great work ethic on and off the court. She is often the first to show up and the last to leave practice. She is often heard either on the court or in the hallways encouraging her teammates to do better and this is what I call a leader! Congratulations Amaya, job well done!
Congratulations also goes out to all our student athletes with perfect attendance last week:
Tiffany Hernandez Martinez
If you are interested in participating in spring sports and/or working out with your fall/winter sports team, you must have completed your online participation forms, which includes uploading your up to date physical. Forms are available at https://www.thedciaa.com/participation-forms. If you have any questions, please contact Coach A at desmond.alexander@k12.dc.gov. Follow us on Instagram @checsports for the latest updates on team interest meetings. Or email your spring sports coach for more information!
Spring Sports
Rugby (Not Currently Approved)
Columbia Heights Educational Campus
Bell/Lincoln Multicultural Schools