CHEC bulletin for
Week of March 22
, 2021
YEFET LEMESSA 6TH GRADE - IN MS. PEREZ SCIENCE CLASS
MARIA TUKEVA'S (MT) MESSAGE:
Thank you to all who have contributed their ideas, creativity, and thought to our process of preparing for Advisory 4, Summer, and School Year 21-22. At last week's Recovery Community Corp Meeting, we had strong representation from parents, students and faculty. In our ALT team meeting Friday, the team reviewed the ideas and plans through the lens of our Comprehensive School Plan, in order to ensure that we are aligning our efforts to our goals.
There were several themes that emerged from the discussion - a strong focus on socio-emotional learning and services for students and parents, opportunities for students to engage in work-study and early college experiences, and designing of the school day and curriculum to reflect student interest and choice. Students were very interested in having opportunities for learning outside the school building and outside the traditional structure. Parents expressed the need for support in identifying their children's socio-emotional needs, and opportunities to relieve stress and anxiety through activities such as parent groups, yoga, and Zumba classes.
All of these ideas can be made more feasible through maximizing our relationship with our partners and community organizations which offer many rich opportunities for students and families. Working as a community, with involvement of stakeholders and partners, we can recover and accelerate learning for all students. Please join the RCC on Wednesday at 4:30 pm to review the plan before it is submitted.
---
JULIANA LOPEZ AGUILAR, CENARIA WATSON AND MR. HEBER DIAZ TO PARTICIPATE
IN
VIRTUAL DISCUSSION WITH
STACY ABRAMS AND LAUREN GROH-WARGO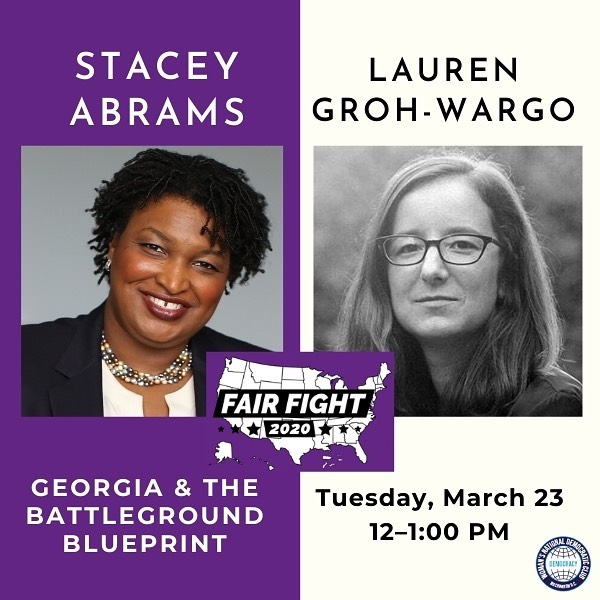 Topic: Stacey Abrams and Lauren Groh-Wargo
Time: Mar 23, 2021 12:00 PM Eastern Time (US and Canada)
Meeting ID: 880 7688 3948
---
Shout out to all Counselors for their work on student schedules!


Shout out to Mr. Schutt, Ms. Chiu and Mr. Sanchez for celebrating Pi Day with innovative activities in their classes!



Shout out to all who attended the Recovery Community Corps Meeting on last Wednesday!

Kudos to the ALT team for their work on planning for Acceleration!


Kudos to all SLC Administrators for engaging their grade levels in IPL!



WE HAVE A RECOGNITION! HONORED TEACHERS PARTNERSHIP CONTINUES THIS YEAR!
Columbia Heights Education Campus's great teachers deserve to be recognized! We're proud to partner with Honored Schools again this year to do just that! Go to HonoredSchools.org to tell Columbia Heights Education Campus teachers how they've made a difference. Please share this with parents and students! Once recognized, teachers get an email with your recognition story and we'll celebrate them! Last year our very own Ms. Ramirez won the Life-Changing Teacher Award and a $5000 cash award!
All Departments and SLC's send individual notifications of their meetings
9:30am - CHEC Parent Workshop – in English
Wednesday,
March 24
, 2021
9:30am - CHEC Parent Workshop - en Espanol
CESAR FUENTES - MR. SANCHEZ' 10TH GRADE ESL
We are beginning the eighth week of the third advisory. By this week, all students should be finished with their first GRASPS. By this week, all classes should have shared with students how their e-porfolio should be organized, in order to be prepared for portfolio presentations.
Portfolio presentations will be occurring in two and a half weeks. All classes will be presenting an e-portfolio, either through CANVAS or Summit. If you need assistance in preparing your students, please reach out to Ms. Ferguson or your Department Chairperson.
The Instructional Calendar is a living document that houses all the major curricular requirements, assessments, and schoolwide events. The Instructional Calendar is complete for the moment, however changes may be made and will be noted. If you have any requests for additions to the Instructional Calendar, please contact Mr. Magee,
, peter.magee@k12.dc.gov, or your SLC Administrator.
---
IMPACT UPDATES
Informal observations are complete and Cycle 1 Observations are now taking place. The closing window for cycle 1 has been extended until March 25th. As a follow up to our IMPACT orientation, we are creating a library of practices and videos to support development on particular EP's. As we discussed, we are all in a learning curve with virtual instruction and will be learning from each other throughout the year. If you would like to share a best practice and be videotaped for the video library, please let your SLC Administrator know.
PROFESSIONAL DEVELOPMENT:
PROFESSIONAL DEVELOPMENT
---
Are you trying to find a way to have a source book like you did during in-person learning? Join Mr. Magee during his office hours to learn how to use OneNote Class Notebook as a source book. Office hours and links are below.
Are you preparing for the combined teaching model? Do you want to talk through what this will look like and what to expect? Join Ms. Ferguson on Wednesday to begin discuss the Combined Teaching Model.
Are you looking for resources for Black History Month, SEL, or other premade lessons in Nearpod? Are you looking to adapt and incorporate a premade lesson from Nearpod? Join Ms. Ferguson on Thursday 12:30-1:15 pm Click this link to join Nearpod Premade lessons
Ms. Ramirez - Office Hours
Will provide support on the following items on the listed days.
Monday (4-5)- Support students in completing missing work from the previous advisory/term and tech support
Tuesday- (10-11:30 and 4-5) Workshop Creation and tech support.
Wednesday (4-5)- How to help students feel that they should care and tech support
Thursday (4-5)- Resetting expectations for students who are failing and tech support.
Friday (4-5)- Tech support.
Ms. Z is excited to help with aligning Summit project checkpoints and final products for third advisory and rebooting notetaking and workshop creation for PLT.
Ms. Vialpando's Office Hours
Ms. Vialpando is having weekly office hours to support our language learners and instructional strategies for reading. Her office hours will take place on Thursdays from 3:30-5 pm
This office hour/block will cover how to support students/families who are experiencing transition or who do not have stable housing. We will cover mandates, homeless liaison role, community referrals, and how CHEC/staff community can support our students who are in transition, MTSS supports, and behavior interventions.
PGT Support w/Various members of the Personal Growth Team
You can receive support with social/emotional supports, behavioral supports, mandated reporter supports, at-risk students, MTSS supports, and other concerns

.
UPDATES FROM:
I
Pi DAY
I
CHEC GARDEN
I
LIBRARY UPDATE
I
---
Pi DAY - THE CHEC MATH DEPARTMENT
Across the District, if you're a D.C. Public Schools teacher or student, Pi Day is worth celebrating. The unofficial holiday Sunday falls on March 14 every year because the numerical date (3/14) matches the first few digits of the number Pi (3.14). Pi, written as the Greek letter π, is the ratio of a circle's circumference to its diameter. The number is calculated by dividing any circle's circumference by its diameter. CHEC celebrated Pi Day, and here are a few anecdotes about how our Math Department teachers engaged students:
In AP Calc we had fun investigating alternative forms of pi, such as 4*arctan(1) = pi , and 4*(arctan(1/2) + arctan(1/3)) = pi, forms which can be approximated with an infinite series that converges to pi. In Algebra 2, students learned techniques for how to memorize many digits of pi in its irrational form, learning about what different people have done to prepare for pi-memorization competitions. In geometry, students worked with figures involving circles and ratios that depend upon pi.
MR. SANCHEZ' CLASS
Mr. Sanchez baked a pi pie which he virtually shared with his students: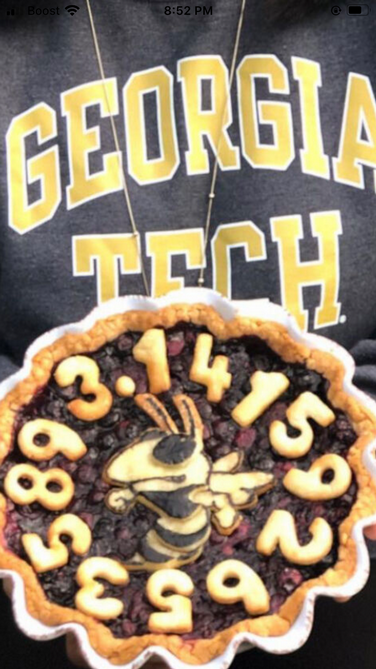 In middle school, we created a desmos for Pi Day Investigation. Here the link ( you may view it without having a desmos account) : https://student.desmos.com/join/6hvj6b
The students explored different circles and measured the diameter and circumference in order to understand how "3.14" came about. Also, students performed investigations to visualize the circle area.
---
THE CHEC GARDEN
As part of the welcoming of spring, the CHEC Garden is now open and will be featured in progress each week in the Bulletin. This week the transformation of the garden, from the ravages of a harsh winter into an amazing spring place of rejuvenation and growth, has begun. Dr. Vernon Baker and David Alarcon and Company have taken the first steps to bring the garden back. The old raised beds have been removed, making way for the soon-to-be construction of new ones, the soil and additives have been blended into the growth areas, and the grounds have been cleared to make way for the new wood beds. If you happen to drop by this week you will hear a lot of nearby birds as they begin nesting in trees around the garden as the weather turns warmer. Ask your students – "Are there vegetables that you would like to grow in the garden?" Send all requests to robin.winer@k12.dc.gov
Old beds have been removed, revealing some rich soil for planting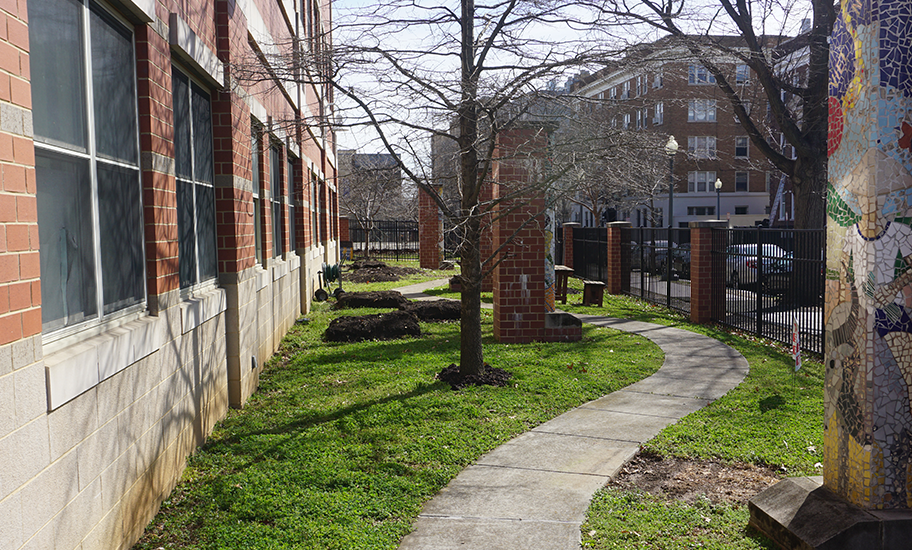 This year, we will have more raised beds in open spaces for student plantings.
---
LINCOLN LIBRARY UPDATE

Addressing Anti-Asian Racism with Students Resources
As we navigate our feelings and information intake following the horrific attacks in Atlanta this past week, we must also recognize students' questions, personal ties, and greater awareness in the community against Anti-Asian racism. Below are some resources to help guide these conversations.
April is National School Library Month
Each April, American Association of School Librarians and organizations recognize and celebrate school librarians and school libraries. Stay tuned for more activities - but in the meantime, please support your school library by filling out this survey to be featured in our social media campaign during School Library Month. You're also encouraged to share your experiences on social media tagging @dcpublicschools, @DCPSChancellor, @dcpslibrary, @DCLA_SLS, and @CHECDC. DCPS School Librarians use the hashtags #DCPSLibrariansChampionLiteracy and #DCPSLibraries.
DC Public Library & Mt. Pleasant Branch Updates
DCPL's Winter Challenge continues through the end of March and families can start picking up their prizes! You can find more information below at the link.
The Mt. Pleasant branch is still currently open for hold pick ups and print jobs. On March 29th, it will resume limited public computer access.
As we continue to celebrate, each day, each month, women who have, are, and will pave the way for young men and women to change the world, please check out the
Women's History tab
and
Faculty/ Staff
tab of the Bell High School Library website with new and exciting resources, events, and content. Don't forget to pull resources from the
Exceptional Student tab!
Please pass the word on to parents and guardians to meet with the Bell Library for our Educator conference on today!
Some great articles, videos, and events:
We hope you all are well. The Dean Team would like to share a few shout-outs and PD opportunities.
Teacher Resource:
Coaching and Skill- Building Sessions
Tuesday, March 23rd 4:00pm- 5:30pm
Restorative DC will support participants in a highly customized Coaching and Skill-Building session. These sessions are designed to support individuals or small groups representing various learning communities focusing on primary elements of Restorative Justice including: Family Engagement, Student Engagement, Staff Engagement, Behavior and Discipline Approach, and Content Delivery. Our highly trained staff will coach participants in mindset, facilitation and intervention skills as well as practice "Pro-Tips" for practical implementation and training others in your schools.
Restorative Communication and Questions
Wednesday, March 24th 1:00pm- 3:00pm
Join us for an interactive session where you will be able to explore, strengthen, and expand your understanding of restorative practices and learn how to use language to create a more peaceful, trusting, and meaningful connection with others at home and at school. As a result of actively participating in this workshop you will be able to: (1) use strength-based language to create a trauma-responsive and restorative culture of caring at home and at school; (2) understand when you are having a difficult conversation and the reasons why; (3) utilize tools to become fluent in the restorative language; and (4) apply a variety of Restorative Justice elements and SEL practices to facilitate more restorative conversations.
Restorative Justice and Special Education
Saturday, March 27 10:00am- 2:00pm
Restorative practices can be extremely useful for helping schools support students with disabilities during this time of uncertainty and disruption of the normal school environment. Participants will explore the current needs of students with disabilities and their families; and identify how restorative practices can be utilized for establishing connections, problem-solving, and creating inclusive, socially connected, and supportive learning environments. Even where there is no formal diagnosis, students have different capacities for sustained attention, social awareness, intellectual cognition, emotional regulation, memory, and expressive and receptive language.
This experiential workshop will help teachers, administrators, and special education staff identify and accommodate these differences in both proactive and responsive restorative practices.
Today the spotlight shines on Amylia Barnett and David Onley!
Dr. Barnett is a part of our Music Department. She is also impacting the lives of many students within her thirteen years of service at CHEC.
When asked how does music support students' culture at CHEC, Dr. Barnett responded saying
, "Students need a place to be creative, "weird", and imaginative." They need to know that all their emotions count and that in the music classroom there is a place to drop them off. We often hope to provide them with life-long skills to make and enjoy music." Dr. Barnett shared the following when asked
how students earn badges in your class
, "At the beginning of class, I assign two to three co-hosts. I say "think like Dr. Barnett." They call in students until we can get everyone in the call, so our attendance tends to be high. I try to build community where we're all supporting each other. We like to work:) We have certain parts of class where they can have cameras on and others where they work without their cameras on. We also prioritize earning badges for helping each other, and I try to get students in small groups at least once a day." Thank you, Dr. Barnett, for your commitment to your students and team.
Mr. Onley is also a part of our Music Department. He has impacted the lives of many students within her eleven years of service at CHEC.
When asked how does music support students' culture at CHEC, Mr. Onley responded saying
, "Music has been a way for students to express themselves in creative ways. We develop discipline, perseverance, pride, poise, and COMMUNITY. Band students develop and hone these skills which makes them not only better musicians, but better and well-rounded CHEC students." Mr. Onley shared the following when asked
how students earn badges in your class
, "Students earn badges by turning their cameras on during class. Being seen as a performer is an important aspect of the performing arts classes. Perseverance and trying ones best earn badges. Perfection is not the goal but a constant striving to better oneself is. We build on skills so, if a task is not completed one week, there are multiple opportunities for it to be completed as we progress in class." Thank you, Mr. Onley, for your commitment to your students and team.
Everyone, please shine your light on Dr. Barnett and Mr. Onley this week!
Please celebrate these students for their high earnings of PRIDE points!
Student Support Forms:

Also, we have created a padlet which has the student support form and the behavior referral form. Please bookmark this padlet for future reference:
CHEC Student Support Guide
. Feel free to connect with the Dean Team if you have any questions.
Congratulations to our student-athletes of the week. These athletes are being recognized for their outstanding commitment in the classroom and to their teams.
Congratulations also goes out to all our student athletes with perfect attendance last week:
Miracle Gilyard
Tiffany Hernandez Martinez

Quest Act Summit #4 – Conflict Resolution
Coaches and Athletic Directors,
On Wednesday, March 17th at 4:30pm to 6:00pm, the DCIAA will host its fourth session of a five-part high school student-athlete Sports Education Series. Last month's session focused on Civic Engagement and we had great guests and participation from student athletes. This month we are focusing on Conflict Resolution - again with exciting guests in attendance.
Coaches and Athletic Directors - we are not only asking you to invite your student-athletes but please text your student athletes and encourage their attendance for this important Leadership Summit. We are counting on you!
Please forward this email to your student athletes inviting them to take part. You can also save the image below and post to your social media channels.
We look forward to seeing you and your student athletes!
Here is the direct link to access the Zoom meeting on Wednesday, March 17th at 4:30pm to 6:00pm.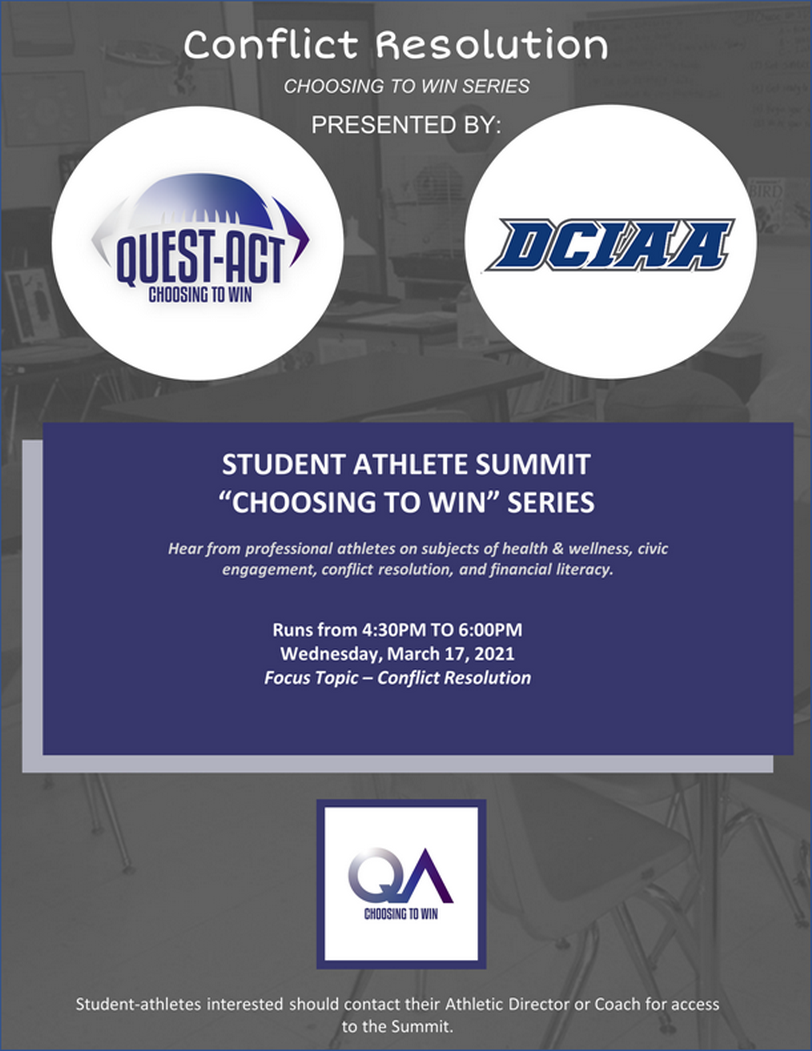 If you are interested in participating in spring sports and/or working out with your fall/winter sports team, you must have completed your online participation forms, which includes uploading your up to date physical. Forms are available at https://www.thedciaa.com/participation-forms. If you have any questions, please contact Coach A at desmond.alexander@k12.dc.gov. Follow us on Instagram @checsports for the latest updates on team interest meetings. Or email your spring sports coach for more information!
Spring Sports
Rugby (Not Currently Approved)
Columbia Heights Educational Campus
Bell/Lincoln Multicultural Schools