CHEC bulletin for
Week of March 15
, 2021
JASON AYALA GUZMAN IN MS. ZUCCARELLO'S READING CLASS
MARIA TUKEVA'S (MT) MESSAGE:
ADVISORY 4 - IN PERSON LEARNING
We are drawing near to the 4th Advisory, and planning for a possible increase in In Person Learning Opportunities for our students. We will be surveying parents and students again to determine interest, and also analyzing data on student engagement to identify trends and needs. So far, In Person Learning has been successful, and the majority of students attending indicating they enjoy the opportunity.
Our health protocols have been working extremely well, and the Dean Team, Operations Team, Assistant Principals, and all admin staff who are on site have done an outstanding job in ensuring that students and faculty are safe and following protocols. We also have the benefit of our partnership with MCIP, and have 8 staff members who are supporting in person learning.
For the fourth advisory, we would like to offer this opportunity to more students, and with the good weather coming, there will be more possibilities for outdoor learning, field trips and other experientials. Several members of the team have come forward to volunteer for in person learning, and we will be looking for more staff to do so. If you have an idea for an in person class or activity you would like to offer during fourth advisory, please reach out! In the meantime, we will be surveying students and parents to determine if there is an additional desire for more in person learning.
---
JULIANA LOPEZ AGUILAR, CENARIA WATSON AND MR. HEBER DIAZ TO PARTICIPATE
IN
VIRTUAL DISCUSSION WITH
STACY ABRAMS AND LAUREN GROH-WARGO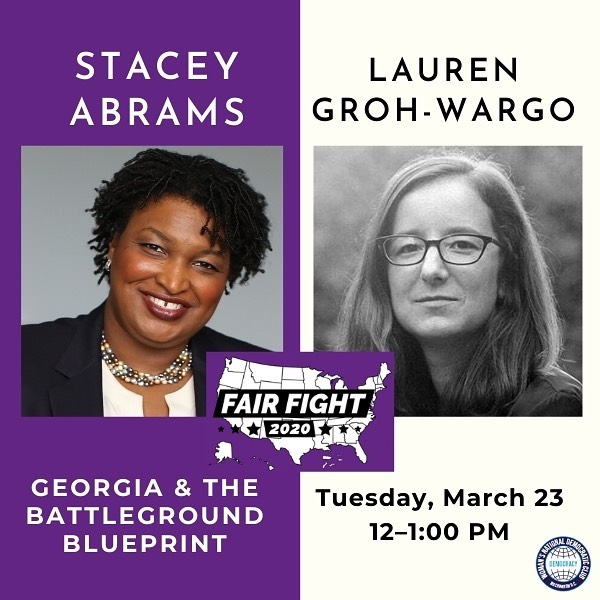 Topic: Stacey Abrams and Lauren Groh-Wargo
Time: Mar 23, 2021 12:00 PM Eastern Time (US and Canada)
Meeting ID: 880 7688 3948
---
PLANNING FOR SUMMER AND SY 21-22
All of us have changed as a result of the pandemic. The world of education, world of work, and the economy have changed. When we are able to return to in person for all students, we will need to prepare students for a new world of college education, a new labor market, and provide them with tools to be successful. We must be prepared to meet new socio emotional and economic needs of our students and families. The Acceleration and Recovery Funds are an opportunity to rethink our approaches and priorities, and redesign for the needs of our community.
As a school we will be working again with our LSAT and other interested staff members, students, and community to create an innovative and student- centered plan for the summer and next year. Our first meeting is this Wednesday, March 17 at 4:30 pm. If you have ideas about how we can make the transition to the summer and next year one that engages all students and families, please come and share! This plan is due on March 25th.
---
Shout out to Ms. Spinks, Ms. Penn, Mr. Lewis, Mr. Diaz, and Ms. Lewis for designing our Cluster Fair and Elective Fair for Middle school!




Shout out to all who attended the Recovery Community Corps Meeting on last Wednesday!




Kudos to Heber Diaz for organizing our National Honor Society Induction Ceremony on last Wednesday!




Shout to the Dean Team and Operations for transitioning to school based asymptomatic testing last week!




Kudos to Mr. Athmer for continuing to lead our efforts to transform our grading process!
WE HAVE A RECOGNITION! HONORED TEACHERS PARTNERSHIP CONTINUES THIS YEAR!
Columbia Heights Education Campus's great teachers deserve to be recognized! We're proud to partner with Honored Schools again this year to do just that! Go to HonoredSchools.org to tell Columbia Heights Education Campus teachers how they've made a difference. Please share this with parents and students! Once recognized, teachers get an email with your recognition story and we'll celebrate them! Last year our very own Ms. Ramirez won the Life-Changing Teacher Award and a $5000 cash award!
All Departments and SLC's send individual notifications of their meetings
9:30am - CHEC Parent Workshop – in English
Wednesday,
March 17
, 2021
9:30am - CHEC Parent Workshop - en Espanol
Middle School Open House 5:00pm
UPCOMING EVENTS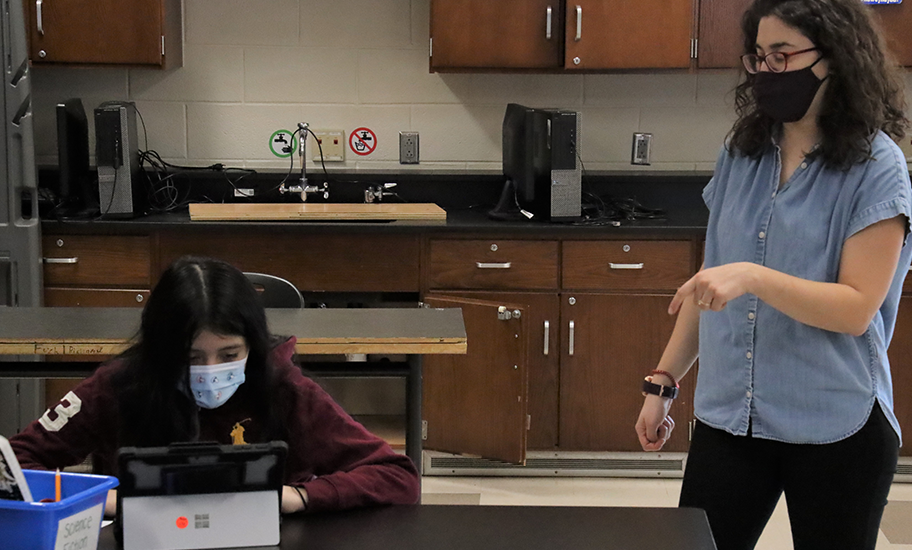 MS. BARNETT AND STUDENTS - PORTFOLIO PRESENTATIONS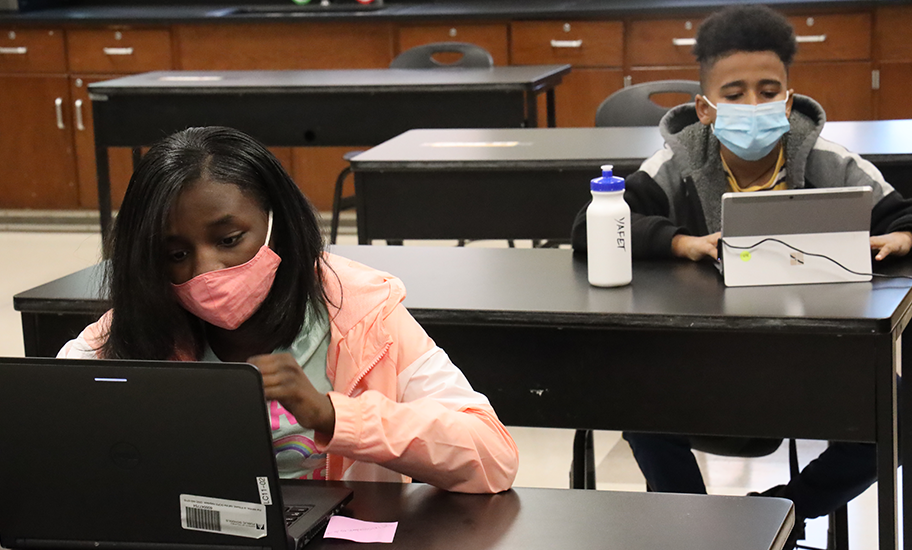 We are beginning the seventh week of the third advisory. By this week, all students should be finished with their first GRASPS. Now that students have received progress reports, it is important to check in with them individually during the independent working time to see how they are progressing.
Portfolio presentations will be occurring in three and a half weeks. All classes will be presenting an e-portfolio, either through CANVAS or Summit. If you need assistance in preparing your students, please reach out to Ms. Ferguson or your Department Chairperson.
The Instructional Calendar is a living document that houses all the major curricular requirements, assessments, and schoolwide events. The Instructional Calendar is complete for the moment, however changes may be made and will be noted. If you have any requests for additions to the Instructional Calendar, please contact Mr. Magee,
, peter.magee@k12.dc.gov, or your SLC Administrator.
---
IMPACT UPDATES
Informal observations are complete and Cycle 1 Observations are now taking place. The closing window for cycle 1 has been extended until March 25th.
As a follow up to our IMPACT orientation, we are creating a library of practices and videos to support development on particular EP's. As we discussed, we are all in a learning curve with virtual instruction and will be learning from each other throughout the year. If you would like to share a best practice and be videotaped for the video library, please let your SLC Administrator know.
PROFESSIONAL DEVELOPMENT:
PROFESSIONAL DEVELOPMENT
---
Are you trying to find a way to have a source book like you did during in-person learning? Join Mr. Magee during his office hours to learn how to use OneNote Class Notebook as a source book. Office hours and links are below.
Are you preparing for the combined teaching model? Do you want to talk through what this will look like and what to expect? Join Ms. Ferguson on Wednesday to begin discuss the Combined Teaching Model.
Are you looking for resources for Black History Month, SEL, or other premade lessons in Nearpod? Are you looking to adapt and incorporate a premade lesson from Nearpod? Join Ms. Ferguson on Thursday 12:30-1:15 pm Click this link to join Nearpod Premade lessons
Ms. Ramirez - Office Hours
Will provide support on the following items on the listed days.
Monday (4-5)- Support students in completing missing work from the previous advisory/term and tech support
Tuesday- (10-11:30 and 4-5) Workshop Creation and tech support.
Wednesday (4-5)- How to help students feel that they should care and tech support
Thursday (4-5)- Resetting expectations for students who are failing and tech support.
Friday (4-5)- Tech support.
Ms. Z is excited to help with aligning Summit project checkpoints and final products for third advisory and rebooting notetaking and workshop creation for PLT.
Ms. Vialpando's Office Hours
Ms. Vialpando is having weekly office hours to support our language learners and instructional strategies for reading. Her office hours will take place on Thursdays from 3:30-5 pm
This office hour/block will cover how to support students/families who are experiencing transition or who do not have stable housing. We will cover mandates, homeless liaison role, community referrals, and how CHEC/staff community can support our students who are in transition, MTSS supports, and behavior interventions.
PGT Support w/Various members of the Personal Growth Team
You can receive support with social/emotional supports, behavioral supports, mandated reporter supports, at-risk students, MTSS supports, and other concerns

.
CHEC SENIOR KAYLA FELLS WATSON
UPDATES FROM:
I
DAVID M. RUBENSTEIN SCHOLARSHIP
I
TRACHTENBERG SCHOLARSHIP
I
ABU SABHA
I
CHEC GARDEN
I
MR. STEWART ON WAMU
I
NJORTC SCHOLARSHIPS
I
LIBRARY UPDATE
I
---
CHEC SENIORS TENIELLE PARKER AND KAYLA WATSON RECEIVE DAVID M. RUBENSTEIN/ECONOMIC CLUB OF WASHINGTON, D.C. SCHOLARSHIPS
On Friday the 12
th
, CHEC Seniors Tenielle Parker and Kayla Watson both received 2021
David M. Rubenstein/Economic Club of Washington D.C. Scholarships from the Education Committee of the Economic Club of Washington, DC.
These prestigious scholarships totaling $20,000 each, along with associated programming, are meant to help them complete college and transition to the workforce.
This spring, the Economic Club is planning a virtual celebration for Ms. Tenielle and Ms. Watson.
As part of the scholarship, Ms. Tenielle and Ms. Watson will attend summer 2021 professional development seminars that are meant to assist them in transition to college and beyond.
They will learn the importance of networking, soft skills and how to develop them, job opportunities on campus, planning for the future, strategies for success, and more.
Congratulations to you both!
---
SAMARIA ELIZALDI HERNANDEZ WINS STEVEN J. TRACHTENBERG SCHOLARSHIP TO GEORGE WASHINGTON UNIVERSITY
Samaria was awarded the prestigious scholarship, which is a full ride for four years to George Washington University. She received the notification in a ceremony attended by the President of the University. This is a very prestigious and sought after scholarship, and every year only a few DCPS students are accepted. Congratulations to Samaria Elizaldi Hernandez! A shout out also to her counselor, Mr. Yeboah, who assisted her with her nomination!
---
EXCITING REFLECTIONS ON WOMEN'S HISTORY IN MR. ABU SABHA LOPEZ' CLASS
As part of Women's History Month celebrations, Mr. Abu Sabha's class debated events in Madrid, Spain on March 8th. The students shared exciting reflections that Mr. Abu Sabha share with great pride – "I hope you enjoy them as much as I did!"
---
THE CHEC GARDEN
As part of the welcoming of spring next weekend, the CHEC Garden is now open and will be featured in progress each week in the Bulletin. This week arrangements are being made to re-build the raised beds and bring in soil, and our partners at the University of the District of Columbia have been planting seedlings for transfer into the CHEC garden beginning in late March (weather permitting – the soil must be warmer for their survival).
As we move along and grow the garden we will also update the Bulletin with photos.
Here, to begin, is a 'before' photo – the CHEC Garden on March 12th: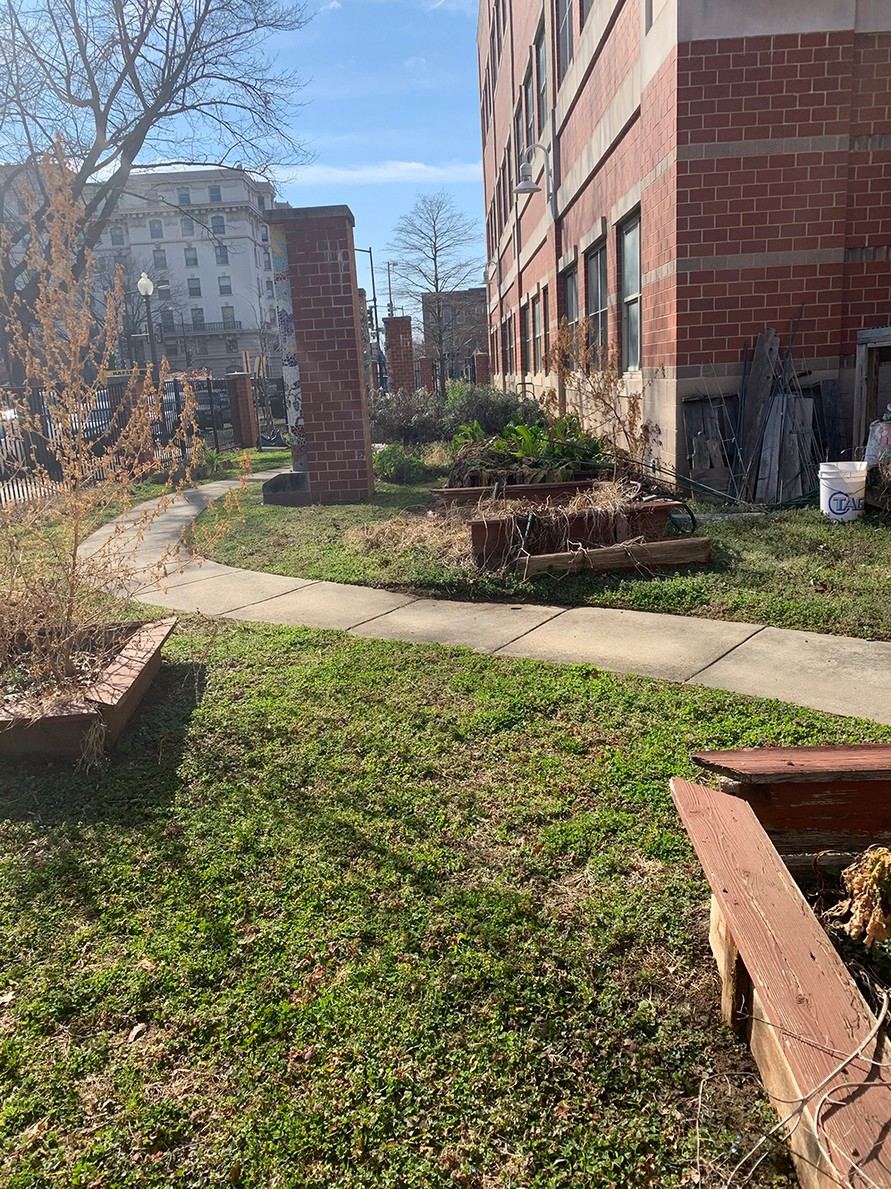 ---
MR. STEWART - CHEC LIBRARIAN - FEATURED ON WAMU
CHEC's Librarian was recently interviewed for NPR/DCist! Just wanted to share but, it does not need to be placed in the school update—have a beautiful rest of the week!
Here are the profile story and video links:
---
CHEC SENIORS RECEIVE SCHOLARSHIPS
Congratulations to the following Navy JROTC Cadet seniors for the awarded and pending scholarships and colleges listed below.
1. Alajandra Gibbs - $84,000 scholarship from Mary Baldwin
2. Etsub Kebede- $84,000 scholarship from Mary Baldwin
3. Tania Hernandez- Naval Academy applicant. Awaiting result of Naval Academy board
4. Michael Rodriguez - Accepted to Southern University awaiting Navy ROTC Scholarship
5. Christian Martinez- Accepted to Southern University awaiting Navy ROTC Scholarship
---
LINCOLN LIBRARY UPDATE
Adobe Creative Educator Level 1 Professional Development
DCPS and Adobe Creative Educator have made a self-paced workshop available for those interested in certification #AdobeEduCreative Level 1. Learn about the power of creativity in all types of learners and gain expertise in graphic design tools. Interested in learning more about how to use Adobe Spark? Email angela.falkenberg@k12.dc.gov to set up a walk through or stay tuned for video walkthroughs to watch on your own time.
Women's History Month Resources
In March we celebrate the accomplishments and contributions by women around the world. Here you can find resources broken down into humanities and STEM content including virtual field trips, museum exhibits, biographies, and reading suggestions. Check Instagram (@checdc) throughout the month for more resources and highlights. March 8th is International Women's Day.
Read Across America Day
March 2nd is Read Across America Day (previously recognized as Dr. Seuss Day) - promote diversity and inclusion in literature with our daily themes to celebrate the whole week. Check Instagram (@checdc) for the daily recommendations or contact angela.falkenberg@k12.dc.gov to collaborate. Materials will also be shared on the CHEC Resource Hub.
AASL Framework for Learners: Bridge Connections Across Contents through the Library
Libraries serve as a partner to connect learners to contents, communities, a variety of skills, and development of self. Goals: thinking, creating, sharing, and growing through inquiry, collaboration, exploration, and engagement.
Columbia Heights EC - Lincoln MS
Happy Women's History Month!
As we continue to celebrate, each day, each month, women who have, are, and will pave the way for young men and women to change the world, please check out the
Women's History tab
and
Faculty/ Staff
tab of the Bell High School Library website with new and exciting resources, events, and content. Don't forget to pull resources from the
Exceptional Student tab!
Please pass the word on to parents and guardians to meet with the Bell Library for our Educator conference on today!
Some great articles, videos, and events:
We hope you all are well. The Dean Team would like to share a few shout-outs and PD opportunities.
Teacher Resource:
Coaching and Skill- Building Sessions
Tuesday, March 16th 4:00pm- 5:30pm
Click Here to Register
Restorative DC will support participants in a highly customized Coaching and Skill-Building session. These sessions are designed to support individuals or small groups representing various learning communities focusing on primary elements of Restorative Justice including: Family Engagement, Student Engagement, Staff Engagement, Behavior and Discipline Approach, and Content Delivery. Our highly trained staff will coach participants in mindset, facilitation and intervention skills as well as practice "Pro-Tips" for practical implementation and training others in your schools.
Restorative Justice: Building and Sustaining Community
Wednesday, March 17th 1:00pm- 3:00pm
In this workshop, participants will explore the building blocks of restorative practices and how to utilize them to sustain a positive school culture and climate. Participants will gain practical strategies and ideas that energize and re-energize your learning community (staff, students and families) and deepen your understanding of how to integrate restorative practices with similar initiatives (PBIS, SEL, MTSS). Workshop objectives include: 1) assess the strengths and weaknesses of school culture; 2) identify how restorative practices and complementary initiatives work together to address your school needs; 3) create or restructure plans of action so that teachers and support staff are working with each other, students, and families instead of to or for them (social discipline window) throughout the year to sustain the goal of implementing a restorative school culture.
CHEC Happening:
What's happening at CHEC? This Month we are celebrating Women's History. Student will participate in a circle on Monday highlighting some historical women and their impact. This week's events include women confront barriers they face in various industries. exploration of African American performance, music, and visual arts; and Bilingual Classroom Workshops. Check out the Activities and Trips Tab to the Canvas hub to register for these activities.
https://dcps.instructure.com/courses/206982
Please celebrate these students for their high earnings of PRIDE points!
Student Support Forms:

Also, we have created a padlet which has the student support form and the behavior referral form. Please bookmark this padlet for future reference:
CHEC Student Support Guide
. Feel free to connect with the Dean Team if you have any questions.
Congratulations to our student-athletes of the week. These athletes are being recognized for their outstanding commitment in the classroom and to their teams.
Congratulations also goes out to all our student athletes with perfect attendance last week:
Tiffany Hernandez Martinez

Quest Act Summit #4 – Conflict Resolution
Coaches and Athletic Directors,
On Wednesday, March 17th at 4:30pm to 6:00pm, the DCIAA will host its fourth session of a five-part high school student-athlete Sports Education Series. Last month's session focused on Civic Engagement and we had great guests and participation from student athletes. This month we are focusing on Conflict Resolution - again with exciting guests in attendance.
Coaches and Athletic Directors - we are not only asking you to invite your student-athletes but please text your student athletes and encourage their attendance for this important Leadership Summit. We are counting on you!
Please forward this email to your student athletes inviting them to take part. You can also save the image below and post to your social media channels.
We look forward to seeing you and your student athletes!
Here is the direct link to access the Zoom meeting on Wednesday, March 17th at 4:30pm to 6:00pm.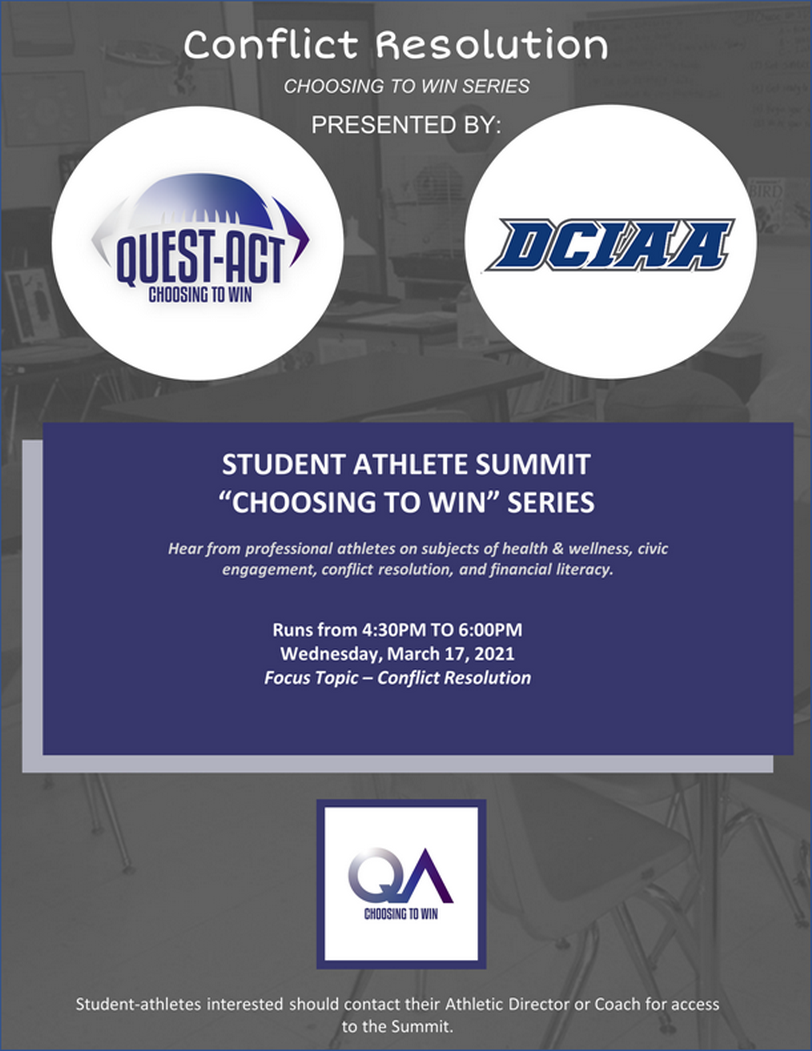 If you are interested in participating in spring sports and/or working out with your fall/winter sports team, you must have completed your online participation forms, which includes uploading your up to date physical. Forms are available at https://www.thedciaa.com/participation-forms. If you have any questions, please contact Coach A at desmond.alexander@k12.dc.gov. Follow us on Instagram @checsports for the latest updates.
Desmond Alexander, CAA
Athletic Director
Columbia Heights Educational Campus
Bell/Lincoln Multicultural Schools