CHEC bulletin for
Week of February 15
, 2021
MS. BREE-ANNA JOSEPH TEACHING HER 10TH GRADE ENGLISH CLASS
MARIA TUKEVA'S (MT) MESSAGE:
Dear CHEC Team:
As we continue to celebrate Black History Month, it is important to take a critical and reflective stance as we look across the curriculum, and throughout the year. Since our mission calls on us to develop "leaders in the quest for social justice and anti-racism," our curriculum is where we demonstrate this commitment. Because the history and experiences of African Americans and people of color has been neglected in school curricula for so long, It will take a dedicated and conscious effort to create a truly culturally responsive and accurate curriculum. It will require an effort that must be throughout the year, and across curriculum. There are already incredibly rich and relevant lessons that are occurring in our classes – we can build on this by sharing them with one another and finding the connections in all subject areas.
In order to critically analyze and collaborate on our curriculum, we will need to draw upon the skills and knowledge we have been developing as part of our Equity work. We need to be able to discuss race, equity and curriculum on an ongoing basis. In the book, Courageous Conversations about Race, Glenn Singleton describes the Four Agreements of Courageous Conversation. They are:
Stay Engaged




Speak Your Truth




Experience Discomfort




Expect and Accept Non-Closure



These agreements are critical to our work, this month and beyond. They are also important in our conversations and circles with students this month and beyond. As you develop and discover how to engage in Courageous Conversations about Race, whether through lessons, units, meeting agendas, counseling sessions or circles, please share your successes and your challenges with one another. This is a journey in which we are all learners.
Next week, on February 17, the Equity Team will facilitate a professional development which will build our strength and capacity in Courageous Conversations.
---
Week one of In Person Learning was a success! We had an overall attendance rate of 84% for the week for In-Person Learning.
Priorities for this Week:
Supporting all staff – resources, PD, personal support




Reinforcing Norms for students




Obtaining Parent Consent Forms for Testing




First Asymptomatic Testing for students on Friday, February 12



COVID-19 VACCINATION INFORMATION FOR EDUCATORS RETURNING IN PERSON
If you are returning to provide In Person Learning, you should have received an email from DCPS providing an opportunity to make an appointment for the vaccine. If you are returning in person and have not received this email, please contact M. Tukeva as soon as possible.
---
Shout out to the PGT for a great Staff Meeting/PD last week!!!!

Shout out to the Ops Team, SLC Administrators, Dean Team and all who made the first week of IPL a success!

Shout out to Mr. Smith for supporting our grade submission process! We submitted 100% of grades on Time!

Shout out to Math teachers and all teachers who proctored Math ANET 2 last week!

Kudos to the ALT Team for their work on the Comprehensive School Plan

Shout out to the Black History Month Committee for planning our month long celebration!
WE HAVE A RECOGNITION! HONORED TEACHERS PARTNERSHIP CONTINUES THIS YEAR!
Columbia Heights Education Campus's great teachers deserve to be recognized! We're proud to partner with Honored Schools again this year to do just that! Go to HonoredSchools.org to tell Columbia Heights Education Campus teachers how they've made a difference. Please share this with parents and students! Once recognized, teachers get an email with your recognition story and we'll celebrate them! Last year our very own Ms. Ramirez won the Life-Changing Teacher Award and a $5000 cash award!
All Departments and SLC's send individual notifications of their meetings
Monday, February 15
, 2021
Presidents Day – No School for Students, Teachers, Staff
Tuesday,
February 16
, 2021
All Classes are Virtual – No In Person Learning
Wednesday,
February 17
, 2021
The Equity Team facilitates Courageous Conversations – 8:30 -9:30 am on TEAMS
9:30am - CHEC Parent Workshop - en Espanol
Thursday,
February 18
, 2021
Friday,
February 19
, 2021
ALT Meeting 7:30 a.m.
Middle School Open House 5:00 p.m.
UPCOMING EVENTS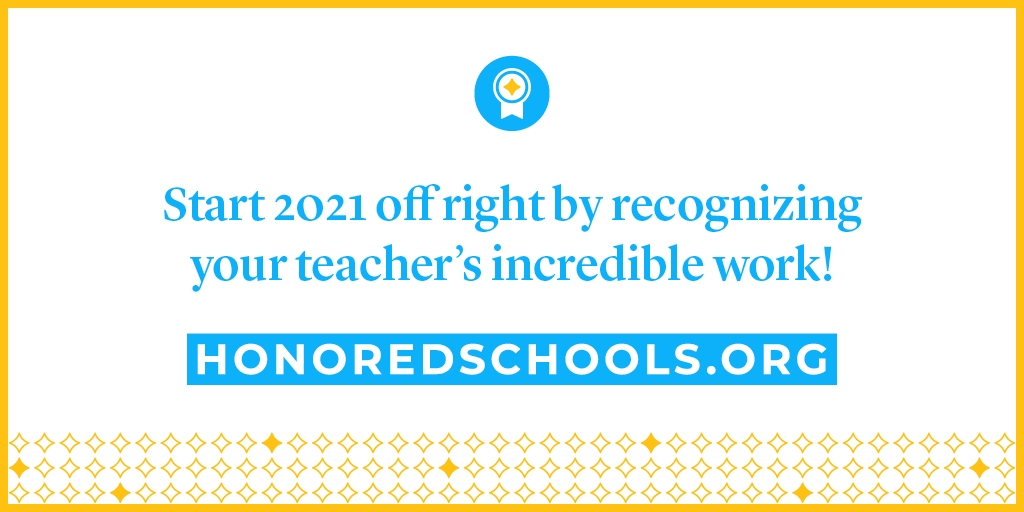 We are beginning the third week of the third advisory. By this week, all students should have received their GRASPS, and should be fully engaged in working on it. In the workshop model, every class is focused on a standard and objective aligned to a piece of the GRASPS, and they work on producing a part or parts of the ultimate product. Throughout the process, students are getting feedback on their projects, and revising them with the use of a rubric.
Senior Portfolios will start on February 24th, and continue on March 3rd. Senior portfolios are a culminating event through which students share with the entire community their reflections on their learning over their years in high school. Through the presentation, students demonstrate their understanding of the key content of the content, as well as their personal lens on social justice. A schedule with details will be sent, and all are invited to sit on the senior portfolio panels.
The Instructional Calendar is a living document that houses all the major curricular requirements, assessments, and schoolwide events. The Instructional Calendar is complete for the moment, however changes may be made and will be noted. If you have any requests for additions to the Instructional Calendar, please contact Mr. Magee,
, peter.magee@k12.dc.gov, or your SLC Administrator.
---
IMPACT UPDATES
Informal observations for teachers have begun and will continue until every teacher has had at least one informal observation. Once you have had an informal observation and feedback, the formal observation will take place. Commitment to the School and Community, and Core Professionalism will be assessed for all staff including teachers, by February 18.
As a follow up to our IMPACT orientation, we are creating a library of practices and videos to support development on particular EP's. As we discussed, we are all in a learning curve with virtual instruction and will be learning from each other throughout the year. If you would like to share a best practice and be videotaped for the video library, please let your SLC Administrator know.
PROFESSIONAL DEVELOPMENT:
PROFESSIONAL DEVELOPMENT
---
Are you trying to find a way to have a source book like you did during in-person learning? Join Mr. Magee during his office hours to learn how to use OneNote Class Notebook as a source book. Office hours and links are below.
Are you preparing for the combined teaching model? Do you want to talk through what this will look like and what to expect? Join Ms. Ferguson on Wednesday to begin discuss the Combined Teaching Model.
Are you looking for resources for Black History Month, SEL, or other premade lessons in Nearpod? Are you looking to adapt and incorporate a premade lesson from Nearpod? Join Ms. Ferguson on Thursday 12:30-1:15 pm Click this link to join Nearpod Premade lessons
Ms. Ramirez - Office Hours
Will provide support on the following items on the listed days.
Monday (4-5)- Support students in completing missing work from the previous advisory/term and tech support
Tuesday- (10-11:30 and 4-5) Workshop Creation and tech support.
Wednesday (4-5)- How to help students feel that they should care and tech support
Thursday (4-5)- Resetting expectations for students who are failing and tech support.
Friday (4-5)- Tech support.
Ms. Z is excited to help with aligning Summit project checkpoints and final products for third advisory and rebooting notetaking and workshop creation for PLT.
Ms. Vialpando's Office Hours
Ms. Vialpando is having weekly office hours to support our language learners and instructional strategies for reading. Her office hours will take place on Thursdays from 3:30-5 pm
This office hour/block will cover how to support students/families who are experiencing transition or who do not have stable housing. We will cover mandates, homeless liaison role, community referrals, and how CHEC/staff community can support our students who are in transition, MTSS supports, and behavior interventions.
PGT Support w/Various members of the Personal Growth Team
You can receive support with social/emotional supports, behavioral supports, mandated reporter supports, at-risk students, MTSS supports, and other concerns

.
UPDATES FROM:
I
US DEPARTMENT OF EDUCATION
I
EMBASSY OF ISRAEL
I
LIBRARY UPDATES
I
CPR CERTIFICATIONS
I
---
US DEPARTMENT OF EDUCATION: CELEBRATING THE DIVERSITY OF THE BLACK STUDENT: SUPPORTING THE BLACK ENGLISH LANGUAGE LEARNER

Sharing this upcoming event with you – for teacher and SLC groups. The Department of Education is hosting a conversation on the diversity of Black English Language Learners.
To register for the event, please visit the following link:
Coordinator, College & Career Programs
---
TECHNOLOGY DONATION TO CHEC FROM COMMUNITY AFFAIRS DIRECTOR - EMBASSY OF ISRAEL - WASHINGTON D.C.
On behalf of the entire CHEC community, a big thank you to the Embassy of Israel for their Technology Donations to CHEC. The Embassy is pleased to have their work engage with the community in a meaningful way and they look forward to continuing to grow our relationship.
Emily Gilgoff - Community Affairs Director - Embassy of Israel - Washington DC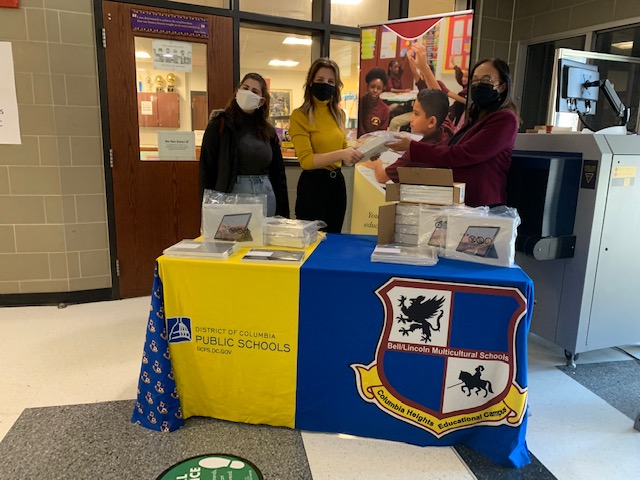 ---
LIBRARY UPDATES
BLACK HISTORY MONTH RESOURCES

Happy Black History Month! Visit the CHEC Resource Hub - Black History Month Resources page for a variety of resources including programming, lesson ideas, articles, and book lists. DCPS Library Programs has also shared its resources. Contact angela.falkenberg@k12.dc.gov for additional support.
TEACHER-LIBRARIAN COLLABORATION CSC IDEAS

As you prepare materials for your CSC you will notice "School Literacy Initiative" - how have you collaborated with your school librarian and/or promoted a Culture of Reading this year? Ideas to include in your documentation:
Virtual Library Visits (PLT, ELA, SLA, Read 180, content specific, etc)




Usage of the resources shared by your school librarian in the Bulletins, Instagram, Twitter, emails, etc. (check old emails from me or Lincoln Bulletins)




Email outreach for resources support




Research projects and general media literacy




Teacher-Librarian collaboration and co-teaching (WUW classes, content classes, etc)




Virtual Author Visits




SEL and Counselor resources




Public Library and Community partnerships




25 Books Campaign promotion in class or through Instagram




Independent Reading projects and time to read




In-class book promotions and book talks




Book Club collaboration



Links on your Canvas to the Lincoln Library and DCPS Library Programs pages

The possibilities are endless! If you need more support this semester in building your School Literacy Initiatives, content co-teaching, research help, general content and community resources, reading promotion, and more... email your middle or high school librarians.
Columbia Heights EC - Lincoln MS
---
CPR CERTIFICATIONS FOR CHEC STUDENTS

Join me to congratulate Camya Britt, Jakarra Johnson, Sindy Cruz, Ashley Alexander, and Julian Sanchez Vera for passing their CPR/FIRST AID Exam.
They studied 14 modules, a HUGE achievement!!
Next step is to get certified and get a hard copy of the CPR/First Aid Card via mail.
Teacher (Secondary), First Step CDA Program
Columbia Heights Education Campus
Hello CHEC Family!
We hope you all are well. The Dean Team would like to share a few resources and friendly reminders.
Teacher Resource:
We have included a few Restorative Justice Professional Developments next week on Wednesday, February 10.
Restorative Justice for Staff Engagement and Wellness
10:00 a.m. - 12:00 p.m. EST
As staff return to school communities, they will be asked to manage complex schedules including online and in-person instruction, facilitate the increased needs of students and families, and maintain shifting resources while balancing their own households, health needs, and possible grief due to the loss of loved ones. This workshop will introduce participants to staff community-building circles and trauma-based restorative practices that can provide opportunities for emotional support, team building, and exploring core assumptions for working together effectively. Participants will learn strategies for self-care, conflict resolution, and restorative communication in a virtual setting. The workshop is intended for educators, school administrators, and support staff. REGISTER
Restorative Justice: Building and Sustaining Community
1:00 p.m. - 3:00 p.m. EST
In this workshop, participants will explore the building blocks of restorative practices and how to utilize them to sustain a positive school culture and climate. Participants will gain practical strategies and ideas that energize and re-energize your learning community (staff, students and families) and deepen your understanding of how to integrate restorative practices with similar initiatives (PBIS, SEL, MTSS). Workshop objectives include: 1) assess the strengths and weaknesses of school culture; 2) identify how restorative practices and complementary initiatives work together to address your school needs; and 3) create or restructure plans of action so that teachers and support staff are working with each other, students, and families instead of to or for them (social discipline window) throughout the year to sustain the goal of implementing a restorative school culture. REGISTER
CHEC Happening:
What's happening at CHEC? We made it to WEEK 2 of in-person learning. Hugh shout-out to all staff and students who are participating in IPL (In-Person Learning). This week all IPL students will start with week 2 of IPL Curriculum. We are continuing our Black History Celebrations with daily informative facts. On Monday we will have a circle discussing Black Lives Matters. Also, check out the Activities and Trips Tab to the Canvas hub.
https://dcps.instructure.com/courses/206982
Gabriela Valdez Hernandez

11
Please celebrate these students for their high earnings of PRIDE points!
Student Support Forms:

Also, we have created a padlet which has the student support form and the behavior referral form. Please bookmark this padlet for future reference:
CHEC Student Support Guide
. Feel free to connect with the Dean Team if you have any questions.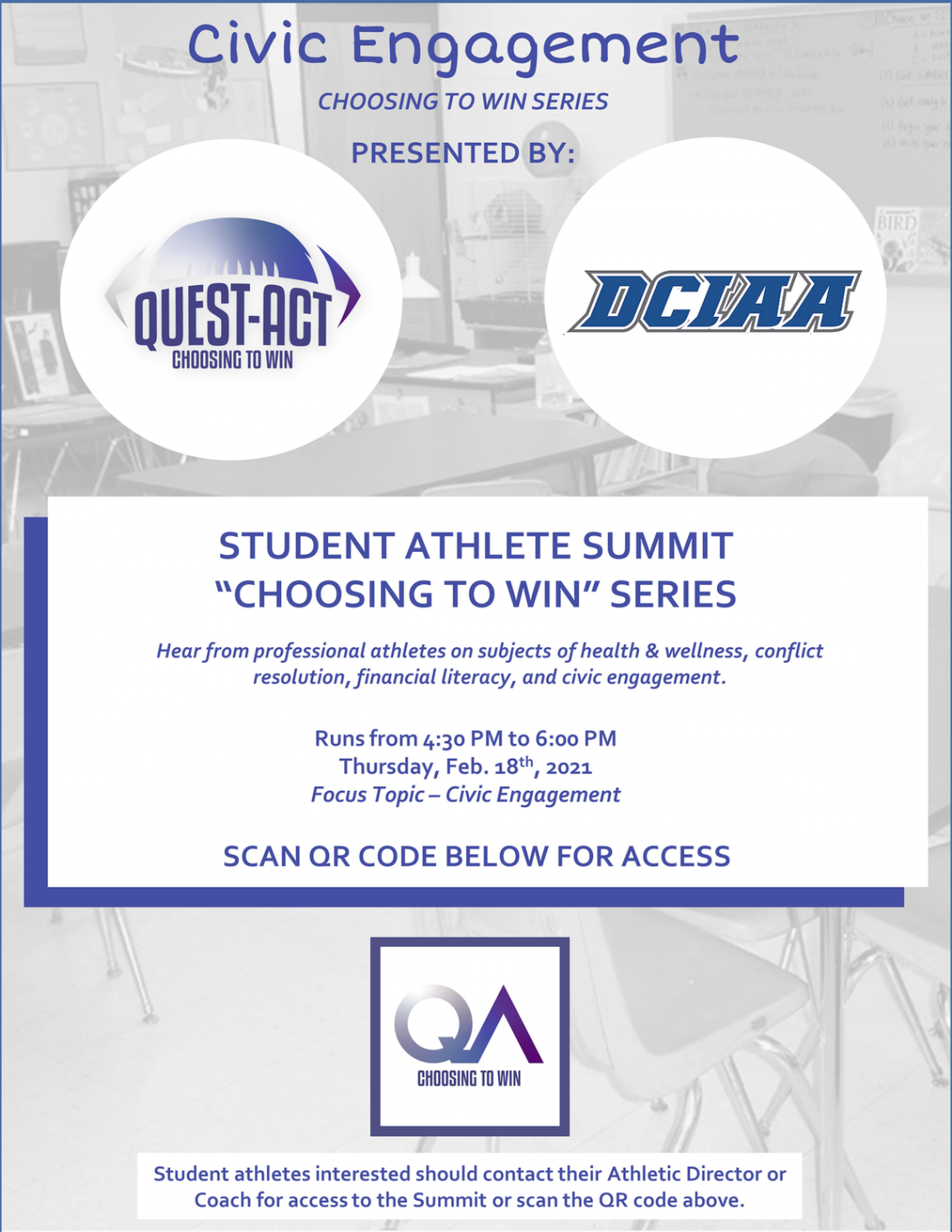 Are you missing the spirit of competition because you haven't been able to compete on the playing field yet? Then join our inaugural Esports team! You must be at least 13 years old and have access to a PlayStation 4. If you are interested in Esports (even if you don't have a PlayStation 4), reach out to Coach Duvall at
ryan.duvall@k12.dc.gov
.
---

Quest Act Summit #3 – Civic Engagement
On Thursday, February 18th at 4:30pm to 6:00pm, the DCIAA will host its third session of a five-part high school student-athlete Sports Education Series. Last month's session focused on Mental Health & Wellness and we had great guests and participation from student athletes. This month is Black History Month and so we are focusing on Civic Engagement - again with exciting guests in attendance.
Coaches and Athletic Directors - we are not only asking you to invite your student-athletes but please text your student athletes and encourage their attendance for this important Leadership Summit. We are counting on you!
Please forward this email to your student athletes inviting them to take part. You can also save the image below and post to your social media channels.
We look forward to seeing you and your student athletes!
Here is the direct link to access the Zoom meeting on Thursday, February 18th at 4:30pm to 6:00pm.
---
DCSAA Spring Sports Season Scheduled to Begin March 18
On Thursday, January 28th, the DCSAA announced that with the District under a Public Health Emergency until March 17, the DCSAA has scheduled a spring sports season beginning on March 18. Per the Mayor of the District of Columbia, extracurricular sports activities and competitions are suspended for DC public schools, public charter schools, private schools, and parochial schools during the Public Health Emergency.
At this time, all DCPS athletic activities (skill development workouts, practices, and competitions) remain suspended. Please remember that all school campuses remain closed for preseason workouts and athletic activities. Coaches and Athletic Directors should continue to virtually engage with student-athletes and encourage them to continue working out and practicing at home if they can do so safely.
Targeting the March 18 start to the spring sport season, DCPS Athletics will publish the athletic calendar for practice and competition dates for all spring sports in the coming weeks.
In lieu of the above announcement made by DCSAA and DCIAA, CHEC will continue to engage our student-athletes virtually. One way we will engage is via Esports. So, join our inaugural Esports team! You must be at least 13 years old and have access to a PlayStation 4., Madden and/or FIFA. If you are interested in Esports (even if you don't have a PlayStation 4), reach out to Coach Duvall at
ryan.duvall@k12.dc.gov
.