CHEC bulletin for
Week of January 18
, 2021
JANUARY 20, 2020 - INAUGURATION DAY
MARIA TUKEVA'S (MT) MESSAGE:
Happy MLK Day and Inauguration Day! With an immense feeling of joy, we celebrate the birthday of an American hero, Dr. Martin Luther King, and the inauguration of a new President, Joe Biden, and the entry into a a new era of hope. What a difference I feel from the day after the previous Inauguration – on that day, many of our students did not come to school, because of the fear they felt of the incoming administration.
I hope all of our community had a chance for reflection and rejuvenation over the long weekend, and were able to virtually enjoy the peaceful transition of power. As we move into a new phase of learning in the third advisory, it is encouraging to know that we now have a national government and leadership that is committed to confronting the challenge of the pandemic in a way that values safety and responsiveness to all.
This is a short week, but one in which we will continue our preparations for in-person learning, as we also prepare to end our advisory strong, with upcoming portfolio presentations and exams.
---
Seat Offers for Students continuing until January 29




Courses Scheduled in ASPEN – January 22nd




Walk through of Buildings with Stakeholder Representatives – January 25th




Master Schedule for In Person Complete – January 22




Parent Town Hall for students returning in Person – MS – January 21, HS January 22 – 5:30 pm




Student Town Halls for Students Returning in Person – January 25 and 26 during Advisory




Classroom Set Up and PD for Staff Returning in-person – January 27 and 28




Last day of Advisory 2 and School wide record keeping and PD day- January 29




TERM Begins – Virtual and In-Person – February 1



---
COVID-19 VACCINATION INFORMATION FOR EDUCATORS RETURNING IN PERSON
If you are returning to provide In Person Learning, you should have received an email from DCPS providing an opportunity to make an appointment for the vaccine. If you are returning in person and have not received this email, please contact M. Tukeva as soon as possible.
The District of Columbia Department of Health (DC Health) continues to make progress with our COVID-19 vaccine distribution planning. Please join DC Health on Thursday, January 21 at 4:00 pm as they share specific vaccination information for staff returning in person.
---
Shout out to Ms. Penn, Ms. Peddyreddy and Mr. Henggeler, our Engineering Academy received Distinguished Status, and our IT Academy received Model Status!

Shout out to all who supported our LSAT Reopen Community Corp Meetings!

Shout out to all educators and staff preparing for returning in Person!

Kudos to the Ops Team for completing our Operations Plan!
WE HAVE A RECOGNITION! HONORED TEACHERS PARTNERSHIP CONTINUES THIS YEAR!
Columbia Heights Education Campus's great teachers deserve to be recognized! We're proud to partner with Honored Schools again this year to do just that! Go to HonoredSchools.org to tell Columbia Heights Education Campus teachers how they've made a difference. Please share this with parents and students! Once recognized, teachers get an email with your recognition story and we'll celebrate them! Last year our very own Ms. Ramirez won the Life-Changing Teacher Award and a $5000 cash award!
All Departments and SLC's send individual notifications of their meetings
MLK Holiday - No School for Students and Staff
Tuesday,
January 19
, 2021
No School for students and teachers
Wednesday,
January 20
, 2021
Inauguration Day - No School for students and staff
Thursday,
January 21
, 2021
Parent Town Hall – Middle School – Parents and Students Returning in Person – 5:30 pm
Parent Town Hall – Middle School – Parents and Students Returning in Person – 5:30 pm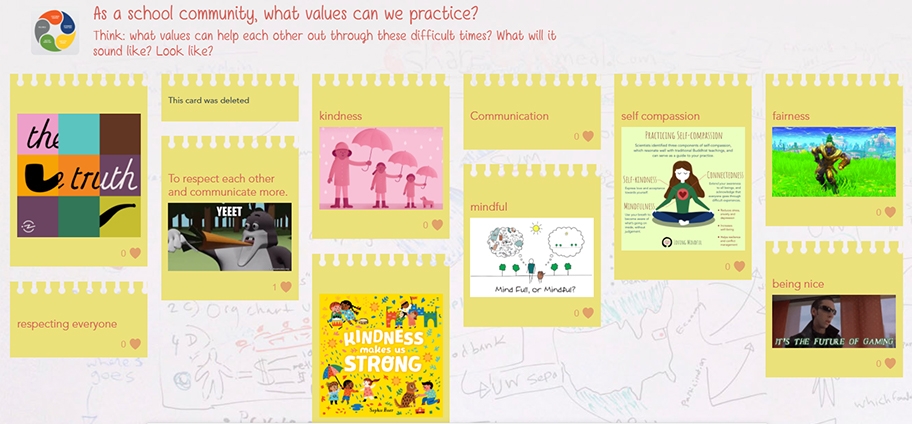 We are beginning the 10th week of the second advisory. This is a short week, and by this time all students should be preparing for portfolio presentations and finals next week. Please be sure to send invitations to parents to attend the portfolio presentations.
In reflecting upon the First Advisory portfolio presentations, we saw that in order for students to speak authentically on the essential questions of the unit, it is important to weave those questions throughout the instructional process. Other reflections and suggestions to consider as we progress through the second advisory:
Take advantage of Break Out rooms as a way to engage students in more academic discourse with each other and reduce the amount of teacher talk.
Provide incentives and fun ways for students to come on camera daily, so that when it comes time to present their portfolios, they are ready to come on camera and speak in front of others. For example, let students know a week in advance, when their turn will be to come on camera and show their work or present something. Then, provide badges or other incentives. The Dean Team will be visiting classes to assist in promoting a higher level of engagement.
The Instructional Calendar is a living document that houses all the major curricular requirements, assessments, and schoolwide events. The Instructional Calendar is complete for the moment, however changes may be made and will be noted. If you have any requests for additions to the Instructional Calendar, please contact Mr. Magee,
, peter.magee@k12.dc.gov, or your SLC Administrator.
---
IMPACT UPDATES
Informal observations for teachers have begun and will continue until every teacher has had at least one informal observation. Once you have had an informal observation and feedback, the formal observation will take place.
As a follow up to our IMPACT orientation, we are creating a library of practices and videos to support development on particular EP's. As we discussed, we are all in a learning curve with virtual instruction and will be learning from each other throughout the year. If you would like to share a best practice and be videotaped for the video library, please let your SLC Administrator know.
PROFESSIONAL DEVELOPMENT:
PROFESSIONAL DEVELOPMENT
---
Professional Development and learning is a priority for all of us.
Here are the EdTech Professional Development/Office Hours that are being offered this week:
Are you trying to figure out how to create a CSC in the virtual setting? Are you racking your brain to figure out portfolio presentations or you just have a question about the best way to do something? Join Mr. Magee or Ms. Ferguson to receive support and have your questions answered. Office hours and links are below.
If you need any help to improve your lessons, get ideas on strategies or tools you can use to make your lessons more engaging or aligned across grade level, and even get technical support, join my office hours as follows:
Monday 5:00 - 6:00 pm and Tuesday – Friday 4:00 - 5:00 pm
Summit Advisory 2 Portfolio Info Session: Best Practices, Planning and Q+A
Portfolio Presentations are just 2 weeks away! Join Ms. Z for a session on preparing for and facilitating Virtual Portfolio Presentations on Summit Learning. Both after school and planning time presentations available: Monday: 4-5 PM and Tuesday: 3rd and 4th period planning, and 4-5 PM
Ms. Vialpando's Office Hours
Ms. Vialpando is having weekly office hours to support our language learners and instructional strategies for reading. Her office hours will take place on Thursdays from 3:30-5 pm Link to
Mrs. Vialpando's office hours
PGT Office Hours
Ms. Nimer and Ms. Carino
This office hour/block will cover how to support students/families who are experiencing transition or who do not have stable housing. We will cover mandates, homeless liaison role, community referrals, and how CHEC/staff community can support our students who are in transition, MTSS supports, and behavior interventions.
PGT Support w/Various members of the Personal Growth Team
You can receive support with social/emotional supports, behavioral supports, mandated reporter supports, at-risk students, MTSS supports, and other concerns.
Please let me know if you have any questions.
---
EQUITY BEGINS WITH OUR CURRICULUM
As part of our mission to develop as leaders in the quest for social justice, it is important that we continually review and revise our curriculum to align it to social justice and anti-racism. Please take advantage of this great opportunity. T
Black Lives Matter at School 2021 Curriculum Fair
Please join Teaching for Change and the D.C. Area Educators for Social Justice network for a virtual Black Lives Matter at School Curriculum Fair, co-hosted by Howard University's School of Education, on Saturday, January 30 from 10:00 am - 12: 30 PM ET. Teachers will have the opportunity to: - Join workshops featuring lessons related to the BLM at School Week of Action - Hear from guest speakers and panelists - Receive a FREE e-book for remote instruction Learn about previous BLM at School curriculum fairs here: https://www.dcareaeducators4socialjustice.org/news/black-lives-matter-curriculum-fair and RSVP below.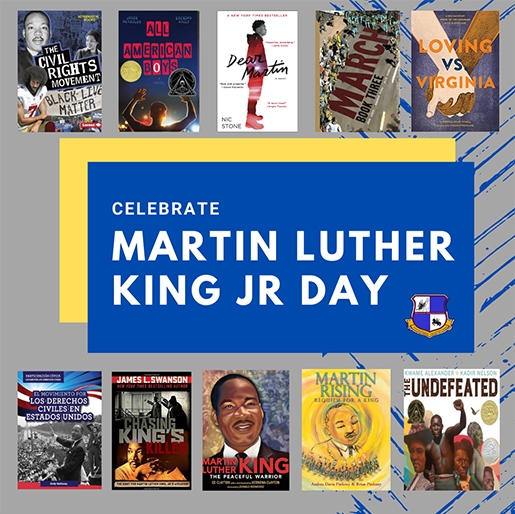 IN CELEBRATION OF MLK DAY
UPDATES FROM:
I
LIBRARY UPDATE
I
---
MLK, JR. DAY RESOURCES

Share these resources on your Canvas / Teams pages or incorporate into your instruction. Stay tuned for more resources celebrating Black History Month!
Book Fix: Tailored Book Recommendations by Ms. F
Have you outgrown your reading style or interests? Not sure what to read next? Students and staff can fill out the questionnaire to receive personalized book recommendations from our digital reading platforms SORA or Follett Destiny. Think of it like Stitch Fix, but for books and free!
Angela Falkenberg (she, her, hers)
Columbia Heights EC - Lincoln MS
CHEC Senior Gabriel Merino Awarded Scholarship
On January 8th, CHEC senior Gabriel Merino received a $500 scholarship for college materials at a ceremony in the District from NationWide Insurance. NationWide wishes to thank the teachers and counsellors at CHEC for all of the support they provide to our aspiring seniors.
---
---
In this section of our Bulletin, we will highlight student work from all disciplines. If you would like to share some excellent student work, please send to M. Tukeva, and we will highlight it in this section.
This week we would like to highlight the work of Alex Flores, Ana Reynoso, Anura Sharma, Anura Sharma, Anna Aguilera and Alberdy Ramirez Lopez.
These students submitted works that are featured on the Smithsonian website as part of the Living Through History project. The Living through History Cornerstone is a K-12 academic and SEL curriculum for DCPS students. Through the lens of global competencies, students, staff, and families applied academics across content areas to understand and process their experiences during the quarantine and connect with others' experiences across the globe.
Please check out their incredible work below.
We hope you all are well. The Dean Team would like to share a few friendly reminders.
We have a staff wellness resource to share if you find yourself have any overwhelming feelings. Headspace is a great resource to learn how to manage any feelings or forms of stress. This exercise teaches you how to notice what you're holding onto and how to drop the preoccupying storyline, allowing you to reframe stressful situations. Click here to access the 10-minute Head Space meditation exercise. Let the Dean Team know if you found this exercise helpful.
What's happening at CHEC? Our Engagement Norm!! Let's remind our students of the engagement norm and how to earn PBIS points. The Dean Team will continue to pop in classes to shout out students with their cameras on and give additional PBIS Points! Reopen is also just around the corner, and we have been busy planning and preparing for both students and teachers to return. We will be sharing the CHEC Norms for In-Person Learning. During the Faculty meeting, we share a presentation listing the School Norms with Covid-19 safety guidelines. Please use the link attached to access the presentation and inserted materials. Also, check out the Activities and Trips Tab to the Canvas hub.
https://dcps.instructure.com/courses/206982
Ibeth Hernandez

Gabriela Valdez Hernandez
Please celebrate these students for their high earnings of PRIDE points!
Student Support Forms:

Also, we have created a padlet which has the student support form and the behavior referral form. Please bookmark this padlet for future reference:
CHEC Student Support Guide
. Feel free to connect with the Dean Team if you have any questions.
Are you missing the spirit of competition because you haven't been able to compete on the playing field yet? Then join our inaugural Esports team! You must be at least 13 years old and have access to a PlayStation 4. If you are interested in Esports (even if you don't have a PlayStation 4), reach out to Coach Duvall at
ryan.duvall@k12.dc.gov
.
The District of Columbia State Athletic Association (DCSAA) recently announced that unfortunately due to the current public health emergency all DC extracurricular activities are suspended. As a result, our sports seasons have been pushed back. The DCSAA is targeting Monday, February 1, as the new start of the 2020-21 athletic calendar, with the intent of holding three seven-week sport seasons. More information will be provided as soon as it is available.
Additionally, visit
https://www.thedciaa.com
for more information or feel free to email Coach A at
desmond.alexander@k12.dc.gov
if you have any questions.