CHEC bulletin for
Week of April 19
, 2021
SENIOR ALDO OMANZOR WITH MS. CASTRO AT THE COLLEGE APP CHAT AND CHEW
MARIA TUKEVA'S (MT) MESSAGE:
All Departments and SLC's send individual notifications of their meetings
Term 3 Grade Reports Mailed
Wednesday, April 28
, 2021
10:00 a.m. - CHEC Parent Workshop - en Espanol and in English – Combined
The outcome of the Derek Chauvin trial in the murder of George Floyd, has brought a moment of relief in the quest for social justice, but we know that the struggle is far from over. In our own journey as a school committed to social justice and anti-racism, in our discussions and conversations with students, we are called upon on a daily basis to keep the focus on the need to continue to advocate, support, and unite for justice and equity.
Our own student government has brought issues of racial equity to our attention, and they stand ready to join together with faculty to address these issues. There is an incredible group of student leaders, who will reach out to other students, to become facilitators of courageous conversations. Part of our Summer Acceleration Academy will include a training on joint facilitation of Courageous Conversations, by students and faculty together. If you are interested in being a part of this, please let us know!
In addition, our Equity Team has been involved in meeting with student leaders, and will be facilitating a session on Implicit Bias on next Wednesday, May 5, to further build our capacity. We look forward to continuing the conversation.
We continue to focus on culture and equity during our cultural awareness months, and during May, we will celebrate Asian Pacific Islander Month. There is a committee of students and staff collaborating to design our events and activities. Please join in this process of learning and sharing.
Thank you to all, for all you do.
---
REENROLLMENT TIME
Please help us reach our enrollment target of 1500 for SY 21-22. To date, we have enrolled 337 students, or 22.8% of our goal, and we have re-enrolled 21% of our current students. Please make re-enrollment announcements part of your daily announcements or updates. We are offering incentives to the teachers, counselors and support staff who help us enroll or re-enroll the most students!
---
There is ongoing advocacy in DC to prevent the loss of positions due to budget cuts. I previously shared that our budget for School Year 21-22 had been reduced, due to a drop in enrollment, but also due to an inequitable funding formula which affects large schools. A group called C4DC has done a complete analysis of how the funding formula for DCPS results in CHEC having the lowest per pupil allocation based on general education in the entire school system
. - Budget 21-22\CRDC Budget Analysis Per Pupil Allocation 21-22 Our LSAT met on Wednesday, March 31st with Councilmember Brianne Nadeau, and our concerns were communicated to her. If you would like to participate in the advocacy effort being led by parents and students, please contact our LSAT Chairperson, Ahmad Nurridin, his email is
anurriddin@gmail.com
.
---
RECOVERY/ACCELERATION PLAN APPROVED
We have now submitted our budget spending plan for Summer Acceleration, and are extremely excited about what we will be able to offer this summer! We have already started recruiting staff and students. If you are interested in working in our creative and innovative Summer Acceleration plan, please reach out and apply. Within the next two weeks, we will begin to work on the spending plan for the Acceleration and Recovery Activities to be held in during the school year.
The outline of our goals and programming can be seen by clicking here.
---
4TH ADVISORY IN PERSON LEARNING
We have increased our In Person Learning in Advisory 4, to close to 30% of our total enrollment. A big shout out to all teachers and staff who are coming in person in the 4th Advisory. If you are new to In-Person, please be sure to register and take the webinar described below:
Audience: Mandatory for all staff beginning an in-person assignment in Term 4

With the start of Term 4, we also would like to remind all staff who are returning to in-person work that they must complete this mandatory webinar. This session will outline the steps DCPS is taking to ensure a safe and healthy work environment, discuss expectations for employees and supervisors as we work toward a shared commitment to remaining healthy, review key COVID-19 response protocols, and share resources to support health and wellness. This Canvas-based webinar must be completed by COB on Monday, May 3.
---
Shout out and Thank you to Pankaj for coordinating our Saturday Enrollment Activity! Kudos to all who supported – Mr. Galvan, Ms. Avila, Ms. Strickland, Ms. Lora, Mr. Oliva, Mr. Molina, Mr. Best, Mr. Ramos, Mr. Skeete, Ms. Brea, Ms. Guerra, Ms. Perez, and her two daughters!! We enrolled 70 students and there were 150 people in attendance!



Kudos to Ms. Blankson to re-establishing our Model UN program, and leading students in their participation over the Spring Break!
WE HAVE A RECOGNITION! HONORED TEACHERS PARTNERSHIP CONTINUES THIS YEAR!
Columbia Heights Education Campus's great teachers deserve to be recognized! We're proud to partner with Honored Schools again this year to do just that! Go to HonoredSchools.org to tell Columbia Heights Education Campus teachers how they've made a difference. Please share this with parents and students! Once recognized, teachers get an email with your recognition story and we'll celebrate them! Last year our very own Ms. Ramirez won the Life-Changing Teacher Award and a $5000 cash award!
SENIOR KAYRI ORTIZ WITH MS. PARTLOW AT THE COLLEGE APP CHAT AND CHEW
We are beginning the fourth Advisory! By this week, all students should have been introduced to the GRASPS, and should have seen the exemplar and rubric. Work should be completed incrementally each day on different standards aligned parts of the GRASPS. Our goal over the past advisory has been to improve the portfolio process by making sure students know how to organize their work in an e-portfolio format, either on CANVAS, or in Summit. That process begins with the first project of the advisory.
The Instructional Calendar is a living document that houses all the major curricular requirements, assessments, and schoolwide events. The Instructional Calendar is complete for the moment, however changes may be made and will be noted. If you have any requests for additions to the Instructional Calendar, please contact Mr. Magee,
, peter.magee@k12.dc.gov, or your SLC Administrator.
---
IMPACT UPDATES
Cycle 2 Observations are now taking place for those who did not opt out of the second observation. As a follow up to our IMPACT orientation, we are creating a library of practices and videos to support development on particular EP's. As we discussed, we are all in a learning curve with virtual instruction and will be learning from each other throughout the year. If you would like to share a best practice and be videotaped for the video library, please let your SLC Administrator know.
PROFESSIONAL DEVELOPMENT:
PROFESSIONAL DEVELOPMENT
---
Are you trying to find a way to have a source book like you did during in-person learning? Join Mr. Magee during his office hours to learn how to use OneNote Class Notebook as a source book. Office hours and links are below.
Are you preparing for the combined teaching model? Do you want to talk through what this will look like and what to expect? Join Ms. Ferguson on Wednesday to begin discuss the Combined Teaching Model.
Are you looking for resources for Black History Month, SEL, or other premade lessons in Nearpod? Are you looking to adapt and incorporate a premade lesson from Nearpod? Join Ms. Ferguson on Thursday 12:30-1:15 pm Click this link to join Nearpod Premade lessons
Ms. Ramirez - Office Hours
Will provide support on the following items on the listed days.
Monday (4-5)- Support students in completing missing work from the previous advisory/term and tech support
Tuesday- (10-11:30 and 4-5) Workshop Creation and tech support.
Wednesday (4-5)- How to help students feel that they should care and tech support
Thursday (4-5)- Resetting expectations for students who are failing and tech support.
Friday (4-5)- Tech support.
Ms. Z is excited to help with aligning Summit project checkpoints and final products for third advisory and rebooting notetaking and workshop creation for PLT.
Ms. Vialpando's Office Hours
Ms. Vialpando is having weekly office hours to support our language learners and instructional strategies for reading. Her office hours will take place on Thursdays from 3:30-5 pm
This office hour/block will cover how to support students/families who are experiencing transition or who do not have stable housing. We will cover mandates, homeless liaison role, community referrals, and how CHEC/staff community can support our students who are in transition, MTSS supports, and behavior interventions.
PGT Support w/Various members of the Personal Growth Team
You can receive support with social/emotional supports, behavioral supports, mandated reporter supports, at-risk students, MTSS supports, and other concerns

.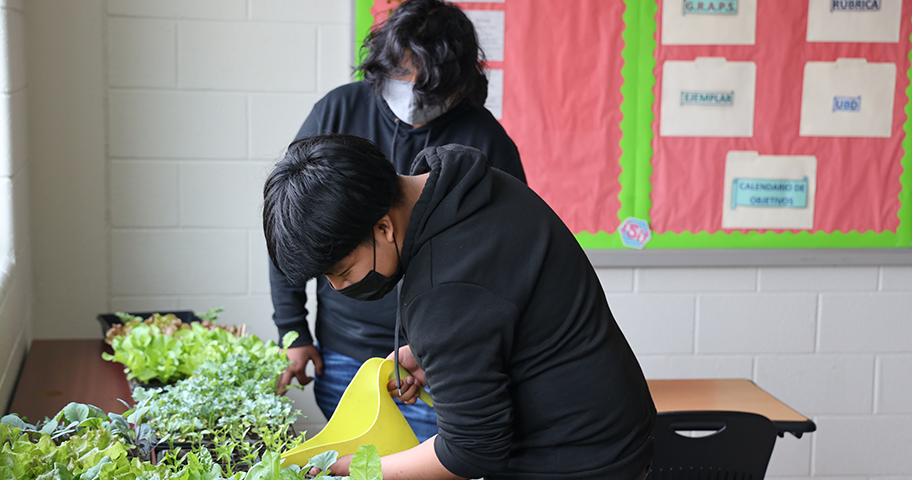 ANDY VARGAS AND JUAN VELASQUEZ GONZALEZ (9TH GRADE BIOLOGY) PREP PLANTS FOR THE CHEC GARDEN
UPDATES FROM:
I
MODEL UN CLUB
I
COVID TESTING
I
FAMILY ADVOCACY AND LEADERSHIP SUMMIT
I
CHEC GARDEN
I
LIBRARY UPDATE
---
WE HAVE A RECOGNITION FOR CHEC STUDENTS IN THE MUN CLUB
I would like to recognize the following 9th graders for their commitment to the CHEC MUN Club.
Fatou Gaye




Kenai Rivera




Kayla Ramirez




Kidist Bizuneh




Chalore Monk



Congratulations to Fatou, Kenai and Kayla for successfully participating in the GCDC Spring 2021 (virtual) Model UN conference Friday, April 16th and Saturday, April 17th - during their spring break. They represented the delegation of Thailand and spent a month preparing to take part in their first conference discussing occupational safety and health during the COVID-19 pandemic from the point of view of their designated country. Fatou represented the government; Kenai represented employers; and Kayla represented labor unions.
Congratulations to Chalore & Kidist for successfully participating in the GCDC Spring 2021 (virtual) Model UN conference Friday, April 16th and Saturday, April 17th - during their spring break. They represented the delegation of South Korea and spent a month preparing to take part in their first conference discussing occupational safety and health during the COVID-19 pandemic from the point of view of their designated country. Chalore represented the government of South Korea, while Kidist represented the labor unions and they both did a phenomenal job!
What's more? - they won an award for Outstanding Position Paper!
If possible - please help me recognize the hard work of these students!
---
COVID TESTING
On behalf of Sharon Gaskins, I am sharing with you all the on-site staff COVID-19 testing schedule for the week of April 5th, which can be found here. As a reminder, below are the testing protocols and expectations. Should there be any questions or conflicts with the schedule, please contact Sharon.Gaskins@k12.dc.gov and copy me as well (chandler.mumolie@k12.dc.gov).
The Staff Asymptomatic Testing Protocol
1. Asymptomatic testing administered by DC Health is completely separate from the symptomatic COVID-19 testing that is administered by the CSS school nurse.
2. DC Health will manage on-site testing of staff.
3. In-person staff may receive a PCR nasal-swab test, administered by DC Health medical staff, every 7 days.
4. Staff will provide consent on-site.
5. A team of two to three DC Health contract nurses will support testing at the school site.
6. School leaders will need to provide a sanitized space (e.g. large classroom, gym, cafeteria) with at least two tables and four chairs. As with the student testing program, rules for physical distancing, participant masking, and hygiene apply to staff.
7. Schools will need to develop a classroom coverage plan during the testing window.
8. DC Health staff will handle the disposal of all materials that result from testing, including their PPE.
9. Schools will be responsible for sanitizing the classroom before and after testing.
10. With this regular asymptomatic testing protocol, staff will continue to participate in their in-person programming while test results are pending.
11. Individuals will be notified of their results via email, and results will also be sent directly to DC Health to inform public health data.
12. Should a person attending or working at a school develop COVID-19 symptoms at any time, they should immediately self-quarantine and contact their medical provider per DCPS health and safety protocols.
---
DC Health ASYMPTOMATIC STAFF COVID-19 TESTING PROCESS
The information below describes process, captures roles and responsibilities, and expectations for all involved in making this project successful.
A team leader will call the provided point of contact (POC) for their assigned school when they are on the way to advise of their estimated time of arrival. The school POC should indicate which entrance they would like the teams to use.




Teams will enter the building together. They will be wearing masks on entry and will follow all DCPS policies for safe entry into the buildings. Teams will bring all necessary supplies except tables and chairs.



A DCPS POC will escort the team to the testing site within the building. The site should be sufficient to maintain physical distancing and allow individuals to move easily and safely through the area.




Teams will don testing PPE, sanitize their work surfaces and set up equipment.



Testing Process
The team leader will advise the DCPS POC once the team is ready to receive staff for testing.



Teams will sanitize their work surfaces and areas before leaving. They will remove all of their trash as well.




The team leader will provide a quick exit update to the assigned DCPS staff member.




Testing results will be provided directly to staff.



Coordinator - Innovation and Systems Improvement
District of Columbia Public Schools
FAMILY ADVOCACY AND LEADERSHIP SUMMIT
I hope you are well. My team is putting together a virtual Family Advocacy and Leadership Summit on May 1 from 9am-1pm. As part of the summit we are convening a panel of families and educators to share their own experiences with leadership and advocacy.
The panel is titled: The Road to Advocacy: A conversation on the experiences of Spanish speaking immigrant families, coming to DC, navigating DCPS and their pathways to becoming leaders.
We are planning to invite Nadia Hernandez to sit on the panel and wanted to give you a heads up. We think her experience and story would resonate with so many other families.
Manager, Family Engagement
Communications and Engagement Office
Office of the Chief of Staff
District of Columbia Public Schools
---
THE CHEC GARDEN

Consider that our garden in May can be better than anything else the world has to offer. It's the most exciting time of year, with blossoms, swelling buds, and the summer stretching out in front of us. The days are getting warmer and longer, and insects are busy in preparation for a new life. We are seeing the intensity of new leaves on the trees, but once past that you see that the garden has not really kicked in yet. In more ways than one, our garden is becoming elevated, with the beginning of plantings this week that will grow and be a mirror of goals and ideals that we hold within us and aspire to. Last week, Dr. Vernon Baker and David Alarcon and Company continued work on constructing the new raised beds. On Wednesday the 28th temperatures will be in the 80's – the garden is open, plants are ready, now at CHEC, and will be put in the ground, and you can bring any class you like outside to enjoy the environment. Ask your students – "Are there vegetables that you would like to grow in the garden?" Send all requests to
robin.winer@k12.
dc.gov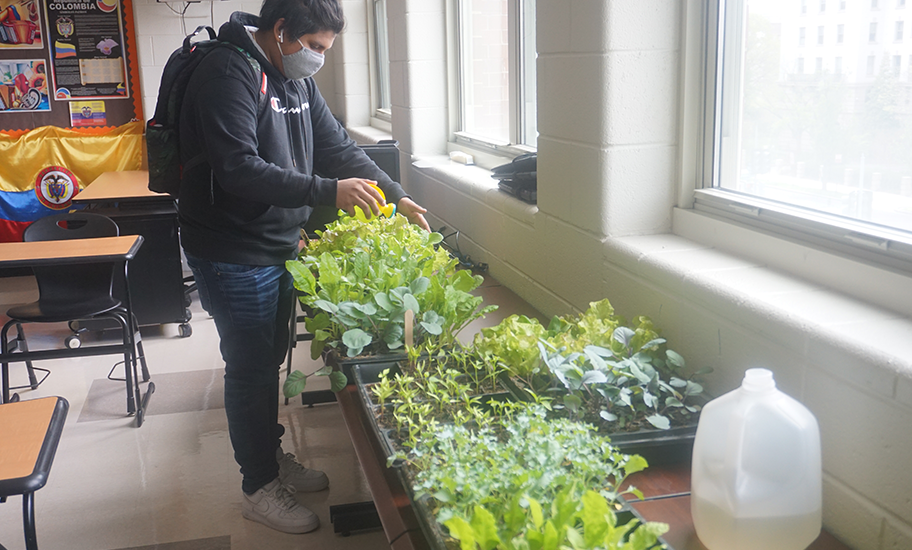 Andy Vargas (9th grade) nurturing plants for the CHEC Garden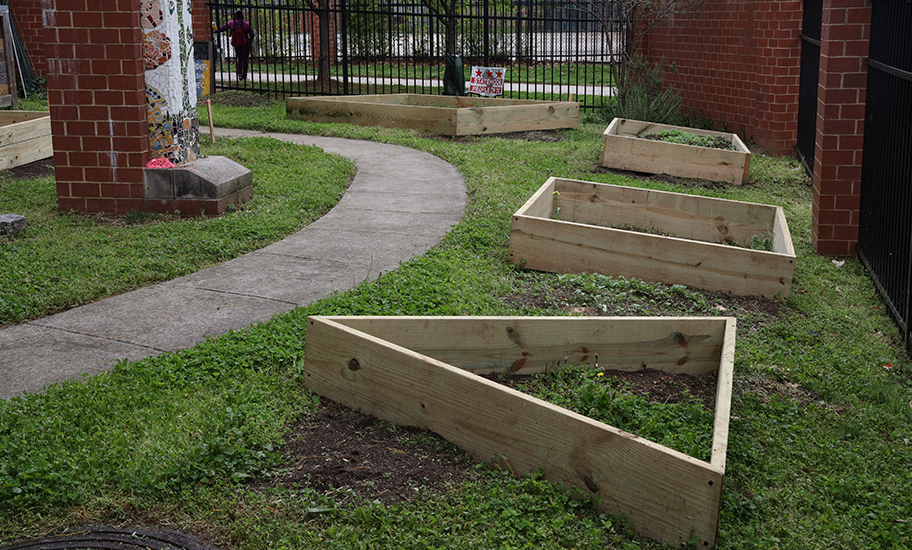 This year there will be five additional raised garden beds for student crops.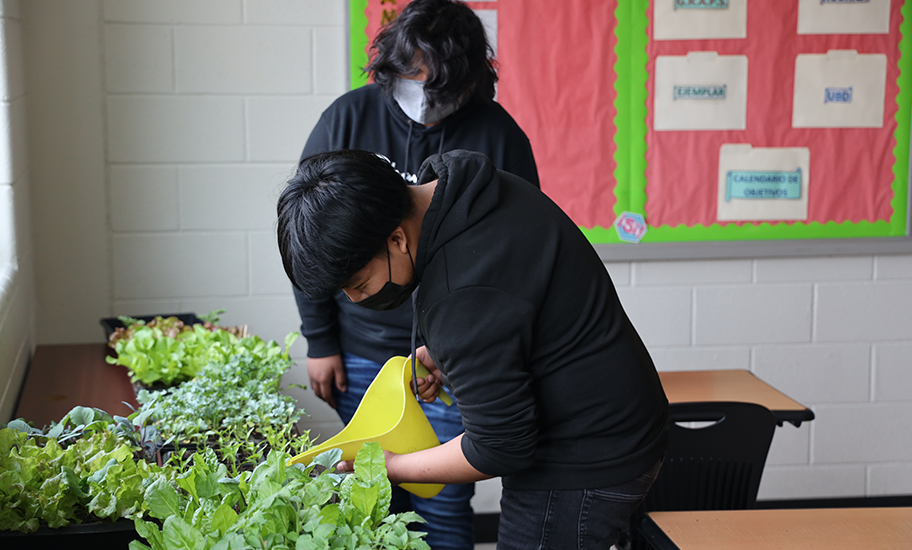 Andy Vargas and Juan Velasquez Gonzalez (both 9th grade) preparing seedlings for the CHEC Garden
---
LINCOLN LIBRARY UPDATES
APRIL IS NATIONAL SCHOOL LIBRARY MONTH
Each April, American Association of School Librarians and organizations recognize and celebrate school librarians and school libraries. Please support your school library by sharing why you and your students love your CHEC Libraries!
You're also encouraged to share your experiences on social media, specifically Twitter, tagging @dcpublicschools, @DCPSChancellor, @dcpslibrary, @DCLA_SLS, and @CHECDC. Advocacy for school libraries is essential across DCPS.
SCHEDULE BRAINSTORMING SESSIONS WITH YOUR SCHOOL LIBRARIAN

Join Ms. Falkenberg weekly (Tuesdays, 4:00 PM) starting March 30th to collaborate on research projects, request information resources, plan virtual author visits and events, explore the digital reading platforms, build your digital design skills (Canva, Adobe Spark), or find out more about advocating for school libraries. Find the link in EdTech Teams page to join. Can't make it? No problem - email angela.falkenberg@k12.dc.gov to schedule another meeting time.
We hope you all are well. The Dean Team would like to share a few shout-outs and PD opportunities.

The Culture Team would like to thank you for supporting our restorative practices at CHEC especially during PLT classes with our weekly circles. We hope the conversations are reflective and provides you opportunities to build relationships with your students.
Please help us continue our work providing students opportunities to reflect and share their experiences by allowing three of our trained restorative practice youth to lead a circle during your PLT class.
Beyonce Ross, Ana Lucia Mendoza, and Hayshin Valenzuela have been trained for months by Restorative DC. They will be accompanied and supported by Mr. Duvall during the circle process.
Please celebrate these students for their high earnings of PRIDE points!
Student Support Forms:

Also, we have created a platform that has the student support form and the behavior referral form.
. Please bookmark this link for future reference:
CHEC Student Support Guide
. Feel free to connect with the Dean Team if you have any questions.
Athletics are an integral part of the educational program and a means to accomplish the goals of education. Our athletic program exists for the welfare of students and the contributions it makes to their educational experience. Athletic participation builds self-esteem and confidence and provides the necessary tools for success. The interaction between individuals on the fields of sport teaches students the value of teamwork, while developing the proper competitive spirit, combined with a sense of fairness.
If you are interested in participating in spring sports and/or working out with your fall/winter sports team, you must have completed your online participation forms, which includes uploading your up to date physical. Forms are available at https://www.thedciaa.com/participation-forms. If you have any questions, please contact Coach A at desmond.alexander@k12.dc.gov. Follow us on Instagram @checsports for the latest updates on team interest meetings. Or email your spring sports coach for more information!
Spring Sports
Rugby (Not Currently Approved)
Columbia Heights Educational Campus
Bell/Lincoln Multicultural Schools