CHEC bulletin for
Week of February 8
, 2021
MS. BREE-ANNA JOSEPH TEACHING HER 10TH GRADE ENGLISH CLASS
MARIA TUKEVA'S (MT) MESSAGE:
Dear CHEC Team:
As we continue to celebrate Black History Month, it is important to take a critical and reflective stance as we look across the curriculum, and throughout the year. Since our mission calls on us to develop "leaders in the quest for social justice and anti-racism," our curriculum is where we demonstrate this commitment. Because the history and experiences of African Americans and people of color has been neglected in school curricula for so long, It will take a dedicated and conscious effort to create a truly culturally responsive and accurate curriculum. It will require an effort that must be throughout the year, and across curriculum. There are already incredibly rich and relevant lessons that are occurring in our classes – we can build on this by sharing them with one another and finding the connections in all subject areas.
In order to critically analyze and collaborate on our curriculum, we will need to draw upon the skills and knowledge we have been developing as part of our Equity work. We need to be able to discuss race, equity and curriculum on an ongoing basis. In the book, Courageous Conversations about Race, Glenn Singleton describes the Four Agreements of Courageous Conversation. They are:
Stay Engaged




Speak Your Truth




Experience Discomfort




Expect and Accept Non-Closure



These agreements are critical to our work, this month and beyond. They are also important in our conversations and circles with students this month and beyond. As you develop and discover how to engage in Courageous Conversations about Race, whether through lessons, units, meeting agendas, counseling sessions or circles, please share your successes and your challenges with one another. This is a journey in which we are all learners.
Next week, on February 17, the Equity Team will facilitate a professional development which will build our strength and capacity in Courageous Conversations.
---
Week one of In Person Learning was a success! We had an overall attendance rate of 84% for the week for In-Person Learning.
Priorities for this Week:
Supporting all staff – resources, PD, personal support




Reinforcing Norms for students




Obtaining Parent Consent Forms for Testing




First Asymptomatic Testing for students on Friday, February 12



COVID-19 VACCINATION INFORMATION FOR EDUCATORS RETURNING IN PERSON
If you are returning to provide In Person Learning, you should have received an email from DCPS providing an opportunity to make an appointment for the vaccine. If you are returning in person and have not received this email, please contact M. Tukeva as soon as possible.
---
Shout out to the PGT for a great Staff Meeting/PD last week!!!!

Shout out to the Ops Team, SLC Administrators, Dean Team and all who made the first week of IPL a success!

Shout out to Mr. Smith for supporting our grade submission process! We submitted 100% of grades on Time!

Shout out to Math teachers and all teachers who proctored Math ANET 2 last week!

Kudos to the ALT Team for their work on the Comprehensive School Plan

Shout out to the Black History Month Committee for planning our month long celebration!
WE HAVE A RECOGNITION! HONORED TEACHERS PARTNERSHIP CONTINUES THIS YEAR!
Columbia Heights Education Campus's great teachers deserve to be recognized! We're proud to partner with Honored Schools again this year to do just that! Go to HonoredSchools.org to tell Columbia Heights Education Campus teachers how they've made a difference. Please share this with parents and students! Once recognized, teachers get an email with your recognition story and we'll celebrate them! Last year our very own Ms. Ramirez won the Life-Changing Teacher Award and a $5000 cash award!
All Departments and SLC's send individual notifications of their meetings
Term 2 Reports Cards Mailed
10:00am - CHEC Parent Workshop - in English
Tuesday,
February 9
, 2021
Wednesday,
February 10
, 2021
9:30am - CHEC Parent Workshop - en Espanol
ANET 2 Math CR Scoring Due
Thursday,
February 11
, 2021
Friday,
February 12
, 2021
UPCOMING EVENTS
FIRST WEEK OF IN PERSON TEACHING
We are beginning the second week of the third advisory. Please check with all of your students to make sure they know what their new schedule is. By this week, all students should have received their GRASPS, with exemplar and rubric, and have unpacked the GRASPS so that they are clear on what the ultimate product is. It is important to have a series of lessons in which students can read the GRASPS, provide wow's and wonders, and then read the rubric and exemplar, to see examples of what is expected in the work.
Senior Portfolios have been rescheduled for the end of February. The Instructional Calendar will be updated to reflect this when the dates are finalized.
The Instructional Calendar is a living document that houses all the major curricular requirements, assessments, and schoolwide events. The Instructional Calendar is complete for the moment, however changes may be made and will be noted. If you have any requests for additions to the Instructional Calendar, please contact Mr. Magee,
, peter.magee@k12.dc.gov, or your SLC Administrator.
---
IMPACT UPDATES
Informal observations for teachers have begun and will continue until every teacher has had at least one informal observation. Once you have had an informal observation and feedback, the formal observation will take place. Commitment to the School and Community, and Core Professionalism will be assessed for all staff including teachers, by February 18.
As a follow up to our IMPACT orientation, we are creating a library of practices and videos to support development on particular EP's. As we discussed, we are all in a learning curve with virtual instruction and will be learning from each other throughout the year. If you would like to share a best practice and be videotaped for the video library, please let your SLC Administrator know.
PROFESSIONAL DEVELOPMENT:
PROFESSIONAL DEVELOPMENT
---
Are you trying to find a way to have a source book like you did during in-person learning? Join Mr. Magee during his office hours to learn how to use OneNote Class Notebook as a source book. Office hours and links are below.
Mr. Magee- Mondays 9:30-11:30 am
Click this link to join.
Are you preparing for the combined teaching model? Do you want to talk through what this will look like and what to expect? Join Ms. Ferguson on Wednesday or Thursday to begin discussing the Combined Teaching Model.
Ms. Ramirez - Office Hours
If you need any help to improve your lessons, get ideas on strategies or tools you can use to make your lessons more engaging or aligned across grade level, and even get technical support, join my office hours as follows:
Monday 5:00 - 6:00 pm and Tuesday – Friday 4:00 - 5:00 pm
Ms. Z is excited to help with aligning Summit project checkpoints and final products for third advisory and rebooting notetaking and workshop creation for PLT.
Ms. Vialpando's Office Hours
Ms. Vialpando is having weekly office hours to support our language learners and instructional strategies for reading. Her office hours will take place on Thursdays from 3:30-5 pm
This office hour/block will cover how to support students/families who are experiencing transition or who do not have stable housing. We will cover mandates, homeless liaison role, community referrals, and how CHEC/staff community can support our students who are in transition, MTSS supports, and behavior interventions.
PGT Support w/Various members of the Personal Growth Team
You can receive support with social/emotional supports, behavioral supports, mandated reporter supports, at-risk students, MTSS supports, and other concerns

.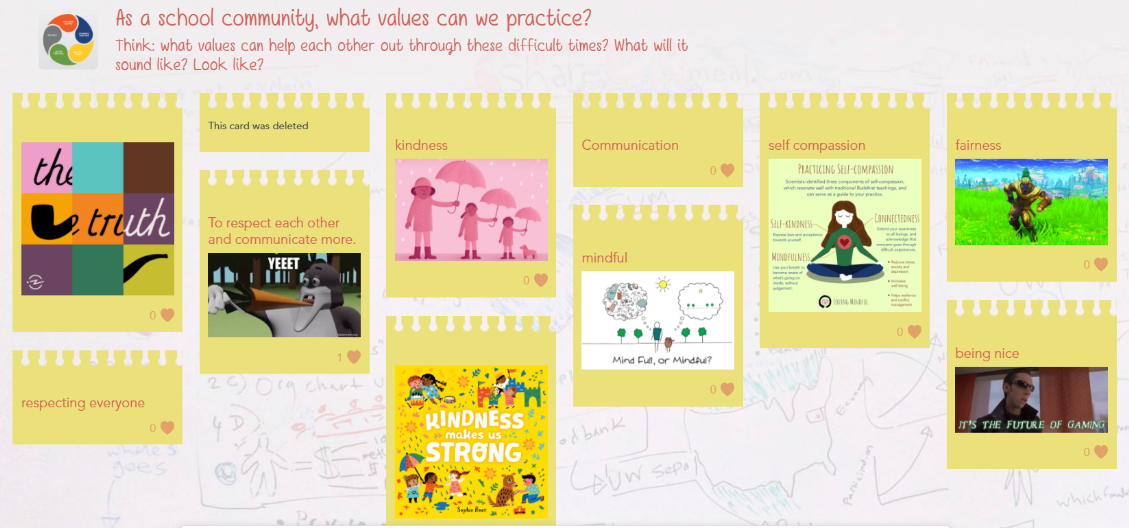 PERSONAL LEARNING TIME CIRCLE
UPDATES FROM:
I
HEBER DIAZ AND WAMU
I
US DEPARTMENT OF EDUCATION
I
LIBRARY UPDATE
I
---
CHEC IN THE NEWS - MR. HEBER DIAZ AND WAMU
WAMU host Kojo Nnamdi this week included a shout out about Women of Color and the Fight for the Vote from CHEC teacher Heber Diaz in his February 4th program on teaching black history -- every month! As you know, the calendar traces how women of color, particularly African American women, have worked toward this moment--from Sojourner Truth and Jarena Lee to Kamala Harris—the first woman and the first Black woman elected as Vice President of the United States.
The Women's National Democratic Committee is working to distribute BHM calendars to as many schools and teachers as we can as a resource during Black History and Women's History months and beyond.
All teachers can use their online resources:
And all teachers are welcome to participate in a Brainstorming session for teachers on Wednesday, February 10th
4:00 - 5:00 p.m. how to use the calendar to teach Black History -- every month! Led by DC Social Studies teachers Heber Diaz and Alysha Butler. More info here: Events | WNDC Educational Foundation
---
US DEPARTMENT OF EDUCATION: CELEBRATING THE DIVERSITY OF THE BLACK STUDENT: SUPPORTING THE BLACK ENGLISH LANGUAGE LEARNER
Sharing this upcoming event with you – for teacher and SLC groups. The Department of Education is hosting a conversation on the diversity of Black English Language Learners.
To register for the event, please visit the following link:
Coordinator, College & Career Programs
---
LIBRARY UPDATE
BLACK HISTORY MONTH RESOURCES

Happy Black History Month!! Visit the CHEC Resource Hub - Black History Month Resources page for a variety of resources including programming, lesson ideas, articles, and book lists. DCPS Library Programs has also shared its resources. Contact your Lincoln MS and Bell HS school librarians for additional support.
PEN/FAULKNER SPRING VIRTUAL AUTHOR VISITS & WRITING WORKSHOPS
PEN/Faulkner Foundation, a local organization who helps connect DC students with authors and reading, has announced their Spring 2021 line up for author visits and writing workshops. If you choose an author visit, books must be shipped to a DC address (CHEC or your home if you live in DC). Some authors speak Spanish!
Contact your school librarians (angela.falkenberg@k12.dc.gov, Lincoln, or christopher.stewart2@k12.dc.gov, Bell) for help making connections with the organization or to plan book clubs and writing activities.
Middle School (Grades 6-8) Author Visits




Middle School (Grades 6-8) Writing Workshops




High School (Grades 9-12) Author Visits




High School (Grades 9-12) Writing Workshops



DC Public Schools has made research platforms available for student use as part of research projects or other assignments. Use these databases through Clever and/or schedule teacher-librarian collaboration.
PebbleGo (Helpful for ELL)




Britannica (also available in Spanish)




BrainPOP! (also available in Spanish, ELL)



Columbia Heights EC - Lincoln MS
---
---
In this section of our Bulletin, we will highlight student work from all disciplines. If you would like to share some excellent student work, please send to M. Tukeva, and we will highlight it in this section.
This week we would like to highlight the work of Alex Flores, Ana Reynoso, Anura Sharma, Anura Sharma, Anna Aguilera and Alberdy Ramirez Lopez.
These students submitted works that are featured on the Smithsonian website as part of the Living Through History project. The Living through History Cornerstone is a K-12 academic and SEL curriculum for DCPS students. Through the lens of global competencies, students, staff, and families applied academics across content areas to understand and process their experiences during the quarantine and connect with others' experiences across the globe.
Please check out their incredible work below.
Hello CHEC Family!
We hope you all are well. The Dean Team would like to share a few resources and friendly reminders.
We have included a few Restorative Justice Professional Developments next week on Wednesday, February 10.
Restorative Justice for Staff Engagement and Wellness
10:00 a.m. - 12:00 p.m. EST
As staff return to school communities, they will be asked to manage complex schedules including online and in-person instruction, facilitate the increased needs of students and families, and maintain shifting resources while balancing their own households, health needs, and possible grief due to the loss of loved ones. This workshop will introduce participants to staff community-building circles and trauma-based restorative practices that can provide opportunities for emotional support, team building, and exploring core assumptions for working together effectively. Participants will learn strategies for self-care, conflict resolution, and restorative communication in a virtual setting. The workshop is intended for educators, school administrators, and support staff. REGISTER
Restorative Justice: Building and Sustaining Community
1:00 p.m. - 3:00 p.m. EST
In this workshop, participants will explore the building blocks of restorative practices and how to utilize them to sustain a positive school culture and climate. Participants will gain practical strategies and ideas that energize and re-energize your learning community (staff, students and families) and deepen your understanding of how to integrate restorative practices with similar initiatives (PBIS, SEL, MTSS). Workshop objectives include: 1) assess the strengths and weaknesses of school culture; 2) identify how restorative practices and complementary initiatives work together to address your school needs; and 3) create or restructure plans of action so that teachers and support staff are working with each other, students, and families instead of to or for them (social discipline window) throughout the year to sustain the goal of implementing a restorative school culture. REGISTER
CHEC Happening:
What's happening at CHEC? We made it to WEEK 2 of in-person learning. Hugh shout-out to all staff and students who are participating in IPL (In-Person Learning). This week all IPL students will start with week 2 of IPL Curriculum. We are continuing our Black History Celebrations with daily informative facts. On Monday we will have a circle discussing Black Lives Matters. Also, check out the Activities and Trips Tab to the Canvas hub.
https://dcps.instructure.com/courses/206982
Gabriela Valdez Hernandez

11
Please celebrate these students for their high earnings of PRIDE points!
Student Support Forms:

Also, we have created a padlet which has the student support form and the behavior referral form. Please bookmark this padlet for future reference:
CHEC Student Support Guide
. Feel free to connect with the Dean Team if you have any questions.

DCSAA Spring Sports Season Scheduled to Begin March 18
On Thursday, January 28th, the DCSAA announced that with the District under a Public Health Emergency until March 17, the DCSAA has scheduled a spring sports season beginning on March 18. Per the Mayor of the District of Columbia, extracurricular sports activities and competitions are suspended for DC public schools, public charter schools, private schools, and parochial schools during the Public Health Emergency.
At this time, all DCPS athletic activities (skill development workouts, practices, and competitions) remain suspended. Please remember that all school campuses remain closed for preseason workouts and athletic activities. Coaches and Athletic Directors should continue to virtually engage with student-athletes and encourage them to continue working out and practicing at home if they can do so safely.
Targeting the March 18 start to the spring sport season, DCPS Athletics will publish the athletic calendar for practice and competition dates for all spring sports in the coming weeks.
In lieu of the above announcement made by DCSAA and DCIAA, CHEC will continue to engage our student-athletes virtually. One way we will engage is via Esports. So, join our inaugural Esports team! You must be at least 13 years old and have access to a PlayStation 4., Madden and/or FIFA. If you are interested in Esports (even if you don't have a PlayStation 4), reach out to Coach Duvall at ryan.duvall@k12.dc.gov.